What The Connection Meant For Me
My journey into chronic fatigue syndrome began by being diagnosed with a slightly under active thyroid gland. As my illness proceeded and medication showed ineffective in alleviating my fatigue symptoms totally, I came to understand the importance of the adrenal and thyroid connection.
Whilst thyroid medication did get rid of some of my symptoms, like falling hair, and lowered body temperature, and indeed some of the fatigue for a short while, clearly in my case an under active thyroid wasn't the full story.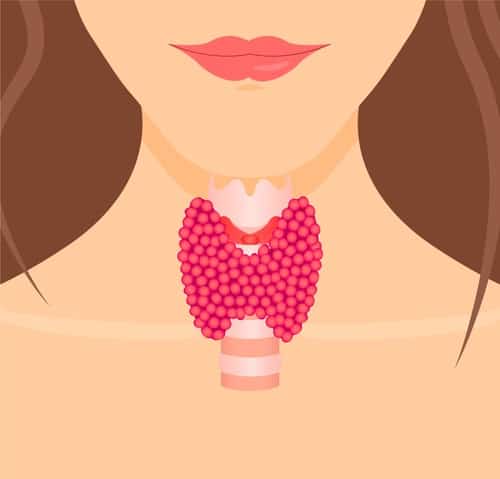 Overlapping symptoms of low thyroid and adrenal fatigue:
Fatigue
Brain fog
Muscle aches and pains
Chronic yeast infections
Brittle nails
Thinning hair
Sensitivity to cold
Depression
It was some time later when I was again suffering with unrelenting fatigue and a bunch of other symptoms, that my new naturopath mentioned 'adrenal fatigue' to me. After treating my adrenal fatigue with natural supplements and supporting my thyroid nutritionally, I was able to stop my thyroid medication completely. This showed me clearly there is a link between hypothyroidism and adrenal insufficiency.
Up until this point I thought my issue was simply an under active thyroid gland. Now I began to understand there was something besides hypothyroid going on, and I started to learn as much as I could about adrenal fatigue. It became clear to me that my problem from the beginning was most likely weakened adrenal function due to too much stress.
I can't help feeling that if the adrenal fatigue had been diagnosed and treated in conjunction with hypothyroid in the early stages, my health would not have deteriorated to the level it did.
Because many of the symptoms of both illnesses overlap, I believe that anyone diagnosed with under active thyroid should also have their adrenal function tested. Find out more about adrenal fatigue here.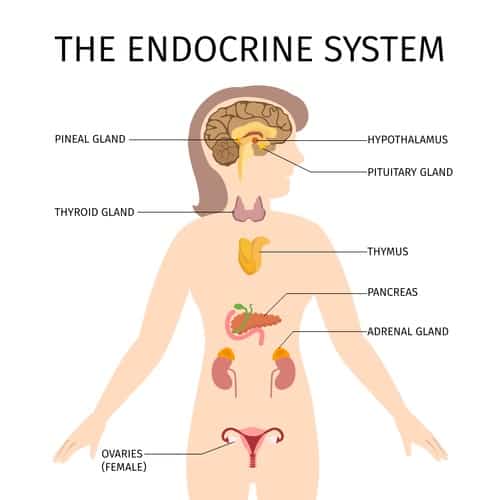 Slow Down Of Thyroid Production
When you are facing a stressor your adrenal glands produce a whole cascade of hormones, including cortisol to help you deal with the threat you are facing. Bodily functions not required at this immediate time are slowed down or placed on hold temporarily until the stressful situation has been dealt with. This means functions like the immune response, digestion and thyroid production are all slowed down.
However, ongoing stressors from daily life means your adrenals are on overdrive for extended periods of time constantly pumping out cortisol until your adrenal glands eventually become exhausted.
As one of the hormones produced in the HPA axis, cortisol is controlled in a negative feedback loop with the hypothalamus and pituitary glands. Once in your bloodstream, cortisol signals its presence and both glands slow down so that no further stress hormone is produced.
However both the hypothalamus and pituitary glands as part of the HPA axis, also regulate thyroid hormone production and this is also slowed down leading to the many symptoms of hypothyroid.
Effect Of Stress On Thyroid Hormone Production
The thyroid hormones T3 and T4 work together with the enzymes needed to convert T4 to T3. Free T3 is the 'gas' and active form of the hormone, whilst Reverse T3 is the 'brakes' and the inactive form of the T3 hormone.
When your body is under constant stress, more T3 is converted into Reverse T3 rather than the free-form. This slows down metabolic processes and hypothyroid symptoms ensue.
Unbound Thyroid hormone – the effect of cortisol
Elevated cortisol levels in the body affect many things. One of the ways it can affect thyroid is by causing excess estrogen to accumulate which in turn increases the level of thyroid binding globulin TBG.
TBG is a protein that assists thyroid hormones to move within your body. However, when thyroid hormones attach to TBG they are not in their active forms. This means T4 cannot be stored or convert to Free T3 to be utilized by your body in energy production.
Putting it all together
Get more understanding of the adrenal and thyroid connection. There are some very good books available which explain how adrenal fatigue develops and what you can do to treat it naturally.
Having this basic understanding will help you identify and remove the stress in your life and heal your adrenals. From my own personal experience I believe that adrenal dysfunction starts before thyroid dysfunction. Read my review about the high quality Vitamin C supplement I used to help heal my adrenals. Vitamin C is one of the most important adrenal supplements.
Healing your adrenals may prevent you developing a hypothyroid condition. As well as using stress reduction techniques, there are some useful adaptogenic herbs proven to help mediate how your body reacts to stress.
I hope this information is helpful, please feel free to leave a comment.