We hope you love the items we recommend, and just so you know, Quit Chronic Fatigue may receive a small commission from links in this post at no cost to you.
Is Multiple Chemical Sensitivity Real?
Unfortunately for sufferers, Multiple Chemical Sensitivity is very real and can also be part of Chronic Fatigue Syndrome.
Multiple chemical sensitivity can include a wide and varied range of symptoms and is also known as "Idiopathic Environmental Intolerance", "Environmental Illness" and "Multiple Allergy Syndrome".
Whatever you want to call it, this heightened immune reaction to the many chemicals that surround us can make life very difficult if you are affected by it.
The EPA states that our indoor living and working environments are up to five times more toxic than the outdoor environment. The effect of this is scary when you realize that average Americans spend approximately 90 percent of their time indoors rather than outside.
They also state that the concentration of some indoor pollutants has increased in recent times. Factors such as using synthetic building materials and the use of energy efficient building materials when lacking in sufficient ventilation for adequate air exchange, contribute to indoor pollution.
Additionally, synthetic materials used in our home and office furnishings, household cleaning products, and personal care products are manufactured using synthetic chemicals and contribute to the mix of chemicals we expose ourselves to daily.
What Are The Symptoms Of Multiple Chemical Sensitivity?
Doctors are often baffled by the many and varied symptoms sufferers of multiple chemical sensitivity present with. The symptoms include:
Sinus/Congestion/Sneezing/Sore throat
Digestive upset
Ongoing fatigue
Chest Pain
Cough
Wheezing and breathing issues
Itchy and burning eyes
Heart palpitations
Cognitive issues – brain fog/confusion/forgetfulness
Headache
Itchy skin and rashes
Sensitivity to noise and light
Sleep difficulties
Nausea
Muscle and joint aches
What Can Be Done To Reduce Indoor Pollution?
The good news is that luckily, there are some very powerful air purifiers on the market that help make life with multiple chemical sensitivity more tolerable. They are designed specifically to remove chemicals, VOCs and allergy causing particles from the air indoors.
The bad news is that you have to make sure you pick one that is right for you to ensure it does the job you need it to. Unfortunately some of the cheaper air purifiers on the market just won't cut it when it comes to getting rid of the indoor pollutants and VOCs causing your chemical sensitivities. Generally speaking if you buy a cute little desk air purifier for under $100, don't expect great results with symptom relief.
3 Important Point To Consider When Choosing An Air Purifier For Multiple Chemical Sensitivities
High Volume Of Carbon Used – Removing a large volume of chemicals from the air during a long period of time effectively, requires a large volume of activated carbon within the air purifier. This is why a dainty slimline desktop style air purifier won't work for multiple chemical sensitivities. You need a sufficient quantity of carbon which needs to be contained within a larger sized purifier.
Size Of The Area – Consider your room size and the area the purifier is to work in. If you choose an air purifier designed to work in a small space, it will not be effective if you are using it within a space larger than the recommended use.
Components Used – Lower grade plastics can off-gas chemicals and cause irritation even while the purifier is filtering air chemicals. The air purifier you choose should be manufactured from metal or premium grade plastic components to avoid possible irritation from chemicals within the purifier itself.
With These 3 Points In Mind – Keep Reading For Our Top 5 Best Of Air Purifiers For Multiple Chemical Sensitivity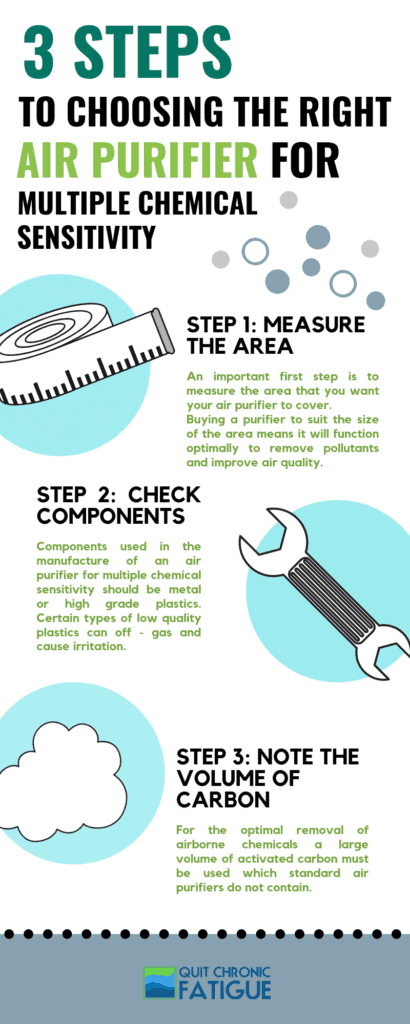 1. Allerair 6000 Exec UV Air Purifier
The Allerair 6000 is a general-purpose air purifier that can clean a large space of up to 1800 square feet. It is ideal for not only removing odours but for people with allergies, chemical sensitivities and asthma.
This air purifier removes chemicals, dust mites, pollen, viruses, bacteria, microscopic particles, gases and dust from your environment.
Its round barrel shape comes on wheels to make it easy to move around. It cleans a room at a rate of 400 cubic feet a minute and changes the air in your home twice every hour to filter out those nasty chemicals. The construction is all metal with no vapors from plastic and comes in 3 color choices.

The Allerair has three filters and a UV lamp to sterilise airborne bacteria and viruses. It has multi-stage filtration using a filter compound. This includes an anti-bacterial pre-filter, medical grade HEPA and a MAC-B mass activated 22lbs carbon filters that provides extra strength protection. It also has a tar trap filter.
You need to change the carbon filter every 2.5 years, the pre-filters every two months and the HEPA filter every five years. As with all filter changing recommendations, this depends on the environment the purifier is working in and how often it is operating.
It has three speed settings and only uses 95 W of power on the highest speed. The highest setting is best when you want to remove pollens, dust, hair and other airborne pollutants. On this is high setting it draws the air in faster and goes through the HEPA filter with greater force.
Using this high setting is perfect for a quick fix if you come home and want to clean the air as quickly as possible. However, the Allerair 6000 is just as effective on the lower setting running all the time as this lower setting provides a continuous flow of purified air. This lower setting is useful for use in the bedroom when you need a quiet sleep.
2. Austin Air Healthmate Plus HM250
The Austin Healthmate Plus protects you from allergens in your home. Its absorbent, activated carbon filter can remove strong odours like formaldehyde. This is a human carcinogen that causes throat, eye and nose irritation and can exacerbate any breathing problems you already have.
It also removes other odours, pollutants and allergens from the air in your home. It is particularly ideal for multiple chemical sensitivity (MCS) sufferers, and those who have allergies and asthma.
Besides removing chemical odours, it also removes dust, pollen, gases, bacteria, tobacco smoke, viruses, and more from your environment.
Four-stage filtration
HealthMate uses a 350-degree progressive filtering system to clean the air in your home. When you use it all the time it can reduce MCS, asthma and allergies symptoms. They may even disappear altogether.
The system works by pulling air from all parts of the room into the purifier every minute. The air goes through a four-stage filtration using a HEPA/carbon filter and clean air blows out through the clean air pocket vent.
HealthMate's four-stage filtration includes:
Stage 1 – Air passes through the cotton PERMAFILT Pre-filter to catch large particles such as pet dander and dust.
Stage 2 – Then the medium article filter traps the small to medium sized pollutants such as dust mites, mould and pollen.
Stage 3 – During stage 3 the air circulates through the activated carbon blend filter that has an infusion of potassium iodide and zeolite. This process absorbs any fumes, odours, gases chemicals and volatile organic chemicals and locks them safely away.
Stage 4 – Now the air goes through 60 square feet of medical grade HEPA material. This removes any harmful viruses, mold, bacteria and any smaller pollutants.
It cleans a 1500 square foot area and removes almost 100 percent of pollutants in the air that are 0.3 microns or more. It also removes more than 3000 odours and toxic pollutants from the air. The filters only need replacing every 5 years. All you need to do is open the bottom cover of the air purifier to replace the old filter with a new one.
Other features
The HealthMate is easy to use and needs little maintenance to keep it operating at peak performance. The easy to use controls give you the choice of three speeds for purification. It has all steel construction and comes mounted on wheels to make it easy to move your HealthMate around.
3. Airpura C600
Airpura C600 is ideal for removing household toxins and chemicals from the air in your home. It works well for people with chemical sensitivities and allergies. It is specifically designed to remove odours and chemical fumes from your environment.

It takes air in through the air inlets positioned all around the purifier and blows purified air out through the top for fast cleaning of large areas areas up to 2000 square feet. This unit is a little heavy, it contains 22lbs of carbon in the filter, but it does come on wheels to push it around from room to room.
Filtration system
The Airpura has a pressure sealed filter container that holds three different filters:
The pre-filter collects the largest contaminants and helps to extend the life of the carbon and HEPA filters. This is cleanable using a vacuum cleaner through the grill and you should replace it every 12 months.
The carbon filter comes with 26 lbs of activated carbon to absorb odours, chemical pollutants and tobacco smoke from the air. It also has two microbial filters to suppress bacteria, pathogens and antigens around the carbon filter.
The HEPA filter collects particles and dust and eliminates mold from the environment,
Other features
The Airpura is simple to use with manual dial controls and has a low noise level. Other features include:
Variable fan speeds
Manual controls
360-degree air intake and outflow
Select from three colours
Optional UV lamp
4. IQAir GCMultigas Air Purifier
The IQAir GCMultigas Air Purifier is a top of the line Swiss product and covers a space of 1125 square feet. IQAir is ideal for removing household toxins and chemicals from the air in your home. It has an efficient HEPA pre-filter and four gas filter cartridges to purify the air in your environment, stops the smallest particles that exist.
It has a bottom to top airflow structure. This air purifier has a big air intake vent at the bottom and it blows clean air out through the grille in the top. Using a unique EvenFlow Diffuser that delivers clean air at 320 degrees, it reaches all parts of the room. The 3D Ultra Seal keeps the filters sealed in the device so nothing leaks into the purifier and also increases efficiency.

The unit has a handle at the top and four wheels so you can move it around with ease. The 4-key touchpad has an LCD display for easy control.
It easily cleans the air in an area up to 1125 square feet and its four gas filters are customisable to fit your needs. Its two particle filters work together to remove almost 100 percent of airborne pollutants.
IQAir has the capacity to remove the following chemicals from your environment:
Diethylamine
Formic acid
Methyl ethyl ketone
1.3 Butadiene
Hydrogen chloride
Ethylamine
Benzene
Acetic acid
Sulfur trioxide
Vinyl chloride
Acetone
Methyl disulphide
Butyric acid
Ethyl acrylate
Ethyl acetate
Tri hylamine
Nitroglycerine
Methyl vinyl ketone
Cyclohexanone
Acrylonitrile
Chlorine dioxide
Carbon disulphide
Isoprene
Cresol
Trichloroethylene
Dimethylamine
Isopropanol
Methanol
Methyl acrylate
Acrolein
Methyl mercaptan
Methyl sulphide
Ethanol
Methylamine
Ozone
Phenol
Skatole
Styrene Trimethylamine.
Four-stage filtration
IQAir captures nearly 100 percent of pollutants down to 0.3 microns. The HEPA filter removes mold spores, pet dander, bacteria, dust mites and ultra-fine particles like viruses, tobacco smoke and soot. This air purifier has four-stage filtration:
Stage 1 – First, air goes through a pre-filtering process using a HyperHEPA filter which captures 95 percent of particles as tiny as 0.003 microns.
Stage 2 – During stage 2, the cartridge-based activated carbon filter removes volatile organic chemicals and odours from the environment.
Stage 3 – The cartridge-based chemisorption with an alumina pellet uses an oxidisation process to destroy chemicals like formaldehyde.
Stage 4 – The IQAir uses a micro charged post filter sleeve to wrap the gas cartridges and remove any particles they release.
You need to change the HEPA filter annually. The cartridges and post filters need replacing every 4 years when you use the IQAir for an average of 10 hours a day
5. Blueair Classic 205
The Blueair Classic has a good performance rating, and is WiFi and Alexa enabled. This Swedish product has a unique, powerful filtration system that removes particles from the air as small as 0.1 microns. It uses HEPASilent filtration to remove allergens, mould spores and dust from the environment.
This device is ideal for cleaning the air in a small bedroom or lounge room up to 279 square feet. Compared to the other purifiers listed here, it is a small unit. There is a large air intake grille on the back of it and purified air flows from the side to the top back into the environment.

Its design maximises the efficiency of the fan. There are simple to use LED icons so it is easy to see whether it is connected to WiFi and operate the other functions. This compact, lightweight purifier comes on wheels so it is easy to move around your home.
Filter system
You can choose from two types of filters. The Blueair comes with a particle filter that captures almost 100 percent of the pollutants in the air. It removes bacteria, viruses, dust, pollen, pet dander and mold spores as small as 0.1 microns.
You have the choice to pay more for the SmokeStop filter which combines an activated carbon and HEPA filters for mechanical and electrostatic filtration. This gives you a layer of activated carbon to remove and volatile organic compounds, smog, smoke, traffic pollutants and odours from the air.
If you are suffering with multiple chemical sensitivities you will need this SmokeStop filter. Both filters are antibacterial and are 100 percent recyclable using green materials.
Other features
The Blueair Classic uses smart technology to connect to WiFi so you can control it using the mobile app. This is available for both Android and iOS and is called the Blueair Friend. You can also use Alexa to control this product using voice commands.
It has a night mode that reduces the speed of the fan and turns out the lights in the unit if you are sensitive to noise and light while you sleep. The Blueair Classic also has a timer. You will always know when to change the filter as this purifier has an indicator to remind you.
During day operation, the fan can be a little noisy because it is powerful. The fan operates on a choice of three speeds and as is normal, the faster the speed the higher the noise level.
Putting It All Together
If you need an air purifier for multiple chemical sensitivities, make sure you consider the size of the area where it will be used. Prepare to spend some money if you want an air purifier that will work for your specific needs.
As always, please feel free to leave a comment below.