We hope you love the items we recommend, and just so you know, Quit Chronic Fatigue may receive a small commission from links in this post.
How To Get Through Wash Day Without Getting Washed Out
Wash Day can be a very energy draining experience if you have chronic fatigue syndrome. Gathering up dirty laundry from around the house. As well as all the carrying, sorting and making numerous trips to the clothes line or dryer can be a gargantuan task for someone with already depleted energy reserves.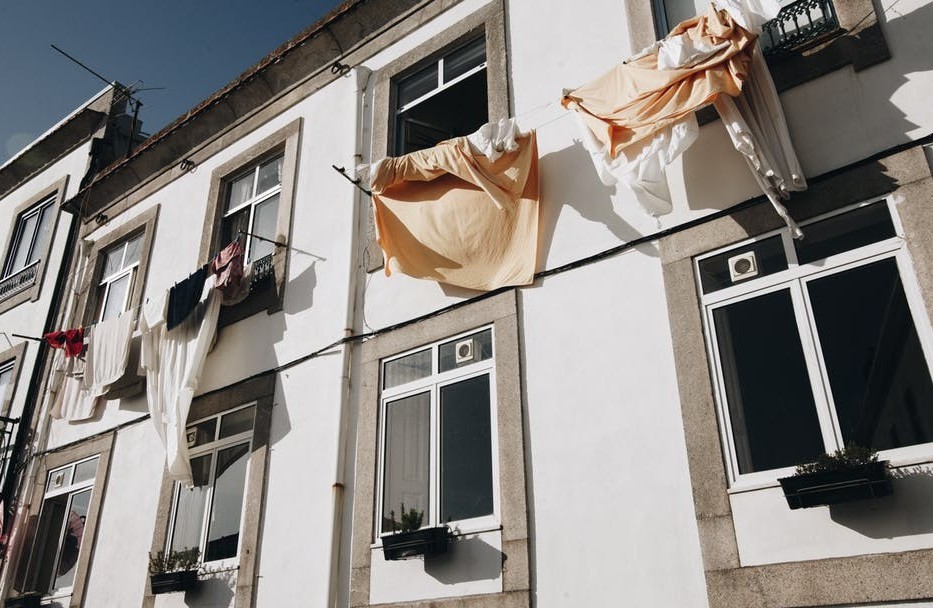 Even after all this work the task isn't complete, you still need to fold, iron and store the fresh laundry again.
And guess what, this whole cycle has to be repeated over and over again at least once a week or more depending on the size of your family.
It's a domestic task that can drain your energy reserves completely and send you off to bed to recover for the rest of the day.
The photo here shows how wash day is dealt with in Italy. I stayed in an apartment there last year and loved the easy way they have of hanging washing outside their windows to dry in the fresh air and sun. Each window has an ingenious washing line with a pulley system below it.
You lean out of the window and peg your washing on the line. Then pull on the line and it moves along to the next empty space where you continue adding more washing. The only downside is if you drop any of the pegs or laundry during the procedure.
Then as I did, you need to schlep downstairs and into the street to retrieve them. I was a newbie using this system but, I'm sure once you get used to it, these small mishaps would be few and far between.
Whilst not as cool as the Italian solution, my list – 'Best Of Products To Simplify Wash Day' provides energy saving ideas and items. Using a few of them will reduce the amount of energy you use completing your wash day chores and help you stay within your energy envelope.
Some of your household perfectionist tendencies are more than likely a thing of the past when you suffer from chronic low energy. But despite your debilitating illness, unfortunately domestic tasks still need to be done.
There are some domestic chores you can leave for another day. Does it really matter if the furniture isn't dusted as often as it used to be?
Unfortunately laundry isn't one of the chores that can be put off for long as it tends to pile up pretty quickly. Then you have no clean clothes to wear!
Generally though trying to keep your home environment clean, well organized and chemical free is important to your overall well-being and recovery from chronic fatigue syndrome.
If you have the means to pay for a laundry service, you should definitely do it. However, for those of us who simply can't afford it, using some of the tips and products recommended here will help you get through wash day with your limited energy reserves still intact.
How To Break Wash Day Down Into Individual Tasks And Find A Way To Make Each One Easier.
Task #1 – Separating Laundry Types
Give each family member a laundry sorter hamper to keep different laundry items ready for collection on wash day. A sorter hamper ensures light, mixed and dark colored items are already sorted.
This makes it easy for you to collect only the laundry for the specific load you intend to do that day. No need to sort through dirty clothes putting them into piles. Just empty the selected bag into the washing machine. This should make handling this first task easier and quicker too.
Simple Houseware Heavy Duty 3 Bag Laundry Sorter Cart

This laundry sorter cart is sturdy but also lightweight making it super easy to maneuver around on its smooth rolling casters.
The only difficulty will be getting your family to put their dirty clothing in the correct bag on the cart.
STURDY – Durable and solid chrome finished steel frame.
STRONG BAGS – Each of the 3 individual bags is heavy-duty and holds 13 Gallons of clothes. Easily cleanable.
CASTERS – Two of the casters are fitted with a brake for safety.
Lightweight – Although sturdy, the cart is lightweight and rolls smoothly on the casters.
BAG SIZE – 23" H x 15.5" W x 8.5" D
FRAME DIMENSION – 29.5" L x 17.5" W x 33" H ( height includes the casters)
Check Out The Latest Price And Reviews Here At Amazon
Task #2 – Stain Removal Made Easy
So now you have your laundry easily sorted and ready to put in your machine. Some areas of clothing like collars and cuffs or baby/toddler clothes can be badly soiled.
But removing stains from laundry is possible without using energy to scrub those stubborn stains. Just choose a pre wash spray to help lift stains out prior to placing in your machine.
Some people with chronic fatigue syndrome can have multiple chemical sensitivities. So it's a good idea to make your home environment as non-toxic as possible by reducing your use of harsh chemicals for cleaning and laundry.
The chemicals in laundered clothing can hang around. And remember they are in direct contact with your skin (your body's largest organ).
Attitude Little Ones Laundry Stain Remover

There are some great pre wash sprays that get an 'A' rating on EWG and this pre wash spray by Attitude is one of them.
Give it a try and see how pleasant and easy it is to use.
It will help remove those stubborn stains without the need for energy sapping scrubbing or harsh chemicals.
ALL NATURAL – Biodegradable and hypoallergenic ingredients.
FRAGRANCE – Fragrance-free
CHEMICAL FREE – Non toxic and free from cancer-causing industrial contaminants.
EWG RATING – Rated 'A' – Free from ingredients of concern.
ECOLOGO BY UL – Has certification for reduced impact on the environment.
ANIMAL TESTING – Is PETA certified – vegan and no animal testing.
CO2 NEUTRAL – Product does not contribute to climate change
SAFETY – Can be used with septic tanks.
Check Out The Latest Price And Reviews Here At Amazon
Task #3 – Use Effective Non-Toxic Laundry Products
You're using a non-toxic stain removal spray, great! Continue keeping your wash day non-toxic and choose more EWG 'A' rated laundry products.
It's important if you have chronic fatigue syndrome to reduce your chemical load as much as you can. It has been reported that 40% of people with chronic fatigue syndrome have Multiple Chemical Sensitivities (MCS) too.
Seventh Generation Laundry Detergent Packs Free + Clear

Convenient and easy to use these detergent packs do away with having to lift heavy detergent bottles or measure powder into your machine. Simply place the pack in with your laundry. Definitely energy saving for someone with chronic fatigue syndrome.
They contain a powerful quadruple enzyme formula to fight tough stains without using synthetic fragrances, dyes or artificial brighteners.
The manufacturer claims that tomato sauce, grass stains and chocolate can all be easily removed with their plant based formula.
POWERFUL STAIN REMOVAL – Plant based enzyme formula leaves clothes fresh.
FRAGRANCE FREE – Hypoallergenic laundry detergent packs for sensitive skin.
EPA – EPA Safer Choice Certified Product.
EWG – 'A' rated product. This is the highest rating.
FAST DISSOLVING – Work in standard and high-efficiency (HE) machines. Laundry packs work in hot and cold water.
USDA – USDA Certified Biobased Product 94% plant based.
Check Out The Latest Price And Reviews Here At Amazon

Wool Dryer Balls By Smart Sheep

Another laundry day source of nasty chemicals can be liquid fabric softener and dryer softener sheets. The chemicals in liquid softeners don't do your machine much good either.
Check out that black gunk built up in the softener drawer of your machine. It's not good for the pipes in your machine and definitely not good for you either.
An easy and effective way to soften and reduce static cling in laundry is by using wool dryer balls.
No need to lug heavy bottles of fabric softener around either.
Smart Sheep say their wool dryer balls are made from 100% Premium New Zealand wool without fillers.
CONTENTS – 6 natural wool dryer balls.
NATURAL – Softens laundry naturally without chemicals.
DRYING TIME – Shortens the drying time.
USAGE – Use 3 balls for a small load and 5-6 for a large load.
SIZE – Each ball is extra large i.e., larger than a tennis ball.
COST SAVING – Lasts for over 1,000 loads.
Task #4 – Loading / Unloading + Folding Laundry
On days when your energy is really low you may need to sit down to carry out tasks like loading your machine and dryer.
Boss Office Products B245 Medical Spa Stool With Back

This is when a small height adjustable stool on casters comes in handy and doesn't take up much space when you're not using it.
Of course, it can also be used for doing other tasks at home. It's great for using while using your computer.
You can also roll easily between fridge and bench top when using it for cooking.
This stool comes with an adjustable back rest. So on days when you are very fatigued, you can lean against the comfortable and supportive back rest.
HEIGHT ADJUSTABLE – Seat height has a 6″ range from 19″ to 26″ with a gas lift.
ERGONOMIC – The design follows the natural shape of the spine for increased comfort and support.
SEAT – 16″ Diameter.
UPHOLSTERY – Durable Caressoft vinyl is easy to wipe clean.
STOOL – Is also available as a stool without a back rest.
CHROME FINISH – On the base.
CASTERS – Dual wheel casters allow ease of movement.
WEIGHT CAPACITY – Maximum 250 lbs.
ASSEMBLY – Easy to assemble, takes approximately 5 minutes.
COLORS – Available in 3 color options.
Check Out The Latest Price And Reviews Here At Amazon
Task #5 – Unloading + Hanging Laundry
A laundry basket on wheels is a great energy saver. No need to lug heavy baskets of wet laundry from one place to another. Simply wheeling the laundry around in this basket will help conserve your energy.
Loading and unloading the washing machine and dryer is easy with one of these baskets on wheels. It's like being in your very own laundromat. Or you can wheel it outdoors if you are hanging clothes on an outdoor clothes line.
Take the clothes out of the dryer and hang them on the rack straight away.
Just have a few empty clothes hangers ready on the rack.
This can even save you ironing some clothes as any minimal wrinkling will drop out once the clothes are hanging.
If you hang laundry on the rack straight out of the dryer they will be a lot less wrinkled.
This is a great way of saving time as well as your precious energy later when it comes to ironing.
Whitmor Commercial Rolling Laundry Butler
STURDY CONSTRUCTION – The durable chromed metal frame and hanging bar holds your laundry supplies.
HANGING BAR – Hang dry garments on the valet bar straight from the dryer.
MOBILITY – 4 heavy-duty wheels with 2 lockable wheels for safety and stability. Rolls easily.
DIMENSIONS – 20.75 x 25.5 x 70.3 inches
ASSEMBLY – Easy to assemble in minutes. You only need a Phillips screwdriver.
DESIGN – The handy bottom shelf is great for storing folded laundry or laundry supplies keeping everything within easy reach.
Check Out The Latest Price And Reviews Here At Amazon
Task #6 Getting The Wrinkles Out
As mentioned above, taking the laundry out of the dryer immediately it's dry, not allowing it to become 'over' dry and hanging it up goes a long way to helping wrinkles drop out of the clothing. However, some types of fabrics just have to be ironed and ironing is such a chore.
Ironing laundry takes a long time to complete and even if you sit down while carrying out the task, it can still use a lot of your precious energy to finish. Try doing only a small amount of ironing at a time if you feel ironing is a must.
Instead of using a heavy iron, it can be easier to use a steamer to lightly and quickly run over your laundry while it is hanging on a rack. The Whitmore Laundry Butler above does double duty for this too.
Steamers are great for getting wrinkles out of laundry quickly and efficiently and will work for most types of clothing. You can't get a sharp crease using a steamer so for some clothing items you might still need to use your iron.
For example if you have pleated clothing or want a sharp crease down pant legs or shirt sleeves, only an iron can do it.
PurSteam Full Size Steamer

This steamer is a floor model that is easy to move around.
It comes with a stand and hanger that holds your laundry while steaming.
WELL DESIGNED – Very powerful with continuous heating. Manufacturer claims it produces up to 30% more steam flow in testing compared to other brands.
CONTROL – 4 level steam adjustment of high pressure steam.
USE – Easy, efficient and effective steaming.
INCLUSIONS – Woven hose, fabric brush and clothes hanger.
SAFETY – The burn prevention safety cap prevents opening the water tank when there is hot water or steam inside.
GUARANTEE – PurSteam offers a money back guarantee.
Check Out The Latest Price And Reviews Here At Amazon
Putting It All Together
Wash day is a chore at the best of times, but if you have chronic fatigue syndrome it can be an almost impossible task. Pick a couple of products from this article and make life a little easier on wash day.
Do you have some ideas you already use to make wash day easier with chronic fatigue syndrome? I'd love to hear about them. Please leave info in the comments section below.