Is there a Chronic Fatigue Syndrome Personality Type?
You have probably heard people say they are a "Type A" personality or have "Type A" personality traits. But understanding what having this trait truly means can transform the way you manage stress, consequently having a huge affect on your overall health.
"Type A personality", has become a commonly known term since research was carried out in the 1950s on the subject by cardiologists Ray Rosenman and Meyer Friedman which studied the characteristics of the trait. They conducted a study which showed that those with Type A personality traits were more likely to develop coronary heart disease.
It's clear that chronic fatigue syndrome can have a psychological element to the illness. Whilst I had never thought of myself as a typical hard charging Type A personality, I came to realize I had enough of the typical Type A traits to know that my personality type did in fact play a part in my chronic fatigue syndrome and that there could indeed be a chronic fatigue syndrome personality type.
The inability to know when I was pushing my body beyond its physical limits was a Type A trait I definitely recognized in myself.
What is a Type A Personality?
Type A personality traits are characterized by qualities that include:
Ambition
The need for control.
Urgency.
Impatience.
Constantly striving towards specific objectives in order to break new ground.
Competitive spirit.
3 Major characteristics of the Type A Personality
1. Competitiveness
Type A individuals are usually very self-critical and competitive in nature. They constantly drive themselves to compete and achieve set goals but find it difficult to acknowledge any sense of fulfillment for their efforts.
This trait contributes to a significant imbalance in their life as they are so heavily involved in work and career goals.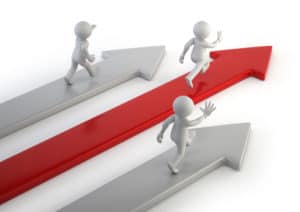 2. Sense of Urgency
There is always an air of urgency around type A individuals, and they always seem to be in an endless struggle against time. In most cases, they become impatient especially regarding unproductive time and delays. As a consequence of this type of thinking they stuff their schedule full with a long list of commitments, and try to multitask to beat the clock.
3. Hostility
Type A personalities easily become hostile or angry, and they often do not express these traits openly, holding feelings of frustration and anger inside. When this trait is overtly expressed, type A individuals become aggressive, sometimes displaying bullying behavior.
They tend to see the flaws in others, often seemingly displaying a lack of compassion and concern for others.
Link between Type A Personality and Chronic Fatigue Syndrome
Is your personality type the cause of your Chronic Fatigue Syndrome? Well, type A individuals are known to possess intense, success driven traits, setting high objectives for themselves. Experts suggest this may contribute to the constant pain and fatigue in such individuals.
In our modern society, success demands an ability to compete well and be effective in targeted endeavors. Type A individuals are accustomed to piling pressure on themselves as their thought process tells them they have not invested enough effort and they must push themselves to try ever harder.
A recent report in the Journal of Psychotherapy and Psychosomatics (P&P) suggests that perfectionism (a common trait with type A individuals) plays a major role in the development of chronic fatigue syndrome.
It observes that personality type and stress are greatly influential in the development of unexplained and persistent fatigue and that the self-critical drive of certain personalities can compel them to exert themselves beyond the level of exhaustion.
In this regard, the Type A personality seems unable to recognize that they are pushing themselves beyond their limits of exhaustion which may promote symptoms of chronic fatigue syndrome.
While there is still no scientific evidence to support the correlation between type A personality and chronic fatigue syndrome some experts have also claimed it could be because Type A individuals may have higher levels of cortisol, a stress hormone, circulating in their body.
But it is certain that stress is a major cause of chronic fatigue syndrome. And of course, stress can be caused by overworking or excessively pushing towards a long list of commitments, without taking time out to de-stress and take care of yourself.
Type A personalities tend to overlook their body weaknesses for too long. The body's warning signals are ignored and health eventually deteriorates.
Although all people with chronic fatigue syndrome are not necessarily type A individuals, people with such personality traits are at risk of experiencing a crash due to their constant, never ending drive for success and the inability to recognize their body's warning signals. In this way it may take them longer to recover and will experience many setbacks on the road to wellness.
Health Issues Exhibited by Type A Personality Due to Stress
Possessing a Type A personality has a lot of advantages. You work really hard, you do everything you can to ensure situations under your control are in the best possible shape, and you set very high standards for yourself.
All of these traits can deliver immense success in career and business. However, they also come with other difficulties which can affect not only your health but your relationships with others.
Here are a few other health issues Type A personality might experience due to stress.
Heart Problems
Simple Psychology suggests a direct connection between Type a personalities and heart related problems. In fact, the health guide reports that due to accumulated stress, those with Type A personality are twice as likely to develop coronary heart diseases than those with Type B personalities,
Sleeping Difficulty
Type A personalities are literally perfectionists. This almost guarantees they will deliberately choose to lose sleep regularly to complete specific objectives. Yes, they willingly deprive themselves of sleep until all the work on their desk is complete.
Studies have shown that there is a correlation between perfectionism and symptoms of chronic insomnia. That go-getter, success oriented attitude that causes Type A personalities to work late into the night can lead to low mood, fatigue, and a lack of concentration during the day.
Anxiety and Depression
Medical research has discovered there is a connection between the Type A personality and mental health. The correlation is strongly linked to the extent that a Type A individual can develop psychological disorders such as anxiety and depression. The competitive, self-critical nature, as well as a need to put in top performances all of the time can expose a Type A individual to mental health problems.
Physical Wear and Tear
When you constantly exert pressure on yourself and put your mental powers under intense stress, it is very likely that your body will feel the impact too. Your brain uses up a lot of your energy to function.
Prolonged periods of stress can impact negatively on the body, and stress hormones may continue to be released long after the underlying cause of the stress has passed. This does not only affect your psyche, but your physical health.
How to 'Soften' Some Type A Characteristics to Improve General Mental and Physical Health
KNOW WHAT YOU CAN CHANGE
Reports from some experts have suggested that even if it is impossible to change personality, an individual can take certain steps to minimize the potential health risks of the personality type. Understanding what you can change is a great first step. But what are the ideal steps you can take to minimize the health risks associated with your Type A personality type?
By not allowing work and business to take over your entire life, make time for frequent breaks to do something enjoyable and move you out of the work, work, work head space. The work will still be there when you come back to it, energized and feeling refreshed with a greater sense of clarity. You'll be able to complete your work tasks more efficiently too.
Schedule time for fun and enjoyment the same way you schedule the many items on your never ending 'To Do List'.
Some ideas for activities that will move you out of your 'work work work' head space are:
Music
Music is a great non-medication stress relief therapy. While driving, you could put on your favorite music so you can arrive at your destination feeling relaxed. If you need some energy, you could play more upbeat tunes. Play music with slower pace if you need to slow down.
Exercise
If you are a Type A personality, you may find difficulty switching off sufficiently for some stress relief therapy. Exercise has lots of health benefits that can help you better manage stress and is a perfect outlet for Type A personalities. Activities such as running, martial arts, or even dancing provide a perfect aerobic workout and releases stress.
However, if your particular stage of chronic fatigue syndrome is too far advanced to allow you to carry out these more strenuous forms of exercise try gentle walking or yoga instead. Whichever form of exercise you decide to do, try not to turn it into a competitive sport.
Stay Connected
It is almost normal for people with Type A personality to disconnect themselves from social life as they strive to achieve their set list of goals each day. But isolating yourself can cause a gradual buildup of stress.
On the other hand, having loving, supportive friends around can work wonders to improve your mental and physical health. Taking out time to enjoy the people around you does not necessarily have to take up a lot of your time. Sometimes it only requires a change in your communication skills to explore this wonderful stress relief therapy.
Hobbies
Type A people often find it difficult to balance their work life with other important aspects of their life. Scheduling time to relax can be challenging at times, but finding a balance between your busy schedule and the things you enjoy the most can help you feel relaxed, reduce stress, and then focus even better on your tasks. This may require letting go of some things, but it is a sacrifice that will produce health benefits.
Expressive Writing
If you are a Type A individual, you probably feel better when you engage in active, rather than routine passive activities. Expressive writing is an ideal way to remain active, yet reduce your stress levels. Putting your thoughts and feelings down on paper, can help get accumulated thoughts (and stress) out of your head.
For example, writing about a specific situation, including how you hope to approach it, can help you feel more relaxed and let go of any lingering worries. You'll feel more in control of the particular situation.
Yoga
If meditation is an idea that interests you, but you have found it difficult to sit in one spot for long without feeling weighed down by your thoughts, yoga is an ideal therapy. It has numerous health benefits and seamlessly incorporates some features of meditation through working with your breath, while giving you enough activity to feel relaxed without the fear of deafening silence.
Meditation
If you would like to try meditation, load up your phone with some guided meditations. I find this form of meditation stills my mind very quickly and really helps me relax. Setting up a regular practice in the morning of about 20 minutes helps me move into my work day in a more balanced and relaxed way.
Conclusion
Firstly recognize that you could be a Type A personality, or at least recognize you have some of the traits. Learn where your personality could be harming your health and contributing to your particular form of chronic fatigue syndrome.
Try some of the tips listed to 'soften' your Type A personality traits where you can.
As always, please feel free to leave a comment or ask any questions.