So What's The Big Deal About Gut Bacteria?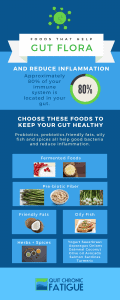 Bacteria may sound like a dangerous thing to have in your body. But they're a normal part of life. In fact, there are around 40 trillion different microorganisms in your body, and the majority of them are in your gut.
The gut microbiota is extremely important for your health, each of the hundreds of species of bacteria in your intestines plays a key role in it and requires different nutrients to develop.
And as each bacteria species contributes to your overall health in a different way, a healthy microbiota is actually a diverse one.
Your gut health impacts how your body extracts nutrients from your diet and stores fat, so developing a diverse microbiota from foods that help gut flora is important.
Each individual's microbiota is unique. The mix of bacteria in each person's body is different and is determined by the environment you live in, your mother's microbiota as well as your lifestyle and diet.
Good gut health is being increasingly understood as extremely important in helping with many health conditions including:
Obesity and type 2 Diabetes.
Inflammatory bowel disease.
Autism.
Anxiety and Depression.
Arthritis.
Chronic Fatigue Syndrome.
Endocrine disorders.
To learn more about the importance of good gut health to overall health, read here.
What Causes Gut Flora Imbalance?
When your gut flora contains too many harmful bacteria and not enough good bacteria it causes an imbalance in your gut known as dysbiosis.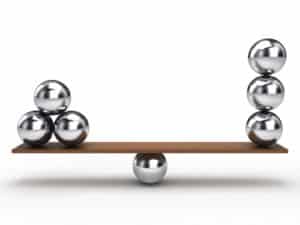 A reduction in the overall diversity of gut flora as well as dysbiosis are linked to common conditions such as obesity, insulin resistance and bowel disease. 
Some reasons for an imbalance include:
Using Antibiotics
One of the drawbacks to antibiotic use is they wipe out the friendly bacteria in your gut while eliminating the bad bacteria. Even a single course of antibiotics can lead to negative changes in the diversity of your gut flora.
If you've had to take a few courses of antibiotics to clear a bad infection of some sort, your gut health could be seriously compromised and friendly bacteria in short supply.
Eating A Standard Western Diet
A standard western diet high in sugary, processed and fried foods does not provide the variety of whole foods that feed a diverse gut microbiota. This type of diet can also be lacking in prebiotic fiber which the bacteria feed on like pulses and a diverse variety of fruit and vegetables.
Lacking the food your friendly bacteria need to grow, their numbers will reduce throwing your gut flora out of balance.
Being Stressed Out
High stress levels can alter your gut bacteria. A study showed stress can reduce levels of the friendly bacteria Lactobacilli. Using some natural methods to reduce your stress levels will help your gut health as well as your overall health too.
Getting Insufficient And Poor Quality Sleep
Sleeping well is important to your overall wellness. Comparing the effects of two nights where the participants had approximately 4 hours sleep, with two nights of normal sleep consisting of about 8 hours sleep this study showed changes in the gut flora.
This change increased the quantity of bacteria known to be connected to obesity. Getting sufficient good quality sleep is more important than most people realize for overall health and wellbeing, not only gut health.
Signs Your Gut Flora Is Out Of Balance
If you have a fever you can take your temperature but trying to find out if your gut flora is out of balance isn't as easy. There's no thermometer to test your gut balance.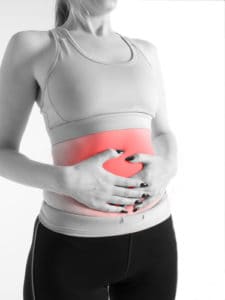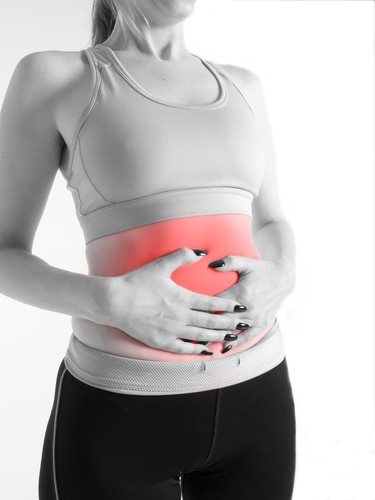 However, there are signs you can watch out for that generally mean something's not quite right with your gut.
Recent Antibiotic Use – If you recently had to take a course of antibiotics, there's a good chance it has wiped out many of your good bacteria. It can be a good idea to take a good quality probiotic after you finish the antibiotics. Research has shown that beneficial bacteria destroyed by antibiotic use is not replaced without intervention.
Digestive Problems – Uncomfortable symptoms  such as bloating, gas, constipation, heartburn and diarrhea can indicate an imbalance in your gut flora or insufficient good bacteria levels.
Vitamin and Mineral Deficiencies – When your gut flora is unbalanced you will have a difficult time getting enough of important vitamins like Magnesium, Vitamin B12, Vitamin K and Vitamin D. A healthy gut is involved in helping your body synthesize vitamins and minerals.
Mental Disorders – It is now recognized that the gut and brain are intimately connected. The health of your gut has an effect on your mental health. Poor gut health can lead to brain fog, anxiety and depression and is also linked to autism and OCD behaviour.
How To Restore Healthy Gut Flora
By now you are probably convinced of the importance of good gut health and are probably asking 'How can I increase the good bacteria in my gut'?
Well, keep reading to find out how to choose foods that will increase the number of good bacteria, ensuring you have good gut flora and reduced intestinal inflammation.
As well as taking note of some of the points mentioned above, your diet is critical in restoring your gut health and supporting the gut microbiota's good bacteria level.
Fermented Foods Are Your Best Friend
That's right! Fermented foods are foods altered by bacteria and microbes, the process usually involves yeasts or bacteria converting the sugars in food to organic acids or alcohol.
Including fermented foods in your diet doesn't mean you should stock up on beer or alcohol but rather, go for cultured and fermented foods such as:
Yoghurt
Kefir
Kombucha
Kimchi
Sauerkraut
Tempeh
Choose a couple of items from the list and gradually start including them daily. Use small quantities of each at first to see how your body reacts to them.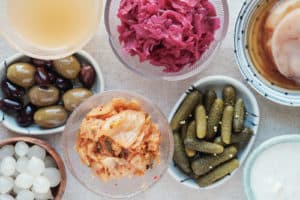 Many of these are packed with lactobacilli, a type of bacteria that offers immense benefits to your gut health. A larger number of lactobacilli is associated with a lower number of Enterobacteriaceae, a type of bacteria that is associated with gut inflammation and chronic diseases.
Yogurt is one of the main sources of lactobacilli; however, steer clear of flavored yogurts as they're normally high in processed sugars which can cause bowel inflammation. The best kind of yoghurt is plain unsweetened yoghurt made purely of milk and bacteria cultures.
Look for labels which state that the yoghurt contains 'live cultures' and can be made from cow, goat or sheep's milk. For those who cannot tolerate dairy, there is also coconut yoghurt available too.
With an electric yoghurt maker it's also very easy to make your own yoghurt as live starter cultures are also readily available. By making your own yoghurt you can be sure of the ingredients and check the cultures are indeed live so you get the most benefit.
Introduce foods like kombucha, sauerkraut, kefir and miso in your diet to improve the health of your gut. According to the Physicians Committee for Responsible Medicine, miso and fermented foods can crowd out the unhealthy bacteria, improve the health of intestinal cells and increase the absorption of minerals.
Fermented vegetables and sauerkraut are both easy to make at home. I use this super simple to use fermentation kit to make my fermented veggies and sauerkraut.
Making fermented vegetables is so easy and by using organic vegetables you'll make them even healthier. What's more, you'll always have a supply of crunchy tangy ferments ready in the fridge.
Stock Up On Foods Rich In Prebiotic Fiber
Prebiotic fiber is the non-digestible part of foods like asparagus, leeks, onion, bananas and chicory root. Because of its structure, it goes through the small intestine undigested and is then fermented as it reaches the large colon.
On its journey to your intestines, prebiotics promote the growth of beneficial bacteria in several ways. They're normally broken down by certain species of bacteria that use them as fuel, such as Bifidobacteria.
Studies have shown that a diet high in Bifidobacteria may ease the symptoms of digestive health conditions such as irritable bowel syndrome (IBS) by reducing the number of harmful bacteria in your intestines. Studies have also shown that Bifidobacteria can help reduce the concentration of certain carcinogenic enzymes in your gut.
As a rule of thumb, try to consume at least 5-8 grams of plant-based prebiotics a day to improve your gut health. The easiest way to do it? Grab two cups of leafy greens or a half-cup serving of beans.
Use onions in salads and stews – they have a 17% concentration of prebiotic fiber – or chicory root (about 65% of its content is pure prebiotic fiber). Asparagus, leeks, jerusalem artichokes and oatmeal are also fantastic sources of prebiotics.
Having oatmeal for breakfast makes a healthy start to each day, but don't smother it with sugar or syrup. Try it topped with some organic blueberries and natural unsweetened yoghurt. You'll get prebiotics from the oatmeal, probiotics from the yoghurt and superfood blueberries all in one dish.
Choose Friendly Fats
The fat you consume can have a tremendous impact on your gut flora. If you're at risk or suffer from type 2 diabetes, it's best to limit your refined fat intake and instead opt for healthier alternatives like a handful of nuts or a quarter of an avocado. Healthy fats include:
Avocado
Olive Oil
Coconut Oil and coconut products.
Nuts and Seeds like walnuts, cashews, sunflower, sesame and pumpkin seeds. 
Refined vegetable oils like soybean oils, corn, and canola are high in pro-inflammatory omega 6-fatty acids, so it's best to steer clear of them. Additionally, they are often processed from genetically modified crops. Instead, choose friendlier fats like avocado, coconut oil or extra virgin olive oil.
Coconut oil, in particular, has antiviral, antibacterial, antifungal and antimicrobial properties that can restore stomach acidity levels by killing off harmful intestinal yeasts. While extra virgin olive oil's polyphenol content feeds the good bacteria in your gut.
Feast On Oily Fish
Fish like salmon is rich in omega-3 fatty acids, which have been shown to reduce the inflammation in your gut and improve your digestive health. However, make sure to purchase wild caught salmon rather than farmed alternatives – they contain less omega-3 fatty acids.
A recent study, conducted in collaboration with researchers from King's College London found that a higher omega-3 intake was strongly associated with both the diversity and the number of species of bacteria in the gut, and as we covered already, the diversity of your gut microbiome is one of the important keys to your overall good health.
Omega 3 levels are associated with producing a compound known as N- carbamylglutamate (NCG) in the gut. NCG is thought to reduce oxidative stress in the intestines. Other healthy and delicious types of oily fish to include in your diet with high health giving Omega 3 levels are mackerel and sardines.
Include Anti-Inflammatory Herbs And Spices
Turmeric is not only a fantastic spice to add flavor and color to your meal but one of the best ways to improve your digestive health, too.
The curcumin in the spice stimulates the production and release of bile which in turn facilitates more efficient fat digestion and improves absorption rates.
Even if you're eating the right foods, you may still be deficient in certain nutrients if your gut is not absorbing them – fix the problem by adding turmeric to your diet. Remember to add black pepper when using turmeric to ensure proper absorption.
In addition to improving the release of bile, the curcumin also relaxes the smooth muscles of the digestive tract and gently pushes the digested food through the intestines. This in turn decreases gas and bloating and can help soothe chronic cramps and IBS symptoms.
Ginger contains a potent antioxidant, 6-gingerol which inhibits the production of a free radical called peroxynitrite. This free radical can cause pain and inflammation as well as the overgrowth of gut bacteria linked to peroxynitrite.
Worst Foods For Gut Health
While you are busy including all the great foods mentioned here to improve your gut flora, you should also be aware of the worst foods for gut health so you can be sure to avoid them.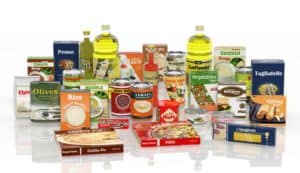 After all, there's little point introducing foods to improve your gut flora if you ignore the negative effect some food types can have on overall gut health.
Artificial Sweeteners – Studies link the use of artificial sweeteners to a shift in the bacterial population of the gut.
High Levels Of Saturated Fats – A diet high in saturated fats may increase the bad bacteria population and cause a decrease in the good bacteria levels according to this study.
Food Additives – Evidence shows that additives used in processed foods increase gut inflammation and add to the risk of developing irritable bowel disease.
Alcohol – Regular alcohol consumption is associated with negative changes in the microbiome.
Putting It All Together
People say you are what you eat and this is 100% correct when it comes to having a healthy gut. Stay away from foods that contribute to bad bacteria like too much alcohol consumption, artificial sweeteners, high saturated fat levels and processed food.
Steering clear of certain foods like refined oils and pasteurized dairy, and opting for healthier alternatives like foods rich in prebiotic fiber and omega-3 fatty acids can improve the diversity of your gut microbiome and help you lead a healthier and happier life.
The good news is that making changes to a more balanced gut flora needn't take long. By making a bit of effort in changing your eating habits, you can start experiencing benefits in as little as a few days. If leaky gut is also part of your poor gut health, start healing it with this supplement to kick start gut healing.
Please Feel Free To Leave A Comment Below.