We hope you love the items we recommend, and just so you know, Quit Chronic Fatigue may receive a small commission from links in this post.
Do You Need Help With Gut Issues?
As a component of my chronic fatigue syndrome I developed several gut issues including leaky gut. The main symptom of my poor gut health was incredibly bad stomach bloating that made me look about 5 months pregnant.
I could no longer fasten the top button of my jeans, and tracksuit pants with their forgiving elastic waist were becoming my best friend….Yikes! It seems, my previous good gut health had deserted me.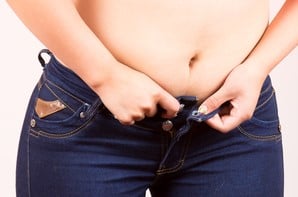 Looking for a product to help with my many gut issues I started using Nutra Life Gut Relief as recommended by my naturopath.
Not only did I have a leaky gut and horrible bloating, but I was also having difficulty with malabsorption issues due to my poor gut health and my body was unable to process the nutrients from my food properly.
So even though I was taking a range of vitamin and mineral supplements and making sure to eat a healthy organic diet, very little of this was actually providing any benefit to my system, as my gut couldn't process the nutrients fully.
The Gut – Where Good Health Starts
The gut is increasingly becoming recognized as important to overall good health. It can also be the first place where problems become apparent in the form of heartburn, bloating, constipation, acid reflux and gas if your digestion is not working properly.
Your Hardworking Gut
Your body breaks down food into fuel which you use for energy, as well as for the repair of tissues. Nutrients and fuel from the food eaten needs to be properly absorbed for the overall healthy functioning of your body.
But if your diet consists mainly of refined food, meat, grains, conventional dairy products and sugar i.e., the standard Western diet, it is likely your intestines have an unhealthy coating of plaque.
This plaque has a negative effect on how nutrients from your food can be absorbed and utilized, which can result in undernourishment as your body is no longer able to absorb nutrients properly.
Another component of a healthy gut is elimination which is carried out via regular bowel movements. Drinking adequate water and eating enough fiber help assist with this process.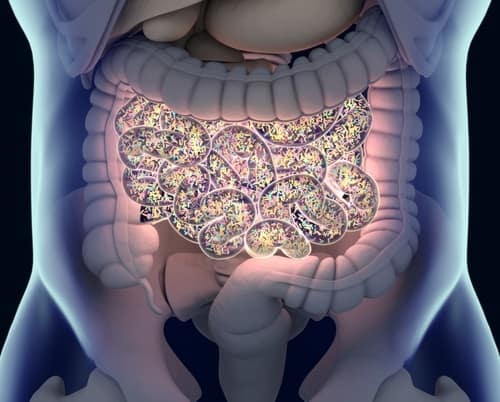 A common component of poor gut health is leaky gut, which is a condition where the lining of the intestine has become damaged. This damage to the gut lining allows food particles to pass through the gut wall and into the bloodstream. When this happens your body sets up an autoimmune response to these foreign invaders.
The autoimmune response can be in the form of allergic or inflammatory conditions like arthritis, chronic fatigue, migraine, irritable bowel and more.
When you have a leaky gut, the damaged cells in your intestines no longer produce the enzymes needed for proper digestion. This results in your body being unable to absorb the essential nutrients. In turn, it can lead to a weakened immune system and hormonal imbalances.
How Does Nutra Life Gut Relief Help?
Nutra Life Gut Relief is chock-full of 9 HELPFUL INGREDIENTS which starting from the very first dose, begin to soothe an irritated and inflamed digestive system and set to work healing a leaky gut.
The ingredients in Nutra Life Gut Relief are carefully selected for their therapeutic action. Supplied in a concentration that works, the ingredients help to resolve several gut issues simultaneously.
After only a relatively short period of taking this supplement I began to feel it's soothing effects start working on my gut and the horrible bloating gradually start to resolve.
If you have digestive issues like bloating, malabsorption issues, and constipation Nutra Life Gut Relief can help.
The high quality ingredients used in Nutra Life Gut Relief have beneficial effects and support all stages of overall healthy gut function from digestion and absorption through to elimination.
It's a multifunctional product that combines several helpful supplements in one easy to take formula.
Glutamine is essential in the preservation of gut barrier function and tight junction integrity. This makes it one of the top supplements for helping with leaky gut syndrome. Evidence shows that glutamine preserves the gut barrier function.
Slippery Elm has long been used as a soothing demulcent that coats the entire digestive system and reduces inflammation.
Quercetin is a flavanoid that helps stabilize mast cells in the gut, preventing histamine release. It also helps seal tight junctions, further helping with leaky gut. This in turn reduces autoimmune system reactions like food sensitivities.
Acacia and Pectin are prebiotics that feed and nourish the good bacteria in the gut.
Curcumin phospholipid complex has a regularity effect on the gut microbiome.
Marshmallow is both soothing and antibacterial and helps strengthen the gut lining.
Aloe vera reduces inflammation and helps heal the gut lining.
Artichoke has a high fiber content and nourishes the gut lining it also has a beneficial effect on the liver.
Zinc is an important mineral that helps to preserve the gut lining.
How Do You Take This Supplement?

Nutra Life Gut Relief comes in powder form rather than capsules, due to the high dosage of ingredients needed to have a beneficial effect on the digestive system.
The container includes a small 6gm scoop to help measure out each dose effectively. One scoop is mixed with a small amount of water and taken once a day before a meal. At this dosage one container will last a month.
Pros of Nutra Life Gut Relief
This is a high quality product at a good price.
Developed specifically to address several gut issues all at once.
Contains several beneficial supplements in one product, no need to take several separate supplements.
Each ingredient is supplied at a nutritionally beneficial level.
Easy to take.
Cons of Nutra Life Gut Relief
Some people may find taking a powder form less convenient than capsules, for example when travelling.
The taste is not unpleasant, but some people used to taking supplements in capsule form may not like it.
Nutra Life Gut Relief Helped Me
Due to the amount of damage to my gut from having chronic fatigue syndrome for many years, the length of time needed for my healing was quite long. During that time whilst I worked on improving other areas of my system I continued to take Nutra Life Gut Relief and am certain it was extremely beneficial in contributing to my recovery to good health.