Many people are switching to telehealth for their medical care, but for those who deal with chronic illnesses, this swap can be seriously life-changing. It's simple, accessible, and convenient! If you have Chronic Fatigue Syndrome, online pain management may be a great addition to your treatment plan.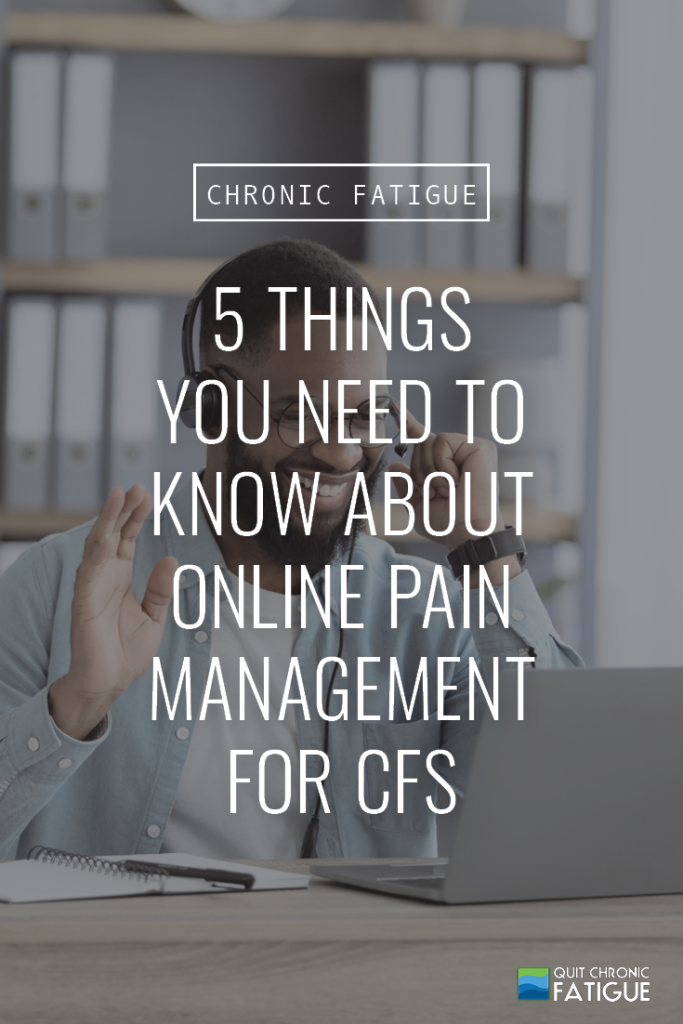 What Is Online Pain Management?
Online pain management is a part of the telehealth (or telemedicine) phenomenon. It allows people who deal with chronic pain to consult with their doctors and get relief without the strain of constantly going into an office for follow-up appointments. It makes managing your CFS so much easier and will save you tons of time and energy.
If you decide to take medication for your pain or to alleviate any other CFS symptoms, online pain management makes it easy to get or adjust your prescription. Doctors can prescribe medication after talking with you on your call or can alter your dosage based on follow-up consultations.
Why Should You Use Online Pain Management for CFS?
Dealing with CFS and chronic pain can feel discouraging, but telehealth provides encouragement and hope. Let's dive into the major benefits of utilizing online pain management to support you in your CFS journey.
It's Easier to Attend Appointments
CFS is tiring and draining, and can leave you feeling sluggish and low-energy (fatigue is literally in the name). And when you're feeling particularly low, it can be difficult to muster up the strength to head out to a doctor's appointment, especially if you have a long commute ahead of you. Spending all that time driving or on public transit is the last thing you want to do — and it can lead to even more pain and discomfort.
But online pain management erases that entirely. With a virtual appointment, you can get care from the comfort of your home and won't have to put yourself through the stress and pain of travel. No more canceling much-needed appointments because you're having a rough day!
There Are On-Demand Options for Pain Flare-Ups
One of the most transformative aspects of online pain management is that it's available at short notice. In many cases, you can connect with your doctor at the last minute or meet with someone else in their office instead. This is a game-changer during a pain flare-up or when you start experiencing a brand-new symptom.
You'll save yourself from extra, unnecessary trips to your doctor, local urgent care clinic, or even emergency room. Some services offer on-demand virtual care, though you should check with your insurance to make sure you're covered before signing up.
Related: Should You Try Telemedicine? 5 Benefits of Telehealth for People with Fibromyalgia
You Can Access Online Pain Management Specialists
Since online pain management is, well…online, distance and state or territory borders don't matter. You can access pain specialists no matter where they're located. You won't have to travel by bus, train, or plane to get the care you need.
For CFS especially, your primary doctor may not have the knowledge they need to properly treat all of the symptoms you deal with. Instead, online pain management allows them to refer you to a specialist like a rheumatologist or neurologist without taking into account everyone's geographical location. This lets you truly get the best care possible (and saves you the time, money, and energy it would take to travel).
Virtual Appointments Support Your Independence
On your worst days, you've likely called on friends or family members for help with even the smallest things. That support from loved ones is so important for overcoming the difficulties of CFS and can be a source of motivation and encouragement. But at the same time, needing assistance can feed into the anxiety and depression that many people with CFS or other chronic illnesses deal with.
Online pain management can help relieve these feelings. You won't need to call on your family for assistance getting to appointments and virtual visits can help you take care of yourself during flare-ups or tough days. Telehealth supports your independence and gives you confidence, which can be a much-needed mood booster when you're feeling low.
Your Doctors Will Be Better Able to Monitor Your CFS Symptoms
Technology has come a long way, and telehealth is leveraging it to improve treatment for chronic pain. When utilizing online pain management methods, your doctor can monitor your symptoms with medical tools you keep at home. These can track your symptoms and alert your care team when you have a pain flare-up.
Your doctor can also monitor your treatment through regular appointments and follow-up consultations. Since the appointment is virtual, it'll be easier for you both to attend and schedule your day around it. Plus, you can track how you feel each day in a virtual journal and easily share it with your doctor when you meet.
How to Prepare for Your First Online Pain Management Appointment
Ready to try online pain management? Here are some key tips on how to best prepare for your first virtual appointment.
Double Check Your Tech
First things first: get comfortable with your technology. You'll likely have to use a secure video chat platform provided by your doctor's office, not the work-based platforms you may be used to, like Zoom, Google Meet, or Microsoft Teams. Try logging on before your appointment to familiarize yourself with the software.
As with any video chat, you should check your internet connection and your computer's microphone and camera before talking with your doctor. If you need any assistive technology, like a screen reader or closed captioning, reach out to your doctor to see what's possible.
Related: Making the Most of Your Telehealth Appointment for Your Chronic Illness
Get Your Notes Ready
Come to your online pain management appointment prepared with questions and concerns for your doctor. It's just like any in-person session — write down your worries ahead of time and bring them along to the meeting to get answers. If you take medications or supplements, get them out of your cabinets and on your desk so you have them on hand if needed.
Take notes during the meeting, too, whether by hand or virtually. You should write down any instructions or recommendations from your doctor, and can even use your notepad to keep track of any questions you think of during your appointment.
Gather Any Medical Devices You Have at Home
There's a chance that your doctor may ask you to take your vitals at home and report them during your appointment. To get ready, grab medical devices like a thermometer, scale, or blood pressure monitor beforehand. Remember to get any specialized medical devices (like a heart monitor) if you have them.
Your doctor will appreciate your initiative and you'll keep the appointment running smoothly.
---
Online pain management is at the forefront of medical care for those who deal with CFS and chronic pain. Switching over to telehealth may be the right move for you — be sure to chat with your doctor to see what's possible!