We hope you love the items we recommend, and just so you know, Quit Chronic Fatigue may receive a small commission from links in this post.
What Is The Oxo Good Grips Tabletop Spiralizer?
It's a good well-designed kitchen tool with sharp stainless steel blades that cuts both firm and delicate vegetables easily. You can make long vegetable noodles that don't break apart., great when you're craving your favorite spaghetti dish.
Making veggie noodles for cooking or to have raw in colorful salads is very easy with this spiralizer.
With the color coded blades you can make two thicknesses of spaghetti- like noodles, one skinny and one a bit thicker. You can also make a fatter ribbon style fettuccine- like noodle.
I generally use the thicker spaghetti like noodle blade. But, if you're making noodles for an Asian style broth, the skinny noodles would probably work best.
This versatile spiralizer gives you the style of noodles that go with all your current favorite dishes. A transparent covered compartment that slides into the machine holds the three blades safely for easy storage. So you're not scrabbling in the back of the cupboard trying to find all the parts for the machine before you start cooking.
There's no time consuming or complicated set up with this spiralizer either. Simply slot in your selected blade, set your chosen vegetable in the holder, engage the grey suction lever and off you go.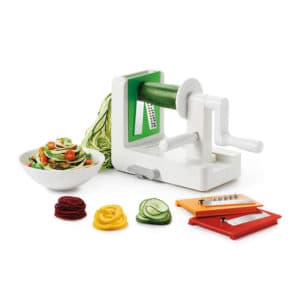 The unique suction design on the base means it doesn't wobble while you work, and stays steady on your kitchen bench giving it a really solid feel during use.
This spiralizer holds super tightly to my stone bench tops once the lever on the side is engaged to apply the suction fully. And when in use it doesn't move around at all, even when spiralizing harder veggies like sweet potato.
It has a small grey soft rubber handle that you pull to get the suction to release when you are finished using the spiralizer and want to move it. The suction is so tight that you really need to pull this little release handle pretty firmly to get it to release its grip on the bench top.
Your chosen vegetable is held tight in the machine whilst you turn the handle and your noodles come out the other end very smoothly and quickly without any effort at all. There's no need to apply heavy pressure to make the noodles, it's surprisingly effortless.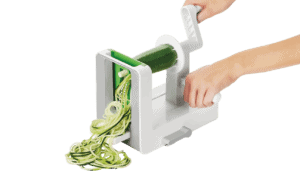 Unlike many kitchen gadgets that you buy but end up not using, the Oxo Good Grips Tabletop Spiralizer is both easy and quick to use and very importantly, it's super easy to clean. This gadget won't end up languishing in your kitchen cabinets just taking up space.
There are no fiddly plastic parts to wash and store, however the blades are very sharp and care needs to be taken when cleaning them so you don't cut your fingers.
An added bonus, if you're like me and have a small kitchen with limited storage, all parts store within the machine itself and overall it takes up very little space.
I keep my Oxo Good Grips Spiralizer on the kitchen bench within easy reach and use it almost every day, it's so quick and easy and it's never a chore to clean it after you use it, even the blade that makes the thinnest noodles is no problem to clean.
Data shows that about 40% of people carry genes making them susceptible to gluten sensitivity. Nowadays, there are many people looking to cut gluten from their diets and that's where a spiralizer comes in handy.
If you're like me and love making delicious and fast one bowl pasta dishes. But you're trying to cut carbs and/or gluten from your diet, making vegetable noodles is an easy and very healthy pasta alternative. You avoid the gluten and cut down on carbs but can still enjoy all of your favorite dishes.
Making noodles from veggies like sweet potato and zucchini means you can still enjoy a rich bolognese or beautiful fresh homemade pesto sauce without the gluten and high carb content you get from pasta noodles. Once you've made your spiralized vegetables of choice, try my authentic, and delicious pesto recipe.
Easily and quickly make a whole pile of veggie noodles and store them in the fridge for later use with this gadget.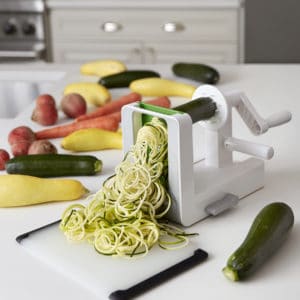 It's also quick and easy to spiralize vegetables like carrots for salad. Personally I hate shredding carrots the old way, in addition to being a pain to make, they end up being kind of limp and soggy and very unappetizing.
Unless you're a chef, making super skinny julienne carrots using a chopping board and sharp knife is just way too time-consuming. But spiralized carrots retain a bit of crunchy texture and are so easy and quick to make.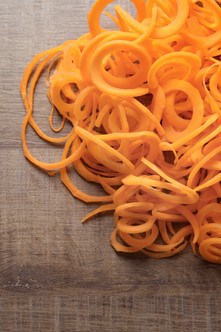 You can make lots of colorful, fast, nutritious and visually interesting salads using a variety of different vegetables. Playing around with the different blades to suit the particular vegetables gives you a variety of shapes and textures. Fruit like pears and apples can also be spiralized for use in salads and pretty desserts.
How Much Does The Oxo Good Grips 3 Tabletop Spiralizer cost?
Honestly, it's not the cheapest spiralizer out there, check out the latest price from Amazon below. But before I bought mine I shopped around and read reviews of various different spiralizers. So many cheaper models I read about had complaints of being flimsy, parts breaking very quickly and not remaining steady on the bench during use.
I don't know about you, but one of my pet hates is gadgets and machines that don't work as they should, or are too difficult to clean after using them.
It seems like such false economy to buy a cheaper priced item only to end up hating it because it doesn't work easily and efficiently. Or even worse, it ends up at the back of a kitchen cupboard because you really dislike using it.
This Oxo Good Grips spiralizer isn't one of those gadgets, you'll find lots of different ways to use it helping you incorporate more vegetables into your healthy diet on a regular basis.
Oxo Good Grips Tabletop Spiralizer Pros and Cons
Pros:
Sturdy modern and well-designed.
Unique suction design on the base holds the spiralizer firmly on the bench top during use.
Very easy to use.
Very easy to clean.
Blade storage compartment sits in a slotted section of the spiralizer and saves on storage space.
Cons:
The price is higher than some other brands of spiralizer, but the extra cost is worth it due to the great design and sturdy construction.
Final Thoughts On The Oxo Good Grips Tabletop Spiralizer
If you're looking for a nifty kitchen gadget that quickly and efficiently turns veggies into spirals for gluten free, low carb healthy and nutritious meals you can't go wrong with this one.
As usual if you have any queries or comments, please leave them below.