Why Should We Eat For Good Gut Health?
The importance of good gut health is undeniable. And it is now more generally believed that gut health links to overall wellness. With many studies demonstrating how gut health plays a part in autoimmune diseases, cancer, mental health and the immune system, looking after your gut should be a priority if you want to be truly healthy.
Once thought to be a fairly simple body system, nowadays there is recognition of just how important your digestive system is. Instead of being thought of as an organ that only processes, digests and ultimately eliminates waste product, it is now readily acknowledged just how big a part your gut health plays in relation to keeping all of your body systems functioning smoothly.
Your gut affects body systems as diverse as weight management, your immune system functioning, your mood and perhaps more surprisingly your brain health. 90% of serotonin, the feel good hormone, is produced in your gut and over 70% of your immune system is located in your gut. So if you want to stay happy AND healthy, pay attention to protecting your gut health at all times.
Unfortunately, it is all too easy to create an imbalance in your gut. Eating a steady diet of junk food due to having a super stress filled time at work, drinking too much alcohol and sleeping badly can all cause damage to your gut. And let's face it, who doesn't go through periods of stress nowadays? When stress gets to be too much, who doesn't reach for the easiest and quickest way to relieve that stress at least some of the time.
So while finding other more natural
ways to reduce the stress in your life
is a big step in the right direction, eating healthy food is another majorly important way of taking care of your gut and safeguarding your overall well being.
As the weather starts to cool down, it is natural to crave more comforting and warming food. And luckily many of those foods are great for your gut. Forget about visiting the drive through for hot fast food and dig out your slow cooker instead. With a little bit of shopping and food prep armed with your slow cooker, you can always have tasty and gut healthy food on hand after a busy day at work.
Having the right slow cooker is important if you want your slow cooked food to be as healthy as possible. Steer clear of those models lined with a non stick surface and choose a slow cooker with a toxin free ceramic liner instead. Using a more healthy ceramic liner cuts any possible risk of chemicals leaching into your beautiful, healthy slow cooked food.
Why Use A Slow Cooker For Gut Health?
After a stress filled busy work day coming home to a flavorful casserole or soup all ready for you definitely beats anything you'll buy from the drive through. The hearty aroma of home cooking greets you as you step indoors and all you need do is serve up your healthy meal and enjoy it.
Slow cooking ensures nutrients like important vitamins, minerals and antioxidants are kept within the food. While food cooked at high temperature has a tendency to lose a lot of its nutrient value and can also make food more difficult for your gut to digest.
Cooking at high temperatures can also create chemicals which have been linked to the formation of cancer. Meat cooked at high temperature can lead to the development of PAC's (Polycyclic Aromatic Hydrocarbons) which have been found to cause cancer and alter DNA.
Making super healthy and gut healing stocks and bone broths is easy with the use of a slow cooker. Vitamins, minerals, collagen and other nutritious compounds are extracted from the bones during the long slow cooking times.
Some of the amazing health benefits of bone broth can reduce aching joints, promote good digestion, inhibit infection, and help heal a leaky gut.
Slow cooker meals can be made using a combination of ingredients. You can use meat or poultry in combination with antioxidant rich vegetables. Or make entirely vegetarian meals too.
Here is a selection of fantastically easy, nutritious slow cooker recipes to help keep you and your gut happy and healthy.
All photos in the recipes come courtesy of each individual website.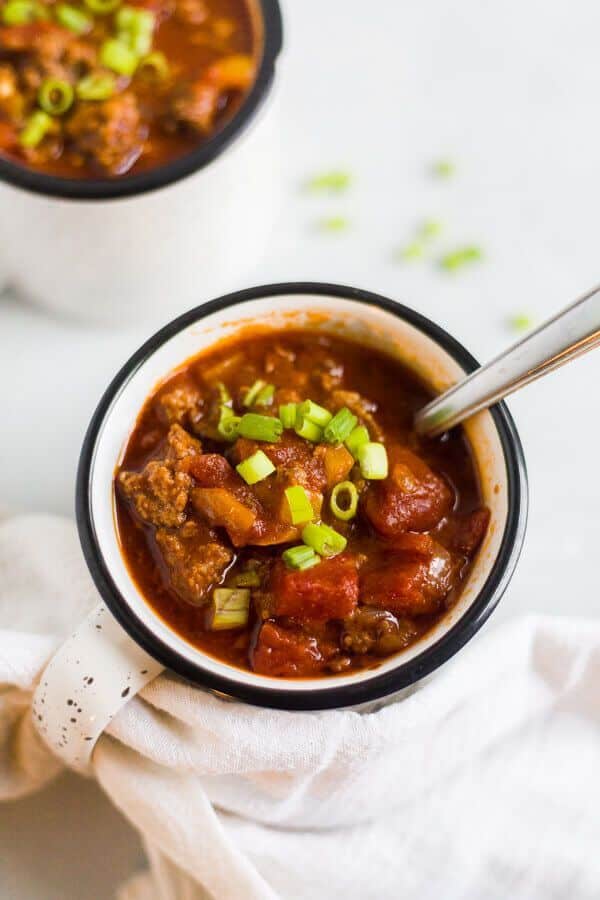 Comfort food at its best, this chili soup recipe comes from What Molly Made this recipe uses two types of minced meat along with vegetables and spices. Making this chili recipe without beans makes it lower in carbs, but if you need some carbs to fill you up you can substitute a couple of sweet potatoes instead. This chili recipe is hearty, and so easy to make in the slow cooker.
Using grass fed beef, coconut oil and beef bone broth this chili recipe is not only delicious but helps you build a healthy gut too.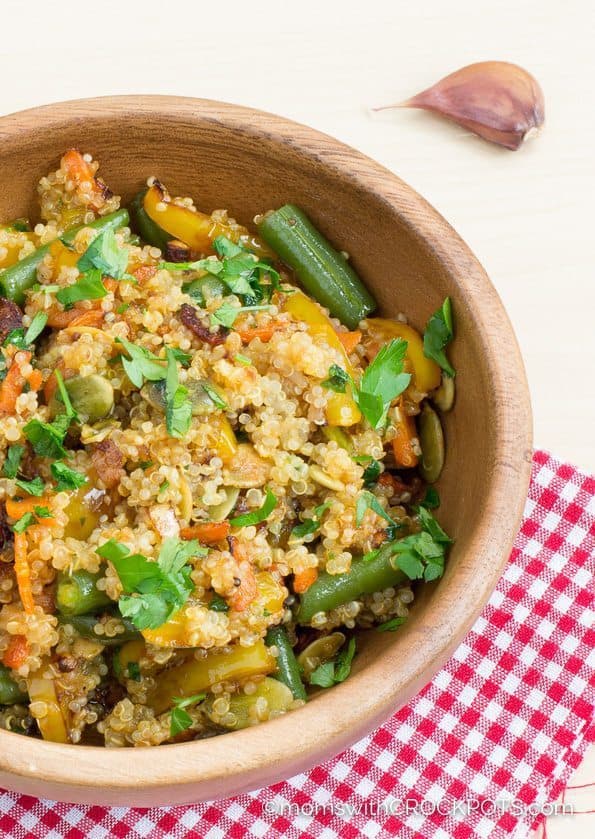 This easy to prepare recipe from Moms With Crockpots can be made vegetarian by using vegetable stock or you can also make it with chicken broth. Quinoa is a gut friendly seed that substitutes for grains when you are in gut healing mode. And the green beans, carrots and red peppers pack an antioxidant punch in this slow cooker recipe.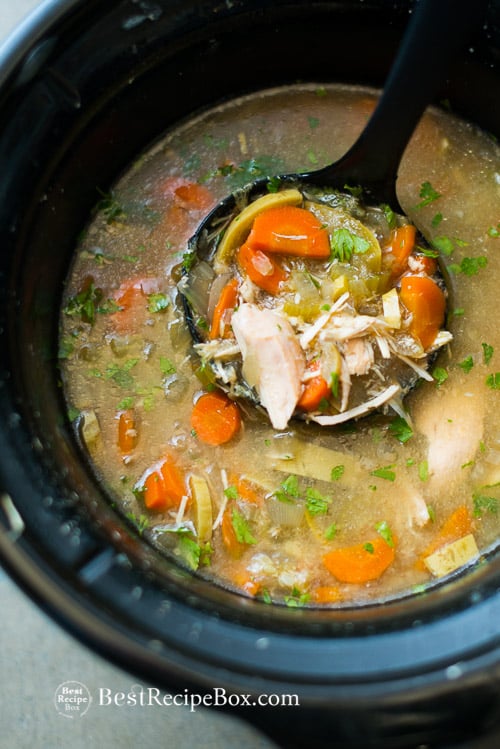 Who doesn't love chicken soup when in need of some comfort or when you are sick? And this Favorite Slow Cooker Chicken Vegetable Soup recipe from Best Recipe Box has just the right balance of ingredients. You can easily make a batch of this delicious soup and keep it in the fridge for a few days to reheat for a quick and healthy supper dish.
Using free range chicken, along with carrot zucchini and celery you get just the right balance of protein and carbohydrate from the veg all cooked in a healthy bone broth.
My slow cooker chicken bone broth recipe is also super easy. Make a batch in your slow cooker, and freeze in mason jars so you have it on hand for future use when making recipes like this one.
This is the very definition of a one pot meal. This flavorful and gut healthy stew recipe from The Chunky Chef ticks all the right boxes. Using cheaper cuts of grass fed beef and a medley of root vegetables, parsnips, potatoes and carrots make this dish affordable as well as gut healthy.
If you haven't tried a beef stew with the addition of beer or stout like guiness, give it a go. The alcohol is cooked off during the long cooking time and you are left with a hint of delicious beery flavor that compliments beef so well. Making this dish with beef bone broth adds not only to the rich flavor but is great for your gut too.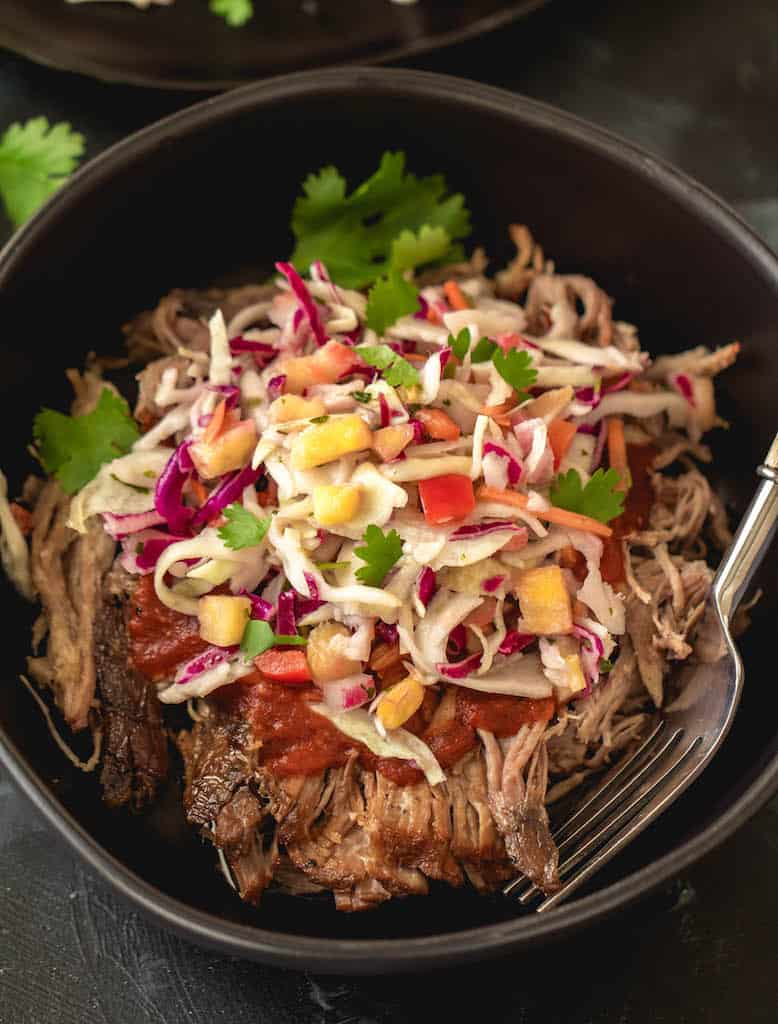 This Whole 30 recipe from Whole Kitchen Sink uses pork shoulder which you can buy bone-in or boneless. Slow cooking in chicken broth ensures the pork turns out beautifully tender and pulls apart easily. There is very little preparation for the pork and only a little prep work needed for the coleslaw.
But even the prep work is kept to a minimum if you buy already shredded cabbage from your local supermarket as the recipe suggests. Personally, I prefer to cut the cabbage and other vegetables myself, it takes very little effort or time and I know they are as fresh as possible.
A healthy and tangy dressing for the coleslaw comes from apple cider vinegar and avocado oil which as well as being delicious is a good foil for the richness of the pork.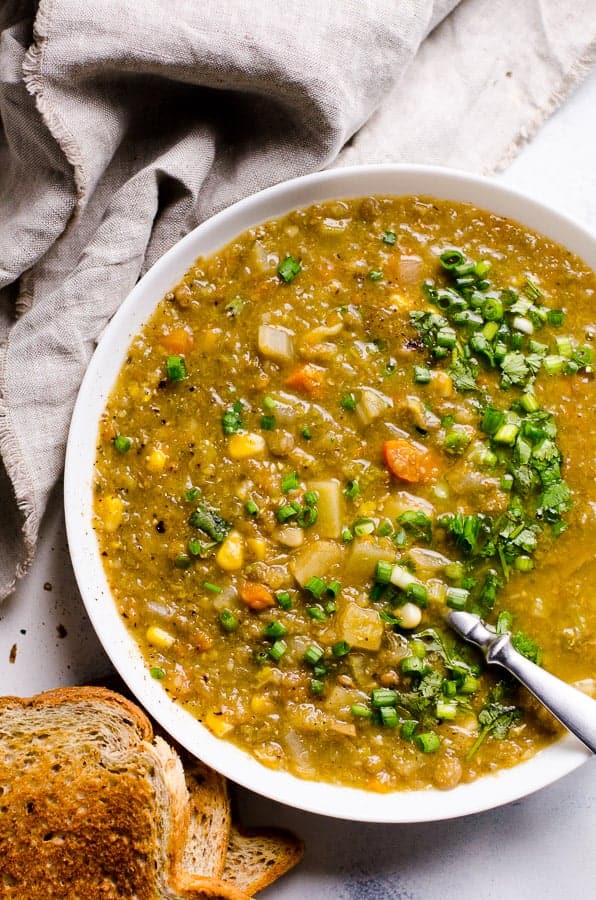 Slow cookers are fantastic for making healthy soups. If you are looking for a hearty vegetarian soup recipe this one from I Food Real is perfect. Made using only vegetables, this lentil soup recipe requires very little preparation at all. Simply throw all of the ingredients in the slow cooker and plug it in. The only prep work you need do is chopping up a few vegetables.
The long slow cooking time breaks down the potatoes and lentils combining them to make a hearty soup. If you like your soups to be really creamy, using an immersion blender for a few seconds before serving helps combine the ingredients for an even smoother and thicker soup.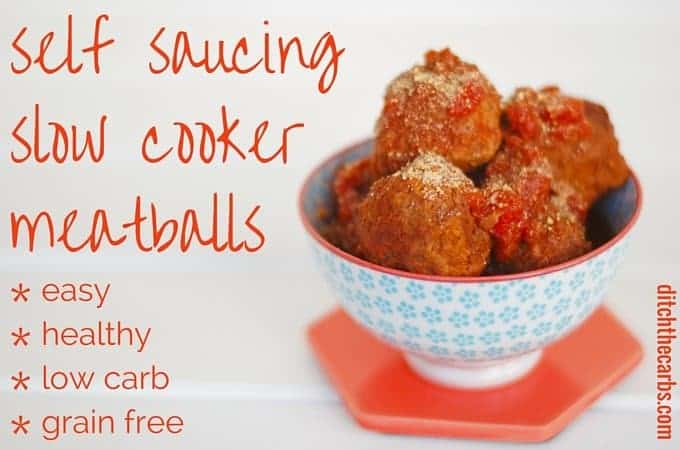 If you are looking for a healthy low carb meatball option this recipe from Ditch The Carbs has you covered. These meatballs are also gluten free, grain free, dairy and sugar free. Make sure to choose grass fed beef for your meatballs and you have a gut healthy take on this favorite.
You need to do a little prep work by combining the meatball ingredients in a food processor and ideally this can be done the night before. Then simply set the meatballs in the slow cooker with canned tomatoes in the morning before work and you are all set. The nutrients and juices from the meatballs combines with the tomatoes to form a delicious sauce.
To ensure you keep this meal low carb, rather than serving the meatballs over traditional pasta, opt for some cauliflower mash or zoodles. I use this spiralizer to make zoodles, it makes light work of making vegetable noodles of all types. I tend to make a big batch of zoodles as they keep in the fridge for a couple of days. They are always great to have on hand.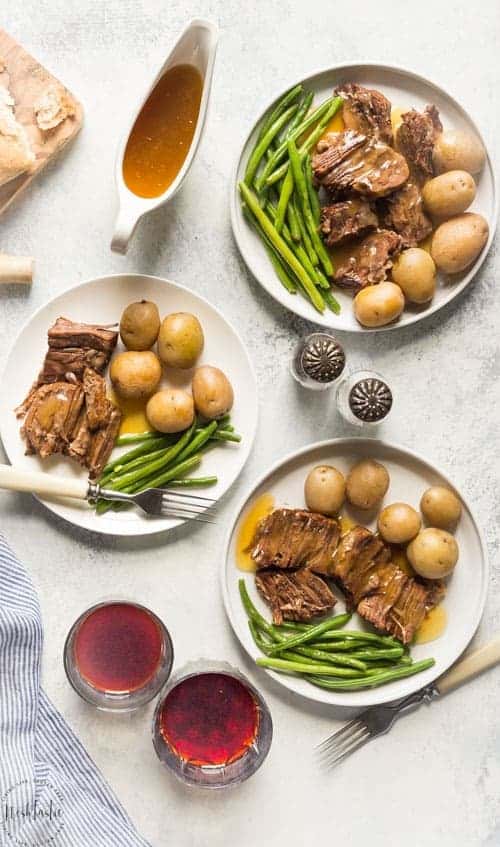 This beautiful pot roast recipe from Noshtastic is great for an evening meal or sunday lunch. You need to do a little bit of prep work by browning the meat before placing it in the slow cooker with the vegetables and beef broth. But, this extra step is worth it for the additional flavor kick it gives to the beef.
Who doesn't love a good pot roast? And by using a cheaper cut of grass fed and boneless chuck roast this hearty meal is also economical for a weeknight meal. Adding some extra steamed vegetables like green beans and baby potatoes shown here rounds out the meal beautifully.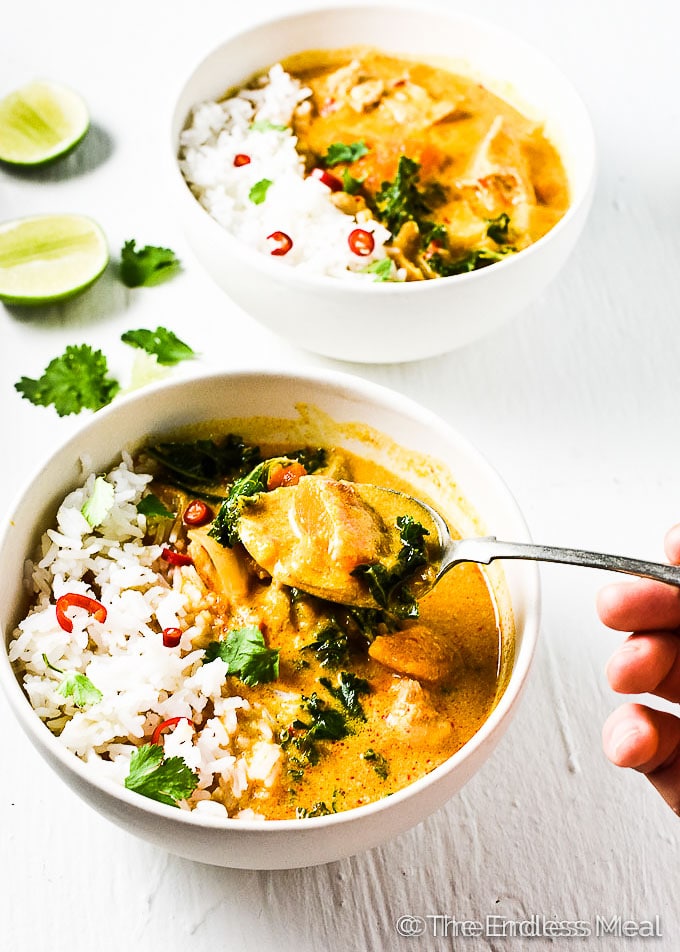 When your taste buds could do with a little spice, but you want to avoid takeout, try this easy and delicious recipe from The Endless Meal.
Using free range chicken thighs and store bought Thai curry paste in combination with some healthy vegetables, this recipe is super easy and cheap to make.
All ingredients are simply placed into your slow cooker and allowed to simmer slowly to combine the flavors from the spices and herbs. Not only does it taste delicious but, you also get the gut healing benefit from the addition of coconut milk used in the recipe.
Once it's ready to serve, team it with some rice a sprinkle of lime juice and some chopped cilantro to bring out the flavor of this traditional Thai dish.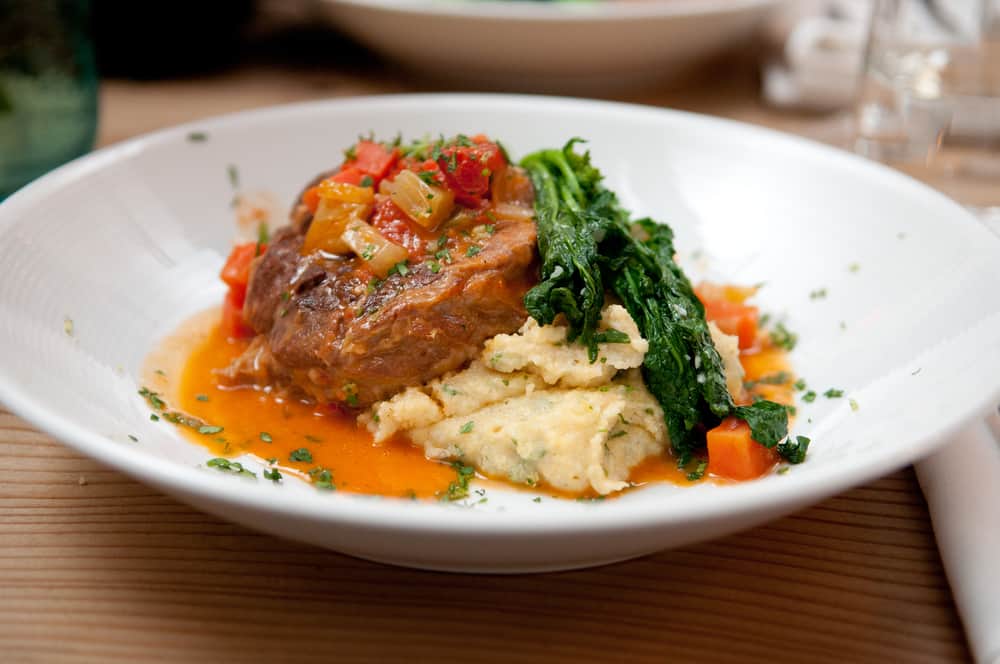 This is my own osso bucco recipe and I love making it in my slow cooker. It is so easy, but looks pretty impressive served up for a special dinner or family gathering. I usually serve it with cauliflower mash rather than the traditional risotto to save on carbs.
Made from veal shanks and veal bone broth this gut healthy dish is also delicious. As an added bonus you get the bone marrow from the shanks which is a fantastic source of gut healing collagen.
It is a beautiful hearty and nutritious dish to serve up when the weather starts to cool down and is sure to become a firm family favorite.
Putting It All Together
There you have it, 10 slow cooker meals and recipes that will keep your gut healthy and the time spent you spend in the kitchen to a minimum. Now you have no excuse for ordering expensive takeout or heading for the drive through on the way home from work.
It's a win win win, you'll save money, save time and eat in a way that supports not only your gut but your overall wellness too.
Please Feel Free To Leave A Comment.