Why Homemade Chicken Bone Broth?
Bone broth has quite a reputation for its fantastic gut healing properties. Below, you can find my recipe for homemade chicken bone broth. It's become my basic 'go to' bone broth recipe. I find it's light taste easier to drink than beef bone broth and it's also very easy to use as a base for all types of soups.
Adding a couple of carrots to the recipe gives a sweet taste to the broth. Of course, you could also add some other flavorings like thyme, garlic etc., whatever suits you. I like to keep this basic recipe pretty simple so I can use it in a number of different soup and casserole recipes.
I first started making bone broth when I was diagnosed with leaky gut and I found that it helped a lot. Just drinking a couple of cups of this delicious and satisfying broth each day will help your leaky gut and help provide an energy boost too.
Bone broth is also great for:
Boosting the immune system.
Improving the health of joints.
Overcoming food sensitivities.
Thinning mucous during colds and flu.
Bone broths are recommended in healing leaky gut and other health issues as it contains a range of useful nutrients such as:
Magnesium, sulfur, calcium and silicon all in an easily absorbed form.
Natural Collagen – good for maintaining healthy skin.
Gelatin – helps seal a leaky gut and helps support the balance of probiotic growth.
Glutamine – also helps seal and support the integrity of the gut.
In order to pull out all the minerals and goodness from the bones, it's best to cook it for around 20 hours. If you can do 24 hours, all the better. A programmable slow cooker makes the job of simmering the bone broth for the long time needed. Find the slow cooker I use here.
At the end of the cooking time, the bones will have disintegrated and the Apple Cider Vinegar will have done it's job of helping leach the minerals out of the bones and into the flavorful broth.
Using organic free-range chicken will ensure you are not cooking any nasty chemicals into your concentrated broth.
The broth keeps for a few days in the fridge, or pour it into glass jars (leaving some room at the top of the jar for expansion) and place in the freezer for later use.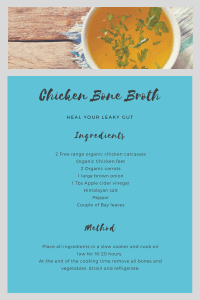 I hope you enjoy this recipe. Please feel free to leave a comment.