We hope you love the items we recommend, and just so you know, Quit Chronic Fatigue may receive a small commission from links in this post at no cost to you.
Staying Mobile With A Chronic Illness
Depending on how debilitating your illness makes you, there may be times when you'll need some help getting around. While a wheelchair may not be needed, using lightweight rollators for chronic fatigue syndrome or a chronic illness can be very beneficial in allowing you to remain mobile and independent.
A rollator walker is particularly useful on days when you have trouble getting around and your muscles feel weak. It helps by reducing the amount of effort you use in movement and by aiding your balance. Going slowly and gently, rolling the walker ahead of you as you move will provide support as well as make the act of simply walking less energy sapping.
Retaining some independence and being able to get a break from staring at four walls all day can help with mental wellbeing too. A short trip to the mall, or to meet friends for coffee and a chat can really lift your spirits and help you take a break from thinking about your chronic illness for a while. You'll soon be enjoying your freedom, just like this little dude.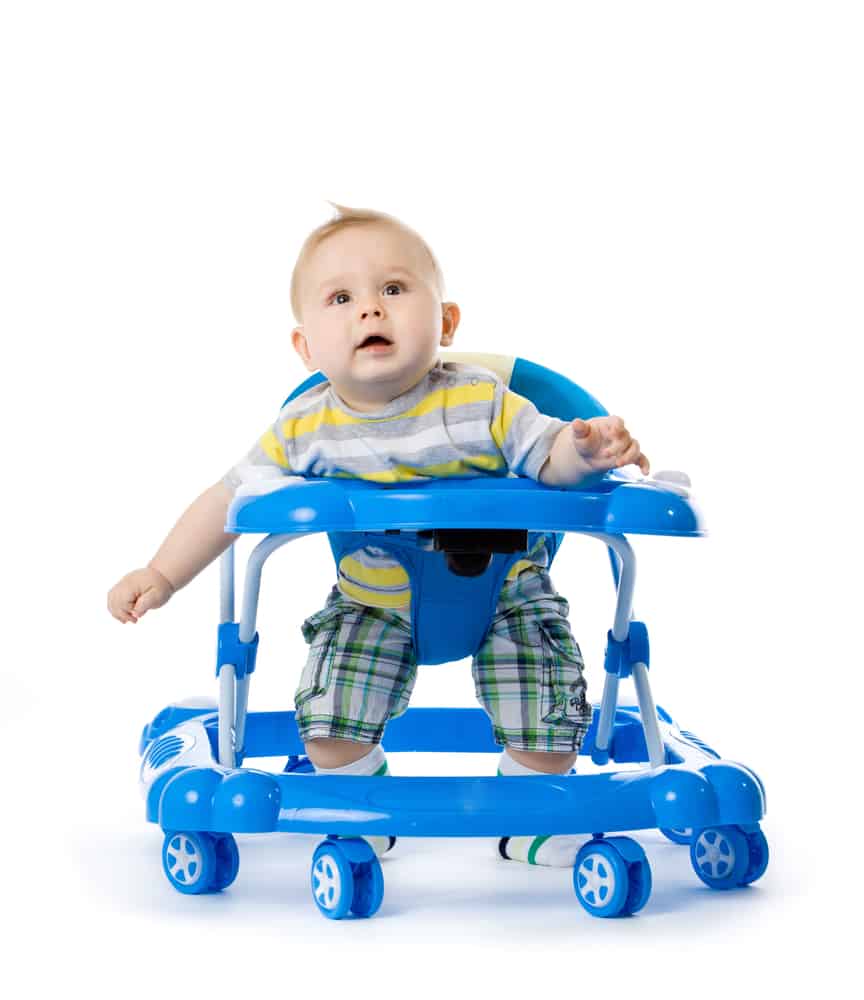 Using a rollator to lean on when you feel weak will provide you with more confidence and enable you to enjoy your trip outdoors. And if your energy starts to flag having a rollator with a seat is useful and allows you to take a break to sit down for a short while to manage your energy.
You should keep in mind though that rollators are not designed for sitting and moving at the same time. The seat is there to enable you to take a short stationary break. Taking frequent breaks can be super useful if you are using 'pacing' as a way to manage your fatigue.
Rollators are a great idea for people recovering from a sports injury, medical procedure or an accident. Also useful for people undergoing dialysis, cancer treatment, surgery or anything affecting your energy and ability to walk unassisted.
Rollators are a massive improvement on walking frames which require energy to lift and move along. The wheels on the rollator allow you to glide along comfortably at your own speed.
Of course, whatever the reason you've decided you need one, it is important that the rollator you choose is lightweight. A lightweight rollator is much easier to lift in and out of your car or for use on public transport when you are on your own. While lightweight your rollator also has to be sturdy enough to support you too.
5 Important Points To Consider When Deciding On Your Rollator
How much it weighs.
How much weight it can carry.
How much height adjustment it has.
How easy it is to maneuver and use.
How easy it is to fold.
We've selected 5 of the best lightweight rollators available to help you choose the one that will suit you best.
All of the rollators featured here have 4 wheels for stability and ease of movement and maneuverability.
From budget priced to more sophisticated models – check out the features of each.
Evolution Trillium Lightweight Rollator (14lbs)
This lightweight walker weighs in at only 14 pounds. With a compact design and easy maneuverability you can use it with ease in small spaces. Getting through tight doorways and down the aisle of a crowded retail store is a snap with this rollator. The ease of handling is achieved by the front caster tight turning circle.
Brilliant for outdoor terrain, the large 8″ wheels can easily manage uneven surfaces and the tires, made from EVA are tough and hard wearing too.
This rollator design encourages a wide stance for safety and stability and locking hand brakes with hidden cables add to the safety features of this rollator. No risk of getting tangled up in any loose cables.
With a thick padded seat you'll be comfortable sitting for short periods and the carry bag on the front is handy to hold small items of shopping. The carry bag is removable and folds easily too. The Evolution Trillium comes in 3 size models to suit different height requirements, so you can easily find the model that suits you best.
Mini – height adjustment from 29″ to 32″.
Regular – height adjustment from 31.5″ to 34.5″.
Tall – height adjustment from 34.5″ to 37.5″.
Folding Method – This rollator has a center folding action that can be utilized with one hand.

Weight Capacity – 300 lbs for mini and regular, 350 lbs for the tall version.
Dimensions – 26″ wide x 25.5″ long

Made in USA using global materials ensures a quality product – built and shipped in the U.S.

Warranty Period – Lifetime warranty on the frame, 5 year warranty on the braking systems, 1 year warranty on all other components.

Medline Freedom Ultralight Rollator (11lbs)
This rollator is the BUDGET model out of those listed here. A lightweight aluminium frame with easy grip brakes, exposed brake cables and 6 inch wheels. It definitely doesn't seem as sturdy as some of the other models here. However, the advantage is that it is the lightest at only 11lbs. So if your main concern is lifting your rollator in and out of your car, this model could suit you. It is probably not the best model if you plan to use it a lot on rough terrain outdoors though.
The arms and seat are height adjustable to suit users of heights from 4'11" up to 6'4″. The seat height adjusts between 18″ to 23″.
There is a convenient and closable storage bag reached by lifting the seat up to allow the bag to be taken off the rollator.
It is easy to assemble without the use of any tools and has a padded seat and backrest and comes in a choice of three colors.
Folding Method – Easy to fold once the bag is removed.
Weight Capacity – 250 lbs
Dimensions – 36″ x 29″
Warranty Period – 2 months

Stander EZ Fold N Go Rollator Lightweight (15lbs)
This rollator is a little heavier at 15lbs, has a durable frame and no assembly required as it is ready to go right out of the box. The folding action of this rollator allows it to fold completely flat to the minimum size possible making it easy to store in your car, or for taking with you on a plane. There is a handy clip included to ensure the rollator stays flat once folded.
It comes with sturdy 6″ wheels, a travel seat and backrest strap, allowing you to take a sitting break when you need to. The handles can be adjusted to suit your height from 33″ up to 36″. This rollator is equipped with full locking brakes and convenient reversible brake pads that add to their user lifespan.
A convenient pouch as well as a mesh bag makes carrying items easy. You can place your phone in the front pouch for easy access. The Stander EZ Fold N Go Rollator comes in a choice of three colors.
Folding Method – One handed center folding action.
Weight Capacity – 250 lbs
Dimensions – 33″ x 23″
Warranty Period – Lifetime.

Elenker Medical Rollator Walker With Seat (16lbs)
This is one of the heavier lightweight rollators featured here, weighing in at 16lbs. But, still lightweight compared to other rollators commonly weighing around 23 lbs and more.
The Elenker rolling walker is easy to assemble without tools, has a large zippered front pouch for secure storage allowing easy access for your phone and small items. However, unlike the other walkers here it does not have a storage basket or bag for shopping. Height adjustable from 29″ to 34″ and with 6″ wheels for easy maneuverability. It has rear braking wheels, a seat and folds flat for storage. Offered in a choice of two colors.
Folding Method – Center folding action.
Weight Capacity – 300 lbs
Dimensions – 29″ x 20″
Warranty period – 1 year

Drive Medical Nitro Euro Style Rollator Walker 17lbs
Out of all of the options on this page my #1 pick is this Drive Medical Nitro Euro Style Rollator because this is one of the easiest rollators to collapse and this action can be managed with one hand. The seat grip pulls up bringing the sides of the rollator to a compact folded size. And if you want a rollator that doesn't make you look like a granny the overall look of this rollator is 'sporty' with an aluminium frame and hidden brake cables for safety. Check out my review here.
This rollator has large front wheels designed to allow for maximum turning radius and maneuverability. The large wheel size also makes travel on grass, cobblestones and gravel easy.
A comfortable nylon seat and height adjustable removable backrest allows you to customize the rollator to suit. With a zippered storage bag at the front of the rollator access is easy and secure. This rollator is ready to go right out of the box. The height adjustment is 33.5″ up to 38.25″
Folding Method – center folding one hand action.
Weight Capacity – 300 lbs
Dimensions – 27.75″ x 23″ x 33.5″
Warranty – Limited lifetime on the frame. B

rake

and handle housing is covered for 5 years.

Putting It All Together
Using a rollator can be a necessity at times when you want to remain mobile and independent. Whether you have a chronic illness or you have a short term need due to an injury, a rollator can be a cool mobility aid. Allowing you to feel more confident when you are out and about it provides a sense of stability and security.
Choose one that suits your weight and height requirements first then check out any other features you need before you make your purchase. Do you need a bag or will a pouch be enough to hold any items you take with you? How important is it that your rollator folds completely flat for storage? Does your rollator need to be a specific size to fit in your car?
Take some time to work out your specific needs and you are sure to pick a rollator that is right for you. You'll soon be gliding along smoothly on your next outing.
As Always, Please Feel Free To Leave A Comment.