We hope you love the items we recommend, and just so you know, Quit Chronic Fatigue may receive a small commission from the links in this post at no cost to you.
Foggy Brain Getting You Down?
Forgot where you left your car, your keys, or forgotten the name of your best friend of 20 years? If you feel as though you'd forget your head if it wasn't screwed on….You're not alone, brain fog is a frustrating but very common symptom of chronic fatigue syndrome.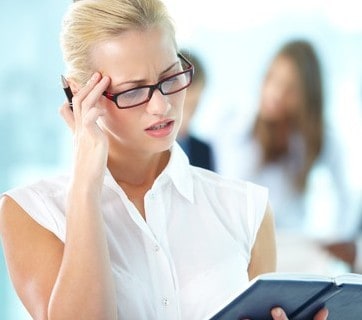 And the dreaded brain fog seems to strike just when you least expect it. Like when you've climbed a huge flight of stairs, gone all the way to the top and forgotten what you went up there for – grrrh!
Embarrassingly, forgotten appointments keep happening and friends, family and work colleagues are wondering what's going on with you.
Cognitive problems can have various causes. Over exerting yourself can exacerbate your brain fog symptoms. Staying within your energy envelope is important to reducing this and other symptoms of chronic fatigue syndrome.
It can be tempting to use caffeine in an attempt to make yourself feel more alert. But whilst this can give you a quick lift it will end in a 'crash' with subsequent worsening of your brain fog.
You can use your brain fog symptoms as a way of knowing when you've overdone it and need to take a rest. Sometimes you may not feel particularly fatigued. But if you cannot think clearly it can be because you have pushed yourself beyond your current limits. A short rest may be enough help the fog to lift for some people.
Living in an orderly way and getting organized can help avoid the panicked out of control feelings that are a result of brain fog in chronic fatigue syndrome.
You can describe brain fog as a number of cognitive issues including short term memory issues, confusion and difficulty with concentration.
Some of the symptoms include:
Struggling to come up with a word you already know.
Short term memory problems.
Difficulty with concentration and a lack of being able to focus.
Multi tasking difficulty.
What Is Brain Fog And What Causes It?
In chronic fatigue syndrome, low energy production in the brain alters blood flow. This also causes changes in brain neurotransmitters like dopamine, adrenaline and serotonin. This then contributes to the annoying brain fog symptoms you are experiencing.
Learn more about some of the underlying causes of brain fog in chronic fatigue syndrome and get help to start treating it now.
Brain fog is a very common symptom for people with chronic fatigue syndrome. If severe, it can impact your life in many ways having an equally profound effect as that of your other major symptoms like fatigue and pain.
Over 90% of chronic fatigue syndrome sufferers complain of brain fog.
How do you deal with forgetfulness? Brain fog and the ensuing forgetfulness is an unfortunate and frustrating symptom of chronic fatigue syndrome. But there are ways to help manage it.
Addressing the underlying health reasons of your chronic fatigue syndrome will help alleviate brain fog in the longer term. As your illness improves, your brain fog will disappear and clarity will return.
But for more immediate help, there are some top selling gadgets for brain fog that can help you organize your days and make dealing with your foggy brain a bit easier.
What Gadgets Do I Need?
Gadgets to help you locate those items that seem to go amiss frequently, such as keys and your phone.
Gadgets to help you get organized easily with scheduling and list making so you don't miss another appointment.
Gadgets to help make sure your home is secure and well maintained.
Gadgets that make sure your pets are looked after properly.
What Are The Coolest New Gadgets That Can Help With Brain Fog?
Cool Gadget #1 – Tile Mate With Replaceable Battery
How often have you mislaid your keys and can't remember where you left them? It's frustrating when you're just about to leave home rushing around because you're late and now you need to locate your keys. When did you last see them? What have you done with them?
This cool gadget attaches to your keys, your bag, wallet or any item you keep losing, you can even attach it to your pet. Tile Mate works via Bluetooth and points out the location of your lost item via your phone's map or by using a ringer alert.
Many years ago I bought a forgetful friend, who continually mislaid his keys, a 'beeper' that attached to his keyring. It worked OK, but was quite large, a bit cumbersome and had a horrible piercing whistle alert.
Thankfully, technology has improved and this Tile Mate is the 21st century version of that old keyring beeper, but it's both conveniently lightweight and slim and easily attaches to any item you choose. You can attach it to your keys or backpack via the built-in holder. Or attach it with double-sided tape to other often mislaid items like a phone or remote control.
EASY SET UP – Start the Tile Mate working quickly and easily via the app.
EASY TO USE – Use your smartphone when your lost item is out of sight to make your Tile Mate ring.
PHONE LOCATOR – Use Tile Mate to locate your phone. Double press the Tile Mate button and your phone will ring.
PACK SIZE – 4 Tile Mates in each pack.
BATTERY – This new generation Tile Mate has a replaceable battery.
GUARANTEE – One year from activation.
Cool Gadget # 2 – Magnetic Dry Erase Calendar For Fridge
This cool magnetized calendar sticks perfectly to your fridge where it is easily viewed not only by you, but everyone in the family. Manage doctor's appointments, school sports and activities easily. Never miss an appointment again due to your foggy brain.
You can easily see what is scheduled as all information is kept in the one easy to read and accessible place. This calendar helps you quickly see your schedule for the day, week and month ahead clearly.
Checking it out during breakfast and reviewing the day ahead helps you get organized. It not only prevents the chaos of missed appointments, but helps you feel calm and in control at times when your brain fog hits.
The calendar comes with colored markers which also stick to your fridge, so you don't have to go looking for a mislaid marker either. Choosing different colors for different activities, or different family members helps your brain organize them with more clarity.
EASY CLEAN OFF – Other dry erase calendars can be difficult to clean and need some serious scrubbing. Usually stains can appear after only a short time of using it. However, this Dry Erase Calendar cleans easily, leaving no stains.
SIZES – Available in 2 sizes to suit your fridge – 17 x 12″ and 19 x 13″.
INCLUDES – 4 Fine tip markers in different colors and a large eraser.
Cool Gadget # 3 – Dogness Automatic Dog/Cat Smart Camera Feeder
It's a horrible feeling, not being sure if you remembered to feed the dog today. And if you give your pooch more food just to make sure, are you potentially setting your pet up to be overfed?
With this automatic pet feeder you can set it to provide food automatically according to your pets' schedule and you choose the right quantity per feed. It's easy to set up this pet feeder by downloading and installing the app on your phone.
This automatic dog feeder has a built in camera and speaker too, so you can see your pet and they can hear your voice at feeding time. The feeder works via your home WiFi system which needs to be a 2.4GHz frequency to work.
Never worry about under or over feeding your pet again when brain fog gets the better of you. Not only is this automatic pet feeder a boon for brain fog, but it cuts down on daily chores too, great for low energy days when all you can do is lie on the sofa.
CAPACITY – The feed hopper holds 6.5lbs of dry food with a simple setting.
VOICE – Record and play your voice message to your pet at the set meal time.
PORTION CONTROL – Setting the required portion accurately is easy.
POWER SUPPLY – Battery or power adapter.
CAMERA – Monitor your pet's feeding behavior.
DIMENSIONS – L 16.5 x W 8.66 x H 16.14 inch
POWER CORD – Long power cord 9′.
Cool Gadget # 4 – Lechuza Cubico Automatic Watering Planter
While we're on the subject of taking care of household members and chores, what about taking care of your potted house and patio plants?
Forgetfulness here can have disastrous results, over-watering or under-watering your houseplants can prove fatal.
Either plants with yellow leaves from too much water or plants with no leaves at all from under watering can be the result of brain fog causing forgetfulness. Some potted plants can be a pretty expensive purchase, so you need to make sure they are properly looked after.
This Lezucha Automatic Watering Planter can take the worry out of trying to remember when you last watered your precious plants. And this planter not only works great but looks good too. Some self watering planters are pretty clunky looking and to put it bluntly, they're really ugly. But this Cubico planter by Lechuza has a sleek modern but classic look.
STYLISH – Stylish classic shape that suits a variety of decor styles.
DURABLE + WELL MADE – Manufactured in Germany, with a frost and UV resistant Polypropylene finish. Suitable for both indoor and outdoor use.
WATERING SYSTEM – The self watering feature uses inorganic granules that provide the correct level of water to the plant roots.
OUTDOOR USE – The drainage plug allows for removal of excess rainwater when used outdoors.
INDICATOR – Water level indicator shows you when the reservoir needs to be refilled.
DIMENSIONS – Available in 3 sizes – 16″, 22″ and 30″ tall.
COLORS – A selection of neutral, classic colors.
Cool Gadget # 5 – MyQ Garage Door Opener
You know that horrible sinking feeling, you're driving and on the way to an appointment and suddenly wonder if you closed the garage door. Running late, you're too far into your journey to turn around, go back home and check.
If you access your home via your garage, leaving the garage door open means running a security risk not only to potential theft of anything stored in your garage but may provide access to your house too. But with your foggy brain, you just can't remember if you closed the door or not.
What a dilemma! Turn the car around and go back home to check, and arrive late for work or your appointment. Or risk leaving the garage door open and a potential robbery.
But with this MyQ Garage door opener/closer you can check from anywhere using your smartphone – problem solved, panic averted. Because, if you did leave your garage door open you can use the MyQ to close it too.
With various settings you could also set the garage door to close at 10pm every night. You can turn in for the night knowing even if you left the garage door open, the MyQ will close it for you automatically.
ALERTS – Customized notifications can be set up sending you an alert when your garage door opens and closes.
FEATURES – Operate opening and closing the garage door. Receive garage door status via the MyQ app.
COMPATIBILITY – Works with most modern brands (after 1993) of garage door openers that have standard safety sensors.
Putting It All Together
Brain fog can be a frustrating symptom of chronic fatigue syndrome, striking at the most inconvenient times. Of course, you need to work with your practitioner on the root causes of your chronic fatigue syndrome to recover from your illness. As you recover your annoying brain fog will gradually recede too.
But, in the meantime choose some of these cool gadgets and make your days easier to organize and manage. If you know you have some ways to manage the inevitable days when foggy thinking strikes it will help you feel more in control and less stressed about your illness.
Please Feel Free To Leave A Comment Below. Tell Us About Cool Gadgets You Use That Help With Brain Fog.