We hope you love the items we recommend, and just so you know, Quit Chronic Fatigue may receive a small commission from links in this post at no cost to you.
The Secret To Making Vacuuming Easy
Vacuuming is not the favorite chore of most people. It is a thankless task that often needs doing daily, especially when you have a family and pets. Dirt tracked in from outdoors and pet hair needs to be cleaned up regularly, particularly if you have sensitivities/allergies to pet dander. Research shows that 75% of people with chronic fatigue syndrome have allergies.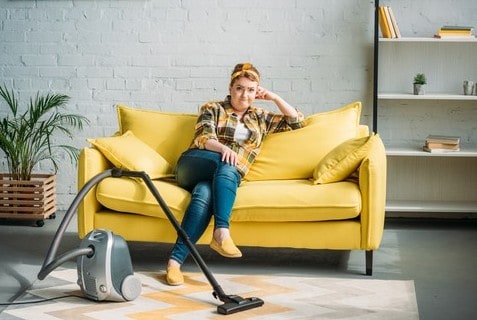 So, if you have chronic fatigue syndrome it's important to vacuum regularly but it can take a huge effort and way too much energy to pull a heavy vacuum cleaner around your home.
Even by taking several rests during a cleaning session you can still end up completely worn out from vacuuming. It can definitely push you outside your energy envelope and you end up crashing. Then you spend the next couple of days in bed recovering.
But there are robotic vacuum cleaners that can do this hard work for you. You don't need to worry about your floors not being clean as this type of robotic vacuum automatically takes care of it all for you.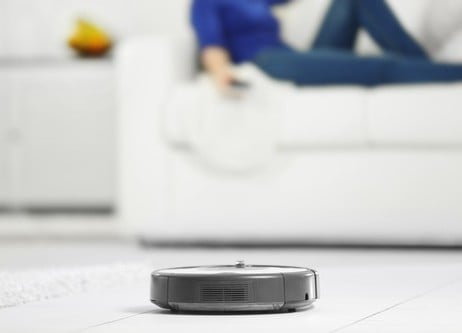 You probably have several questions such as:
Which robot vacuum is the best for your particular needs?
Are robot vacuum cleaners worth it?
Which robot vacuum is best for pet hair?
Which is the best budget robot vacuum cleaner?
Can you buy a robot vacuum and mop in one?
Robotic vacuum cleaners are not all created equal. Price, performance and features vary from model to model, and brand to brand. Let's take a look at the best of robotic cleaners in the MID PRICE RANGE to make it easy for you to choose the one that is right for you.
Tesvor Robot Vacuum Cleaner
The Tesvor Robot vacuum cleaner is new in the market and works well for its lower price. It comes with a remote control, charging dock, a cleaning tool, two side brushes, a filter and an extra main brush. The Tesvor is 12 inches in diameter and 2.9 inches high so it has no trouble cleaning under your furniture.
The top of the unit has a start/pause button making it quick to launch into cleaning mode. This vacuum a brush less motor that makes less noisy than other robots and it runs for 100 minutes when fully charged. This robot uses a v shaped roller and dual brushes to clean with efficiency.
Using your Tesvor Robot vacuum cleaner
The Tesvor is simple to set up. Just follow the instructions to connect it to your Wi-Fi for use through the app. You can also voice control operation through Amazon Alexa and Google Home.
This little robot has the standard anti-collision and drop sensors. This vacuum superior gyroscope navigation that it allows it to memorize where it has already cleaned. This allows it to cover up to 95 percent of your floors moving in an S motion. It also has a streamlined air duct that gives it efficient suction to pick up dirt, debris and pet hair.
There are three cleaning modes:
SMART Mode – When in smart mode, the device cleans and maps each room methodically.
EDGE Mode – In edge mode, it cleans along walls and edges.
SPOT Mode – When in spot mode, the Tesvor cleans dirtier areas for a few minutes.
This is an affordable unit with great features that works well for the price.

Eufy Robovac 11S (Slim)
The Eufy Robovac 11S is good value for a mid price model. It is simple to use and small but powerful at the same time. This Robovac is black with a tempered glass top, 12.8 inches in diameter and 2.8 inches high. It is ideal for getting dirt and dust from under sofas and furniture close to the floor.
The Eufy 11S does not use mapping technology to navigate. It uses sensors in its front bumper and underneath the unit. There is a 0.6 liter collection bin, and it uses a pair of spin brushes and a roller brush to clean.
A handy remote control has a clock and indicator that shows the current suction level and what cleaning mode it is set on. You can even schedule it to clean at different times and on different days. When you buy the Eufy you also get a dock for charging the vacuum cleaner, a cleaning tool, two extra filters and four brushes that attach to its side.
Using your Eufy Robovac 11S (Slim)
Once you set up your Eufy, turn it on via the switch on the bottom of the unit. Put it on the charging dock and allow it to fully charge before use. It will deliver 100 minutes of cleaning time when fully charge
This vacuum several cleaning modes you can select from using the remote control:
MANUAL Mode – In manual mode, use the directional buttons on the remote to control where it cleans.
EDGE Mode – In edge mode, the Robovac will clean along wall edges for 20 minutes at a slower speed and then returns to its dock.
SINGLE ROOM Mode – In single room mode, it gives a specific room an intensive 30 minute clean.
SPOT Mode – In the spot mode, it spirals in one area for 2 minutes to give the area an intensive clean.
AUTO Mode – In auto mode, it automatically switches to the best mode to do the job.
The Eufy travels in a straight line and changes direction only when it bumps into something. It can clean carpet, tiles and hardwood without having any problem with floor transitions. With enough power (1300 Pa) to clean pet hair, crumbs and dirt and leave floors clean.
While this vacuum cleaner does not connect to smart devices or have voice control capabilities, you will pay more these features.
Roborock E25
The Roborock E25 vacuums and mops, and has floor mapping with laser navigation to make floor cleaning easy. So you no longer need to mop your floors either, great if your floors are mainly timber and/or tile. This robot vacuum is higher on the mid price range scale, however it is packed with features you'll love.
This robot vacuum cleaner comes in black or white and has buttons on the top to activate spot cleaning, automatic cleaning and to send it back to its dock to recharge. This vacuum has a tower on top that contains a long-distance sensor which makes it 3.8 inches high. The dustbin holds 0.6 liters at the rear.
Underneath the unit is a single spin brush and a roller brush, two wheels and an omnidirectional wheel at the front. The Roborock has a separate water tank and a cloth to attach for mopping hard floors.
Using your Roborock E25
The Roborock E25 is easy to use. It also has a moisture proof mat to attach when charging to prevent water dripping on to the floor after using the mop function. To set up the app, download it and follow the instructions to connect to your Wi-Fi.
This robot works efficiently on all floor surfaces, and even removes paper scraps and pet hair. It does not have difficulty with floor transitions or navigating furniture and walls. But its height prevents cleaning under some low furniture.
This vacuum the following four cleaning modes:
AUTO Mode – Auto mode is excellent for general cleaning.
SPOT CLEAN Mode – Use in spot clean mode when there is an area that requires extra cleaning.
ZONED CLEAN UP Mode – Zoned clean up mode lets you zone in on areas in your home on its map then send the Roborock into clean.
MOPPING Mode – When you want to mop your floors, add the water tank and the dampened cloth, then select mopping mode from the app.
A nifty little feature is that it lets you know where it is as it cleans. It tells you when it starts and stops cleaning, and where to find it when you use the find button on the app.
iRobot Roomba690 with Wi-Fi
The iRobot Roomba 690 is smart with its ability to connect to Wi-Fi and schedule cleaning times. You can have it clean any area using the smart app. It is also compatible with Google Assistant and Amazon Alexa, using voice commands.
Roomba is round, and has a silver and black body. It is 13 inches wide and 3.7 inches high so it should get under most of your furniture to clean. This vacuum a large silver clean button that pauses, starts and ends a cleaning session.
Then there is a home button that sends it back to its docking station and a spot cleaning icon so it cleans particularly dirty spots. This vacuum a back lit panel that shows errors, battery status and Wi-Fi connectivity.
This vacuum two roller brushes, a side brush and a front roller underneath to pick up small dirt particles and larger pieces of debris. The front has a bumper and dirt detection sensors. The Roomba comes with a docking station and a virtual dual-mode wall beacon so you can change the digital wall barrier from 10 to 4 feet. This stops it from knocking things over in more crowded rooms as it cleans.
Using your iRobot Roomba 690 with Wi-Fi
The Roomba delivers 70 minutes cleaning on full charge. It works on wood, carpet and tiles but can need help to dock itself to recharge. You can operate it from your phone via the app or by voice from any location in your home.
Evovacs Deebot M80 Robotic Vacuum Cleaner
The Evovacs Deebot M80 Robotic vacuum cleaner is a miracle cleaner. It sweeps, mops and dries hard floors, and lifts dirt from low pile carpet. You can control it using the remote control or the app from your smartphone. The app gives you access to features such as how much life is left in the mopping pads and brushes. You get a lot of bang for your buck with this vacuum.
The Deebot has multiple drop and smart anti-collision sensors to prevent it falling off stairs and bumping into furniture. It can clean under furniture 3.1 inches off the floor and also has a water reservoir for the mopping system.
Using your Evovacs Deebot M80 Robotic vacuum cleaner
The Deebot has longer 120 minutes cleaning time on full charge. When, the charge runs low it returns to the charging dock. You can also send it back using the app or remote control and takes four hours to reach full recharge.
This vacuum four cleaning modes:
AUTO Mode – Use auto mode for everyday general cleaning. It operates in straight lines and changes direction when it detects something in its way.
INTENSIVE Mode – Activate intensive mode when the floor needs a deeper clean. When in auto mode it switches over to increase suction when it detects hair and debris.
SPOT Mode – In spot cleaning mode, the Deebot works in a spiral pattern until a particular area is clean.
EDGE Mode – When in edge mode, it gets into the corners and along wall edges.
This smart Deebot mops hard floors. Simply attach one of the microfiber pads and fill the water reservoir. As it moves around it scrubs dirt from the floors and dries it as it goes. It takes around 30 minutes of cleaning before you need to refill the water tank.
Use the app to start the Deebot from wherever you are and come home to clean floors.
Shark ION Robot R75
The Shark ION Robot R75 is circular with a grey and black finish, and is 12.6 inches in diameter and 2.6 inches high. This is the slimmest model on this list meaning it can easily clean under most furniture. This vacuum has a dustbin at the back of the unit, a pair of spinning brushes on the side and a single roller brush underneath.
Three buttons on the top control the Shark for spot cleaning, general cleaning and to send it back to the dock to recharge. It does not have a remote control but you can control it using the app from your smartphone. You can also use voice commands to control the Shark from Amazon Alexa and Google Home as it connects to your Wi-Fi.
Using your Shark ION Robot R75
It is easy to set up the Shark ION Robot R75. Just follow the instructions to download and set up the app. Use the app to start cleaning and to program in a cleaning schedule. You can also view how long it takes to clean in the app when it finishes cleaning.
Once fully charged it has a 60 minutes cleaning time, which is lower than some other models. It does not have a navigation system and instead relies on its infrared sensors to guide it around.
It finds it easy to navigate walls and furniture by slowly approaching obstacles. You may have to guide it between rooms. This model does not have a turbo mode to increase suction in high use areas, however it copes well with picking up pet hair.
Putting It All Together
Robotic vacuum cleaners can keep your floors swept and free from dirt, debris and pet hair without you having to lift a finger. They are serious time and energy saving machines for people with chronic fatigue syndrome.
You may not be able to afford a cleaning service, but these mid priced automatic vacuums can help make domestic chores a whole lot easier.
Please Feel Free To Leave a Comment.