We hope you love the items we recommend, and just so you know, Quit Chronic Fatigue may receive a small commission from links in this post at no cost to you.
Could An Air Purifier Help Improve Your Health?
Many people with chronic fatigue syndrome suffer from multiple chemical sensitivities including being sensitive to mold. This mold can be found in some of the food we eat e.g., aged cheese, yeast raised breads, processed meats and vinegar, and many people are sensitive to ingesting these molds. However, mold can also be found in our home environment and the air we breathe.
Different Types Of Mold
Approximately 1,000 different types of mold can be growing in our homes and they can be split up into 3 different classifications.
1.Toxic Molds – This type of mold produces mycotoxins which are capable of causing some seriously bad effects on your health. Toxic chemicals produced in this type of mold can be absorbed when they are inhaled and have been tied to suppression of the immune system.
2. Allergenic Molds – This type of mold is probably considered to be the least dangerous but can still cause issues for people with allergies to the specific mold or asthma.
3. Pathogenic Molds – This type of mold can cause infection which is problematic for anyone with a suppressed immune system.
Even people without chronic fatigue syndrome or multiple chemical sensitivities can benefit from having an air purifier in their home or workplace and studies show that a reduction in particulate matter and allergens can be successfully achieved by using efficient air purifiers.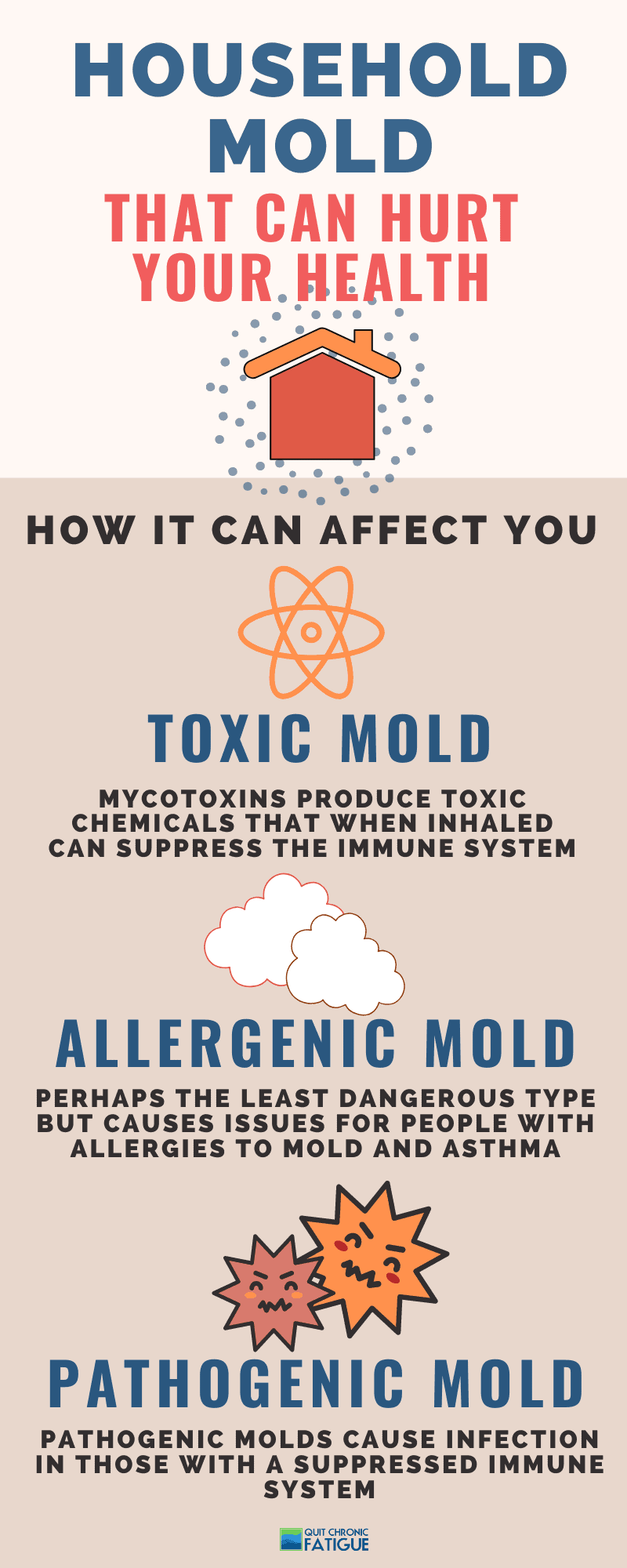 How Do Air Purifiers Work For Mold Elimination?
Mold Spores Are Microscopic
Most mold spores are microscopic ranging from 3-100 microns in size. When looking for an air purifier to remove mold, it is important to choose one that removes at least 3-micron size particulates or smaller.
HEPA air purifiers are a good solution to remove mold spores from indoor air as it is one of the best technologies to combat mold. If your air purifier also has a charcoal filter, this also helps by eliminating any musty smells the mold produces.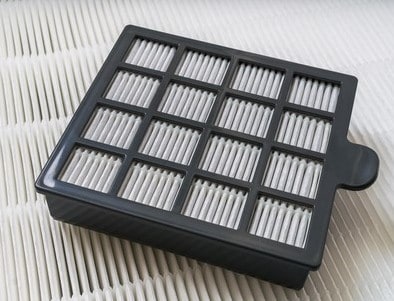 While it is impossible to get rid of mold in your home completely, you can reduce it substantially. Removing mold is a continual process and even if you clean easily visible, more obvious sources of mold, the spores become airborne and cause problems for many people.
Whenever spores are disrupted they travel into the air and this is where using an air purifier can help greatly in cleaning up mold in your home environment.
So, what kills airborne mold spores? It is impossible for mold spores to reproduce without moisture and this is where an air purifier with HEPA filtration is effective. The spores are pulled into the air purifier and are trapped by the HEPA filter where there is no moisture present. Without any available moisture the mold spores cannot survive, and die.
Mold can be an invisible problem in most homes. We are all aware of the more obvious sources of mold, in the bathroom around the shower area, or in an obviously damp basement area. But mold can be invisible to the human eye and able to grow everywhere.
3 Important Points To Consider When Choosing An Air Purifier
1. FILTRATION – Definitely you should select an air purifier with HEPA filtration if your main concern is mold removal as HEPA filtration is an effective way to capture and eliminate mold spores.
2. AREA SIZE – You should consider the size of the area the air purifier is to cover.
3. FEATURES – If timer capability, alerts for when your filter needs to be changed or various fan speed selection is important you will need to pay a bit more for these features. Your budget is obviously an important aspect to consider when making your selection. The air purifiers in this review cover a broad price range so you can choose one to suit your needs and your budget.
By reading this best of air purifiers for mold review, you'll be able to find just the right air purifier to suit your needs. To make it easier to select the size of air purifier that suits best, check out this table below then read on for more detailed info about your selected air purifier.
1. AeraMax 300 Large Room Air Purifier
The AeraMax 300 air purifier cleans the air in areas of between 300 to 600 square feet. It is a four-stage air purifier that detects pollutants and germs in the air. It has the capacity to remove almost 100 percent of particles that are 0.3 microns or larger from the air leaving it pure to breathe again.
This purifier has asthma and allergy certification. Its true HEPA filter together with the antimicrobial treatment provides your home with almost 100 percent protection from airborne pollutants, mold, smoke and allergens.
The AeraMax uses PlasmaTRUE technology to indicate when you need to replace the HEPA filter. An AeraSmart sensor regulates the fan speed for the most effective operation.
4 Stage Purification
AeraMax has four-stage air purification:
Stage 1. During stage 1 the carbon filter catches all particles in the area and removes odors.
Stage 2. The HEPA filter removes airborne particles of 0.3 microns or larger during stage 2. This includes cigarette smoke, pet fur, mold, germs, pollen, dust mites and viruses floating in the air.
Stage 3. The AeraSafe antimicrobial treatment goes to work in stage 3 to inhibit bacterial growth in the HEPA filter.
Stage 4. During stage 4 the plasma true technology creates an ionized field to efficiently remove all contaminants from the air.
This four-step filtration system ensures your air is pure. To keep it this way you will have to change the HEPA filter around every six months and the carbon filter quarterly.
PlasmaTRUE technology
The purifier comes with an ionizer that produces negative ions which connects smaller particles together to make it easier for the filters to remove them from the air. You can turn this off if you have concerns about ionization.
AeraSmart sensor
The AeraSmart sensor automatically changes the speed of the fan for efficient air filtering. It has an indicator that shows the air quality. When it is blue your air is clean, red shows the air is polluted and orange/yellow means low quality air.
2. Alen BreatheSmart Classic Large Room Air Purifier
The Alen BreatheSmart can handle large areas of up to 1100 square feet. It is good for people who have allergies or sinus problems, or who have pets. It has a HEPA PURE filter that removes 99 percent of airborne particles 0.3 microns or more. This air purifier is also energy efficient with a three-star rating. It uses WhisperMax technology so you will never know it is running it is so quiet when set to low.
Fully Customisable
The BreatheSmart is stylish and you can customize the device by choosing a front panel that suits your home décor. You can choose from colours like dark wood grain, graphite and more. There are 14 terrific color options to choose from. It also comes with four filter options to suit your preference. So you can truly select a custom air purifier to suit your health needs and your decor.
HEPA Filter
The HEPA filter is easy to replace and has several filtration layers to purify the air. First the air goes through the washable pre-filter to catch the larger particles. Next there is an advanced HEPA filter that collects 99 percent of pollutants, mold, dust, pollen and pet dander floating in the air.
Unlike other air purifiers the Allen Breathsmart Classic has optional filters to remove odor, bacteria and chemicals, so you can add filters to suit your particular needs. It works by ionizing airborne pollutants to make it easy for the filter to collect them. The HEPA filter needs to be changed every 6 to 8 months.
Smart Sensor And Air Quality Indicator
The BreatheSmart has a smart sensor to ensure pure air in your home when used in auto mode. It monitors the air quality in the room and adjusts accordingly.
Its air quality indicator gives you an accurate reading of the air quality in a room. And it is capable of indicating the slightest change in air quality.
Three-stage filtration
This device uses a three-stage filtration process to purify the air:
Stage 1. During stage 1 it prefilters the dirty air. It pulls the air through the grilles set into the sides and at the bottom of the device. Dirty air flows through a black layer of foam to catch all larger pollutants such as hair and dust. You can vacuum or wash the prefilter to reuse it.
Stage 2. After prefiltering, the HEPA Pure filter goes to work. It collects almost 100 percent of airborne contaminants. It is electrostatically charged to collect mold, pollen, pet dander and other pollutants in the air.
Stage 3. During stage 3, you can choose ionization by pushing the Ion button on the panel.
After these three stages, pure air is released into your home through the top of the unit. It has a fan to ensure it is evenly distributed throughout the room.
Auto Mode
In Auto mode, the smart technology detects the air quality and adjusts its settings from low to turbo to suit the requirement. The BreatheSmart takes the guesswork out of knowing which setting to use so you can be confident that your air quality is always optimal.
Self-timer
This purifier has a self-timer you can set for 4, 8 or 12 hours when you want to clean the air in your home while you are away. It allows you to come home to purified air and can work with the safety off function.
Turbo Mode
Turbo mode is the highest fan setting and helps filtration. Use this mode when the air is really dirty to filter the pollutants from the air.
3. Winix 5500-2 Air Purifier With True Hepa
The Winix 5500-2 purifier is a good BUDGET MODEL that is suitable for smaller spaces up to 360 square feet. It has 3 stage filtration with a washable carbon filter. Using Smart Sensors this purifier consistently monitors the air. The LED indicator displays the air quality using different colors as indicators. When a change in the air quality is sensed the unit automatically adjusts the fan speed.
A handy sleep mode function senses the ambient light in your room and dims the indicator lights on the unit for a restful sleeping environment.
3 Stage Air Purification
Stage 1 – During the first stage the Carbon Filter gets rid of household odors and smoke. In catching the airborne particles it helps prolongs the use of the True Hepa filter.
Stage 2 – The True HEPA Filter captures almost 100% of airborne allergens including mold, dust, pet dander, smoke microbes and pollen. Particles as small as 0.3 microns are captured.
Stage 3 – PlasmaWave Technology neutralizes VOC's, bacteria and odors.
The remote control allows you to control the unit from the comfort of your sofa.
4. Rabbit Air Minus A2 Ultra Quiet HEPA Air Purifier
The
Rabbit Air MinusA2 air purifier is Ultra Quiet and has a HEPA filter. It is stylish so it fits into the décor of your home and has some great features. Rabbit Air has been making air purifiers since 2004 and is a brand associated with quality products.
Rabbit Air MinusA2 comes in three models:
The smallest one, SPA-700A covers an area of 700 square feet.
Then there is the SPA-780A that covers 815 square feet.
The SPA-780N also covers 815 square feet but also connects to Wi-Fi.
All models have an LED panel in the center to let you know if it is running or not, and there are buttons to operate the functions to the right of it.
It takes in air through the front panel which increases the amount of contaminated air it takes in and maximizes the fan's efficiency. The air outlet is on the top of the unit.
The Air MinusA2 offers unique options to have a stunning painting on the panel from artists such as Monet, Van Gogh and more.
Six-stage filtration
Th Rabbit Air MinusA2 has a six-stage filtration system that can help with asthma and allergies.
Stage 1 is prefiltering to filter out large contaminants, pet hair and dust mites. It is washable and reusable.
Stage 2. This stage uses a medium filter to trap mold, large pollen particles, dust and pet dander.
Stage 3. Stage 3 uses an advanced BioGS HEPA filter to collect almost 100 percent of particles 0.3 microns and higher.
Stage 4. In stage 4 you can customize your device and can choose different filters such as odor remover, germ defense, pet allergy and toxin absorber. This allows you to select a filter according to the area that is of most concern to you.
Stage 5. The activated carbon filter destroys chemicals in the air as well as smoke and other odors.
Stage 6. Stage 6 uses an ion generator to trap contaminants more easily or they can fall to the floor so you can vacuum them up. You can switch the ionizer on and off.
Other Features
The Air MinusA2 is quiet with almost no sound. It is energy efficient and has an energy star certification. This device has a smart sensor that automatically adjusts the fan speed according to the quality of the air in the room.
You do not need a remote control if you choose the model with Wi-Fi connectivity. You can control it using an iOS app but it does not work with Android smartphones. No need to worry about when to replace the filter as this smart machine has an LED indicator to let you know.
It has a 5-year warranty against all defects, which is one of the longest guarantees of any air purifier brand.
5. IQAir Healthpro Compact Air Purifier
The IQAir Healthpro Compact air purifier has a powerful filtration process. It is compact in size and uses 3D Ultra Seal technology so the contaminated air does not escape before the device purifies it. IQAir is a true Swiss design and the company has been designing air purifiers for 50 years.
This device has bottom to top airflow. It draws polluted air in through the bottom and distributes purified air throughout the room using EvenFlow diffuser technology.
Two-stage filtration
Because of its size, the HealthPro Compact only has a two-stage filtration:
Stage 1 uses a powerful PreMax filter to prefilter out large pollutants to protect the other filters.
Stage 2. During stage 2, the True HEPA filter goes to work to filter out particles from 0.3 microns or higher. This includes removing contaminants such as mold, viruses, pet hair, pollen, bacteria and large dust particles. You will need to change this filter every 18 months.
This unit guarantees to filter out almost 100 percent of pollutants down to 0.003 microns and can cover an area of 1240 square feet. So out of all of the air purifiers in this list, the IQAir Healthpro offers filtration down to the smallest particulate size. It is also at the upper end of the price point range for air purifiers shown in this review. However, if you are looking for hospital grade air purification, the IQAir Healthpro is the one for you.
It works quietly on all six fan speeds and is only 22 dB on the lowest speeds and is energy efficient. There is a smart sensor that adjusts the fan speed according to the level of pollutants in the room.
The HealthPro also has programmable operating options. It has color-coded lights that indicate when you need to change the filter.
The HealthPro Compact comes with a 5-year warranty for all defects.
Putting It All Together
So there you have it, the top 5 air purifiers recommended for mold removal. With prices ranging from budget to upper end and models suitable for a variety of different area sizes, you're sure to find one that fits your budget and suits your unique needs.
As always, please feel free to leave a comment below.