We hope you love the items we recommend, and just so you know, Quit Chronic Fatigue may receive a small commission from links in this post.
Can You Spend Too Much Time In Bed ? – Yes It IS Possible!
If you have chronic fatigue syndrome there will be periods of time when you have to spend most of it in bed. No matter the degree of your illness, everyone with chronic fatigue syndrome suffers from energy crashes.
In some cases you can rest up comfortably on the sofa. However, often if the crash is severe you need to lie in a quiet and comfortable bedroom away from over-stimulating noise, light and activity.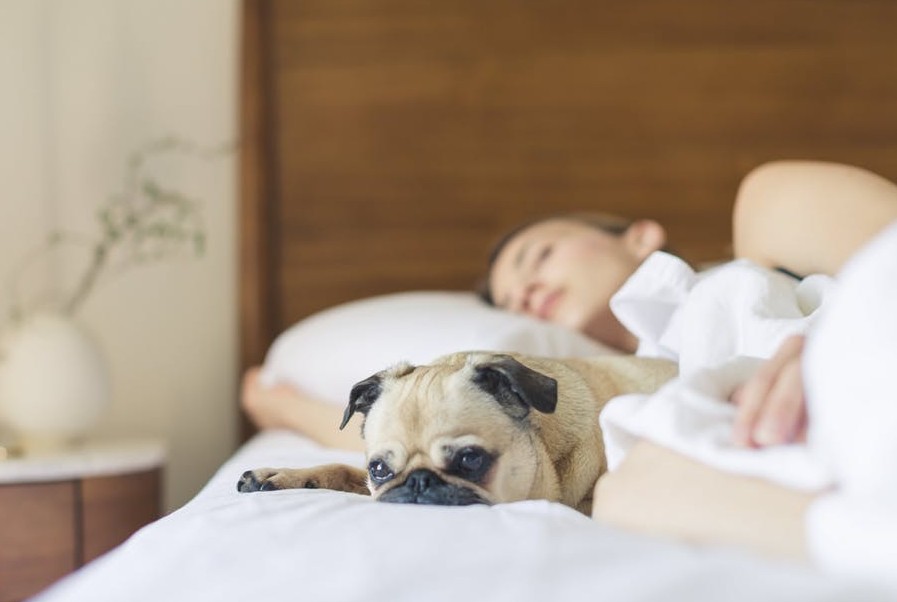 This type of crash forces you to rest up completely until your energy returns and you can function semi normally again.
The time period spent in bed can be a few days or it could be as long as several months.
During my years with chronic fatigue syndrome I had a period of about one month when I was almost completely bed bound. It can feel pretty isolating as it takes you away from friends.
But if you are completely bed bound and spending extended periods of time in your bedroom, it can also remove you from your family too. A study showed that 25% of chronic fatigue syndrome sufferers are housebound or bed bound for long periods of time during their illness.
Besides the one month when I was almost completely bed bound there were stretches of several days at a time I spent in bed recovering from crashes. This always occurred when I had overdone it and pushed myself outside of my energy envelope and unfortunately it happened to me often. It seems I was a very slow learner and was unable to pace my activity level correctly to avoid crashing.
Staring at four walls all day waiting, hoping and wishing for your energy to return can be pretty depressing. So you should choose the best of bedroom furniture you can find to help you deal with those days. This not only makes you feel as comfortable as possible, but will make your surroundings more pleasant to spend extended periods of time in.
Visiting furniture stores with badly depleted energy is probably not possible for you. The very thought of traipsing around a massive Ikea store looking at numerous modern bedroom sets is enough to exhaust someone in the best of health, never mind someone with chronic fatigue syndrome.
Take a look at some of the suggestions below for bedroom furniture that can help you in the following ways:
It can help keep everything you need accessible and close at hand so you don't need to move much.
It can make your bedroom more comfortable by controlling light and noise easily if you are super sensitive.
It can ensure your resting position is as comfortable as possible particularly if you suffer muscle aches and pains.
Lucid Adjustable Bed Base
Probably the most important piece of bedroom furniture is your bed. After all, this is where you'll be spending extended periods of time.
Adjustable bed bases are thought to be good for you as they allow you to maintain better posture. This reduces tension on the muscles and joints allowing proper rest and recuperation during a full night's sleep., or in your case extended bed rest.
You can customize support for your head and neck, legs, knees and ankles and lower back. An adjustable bed base makes it easy to be supported sitting up without the need to arrange several pillows behind you to get into a comfortable position.
The Lucid adjustable bed base comes as a Queen bed frame as well as Twin XL, Full, King and King Split. Whatever your need, you'll find a size to suit you.
The motor is quiet and responsive allowing easy customization of the bed frame to the setting you need. Latex and memory foam mattresses are well suited to this adjustable bed base. The metal guards on the base keep your mattress in place easily.
Whether you are sleeping, eating, reading or using your laptop this adjustable bed can help you get into the right supported position for all of these tasks. And this is all made easy with the simple WiFi control.
LOWER FREIGHT COST – A unique folding hinge on the bed base is designed to make freight cost more affordable.
EASY ASSEMBLY – Takes less than 5 minutes to assemble the bed, just attach the screws to the legs.
ANGLE ADJUSTMENT – Independent head and foot incline. From 0 to 60 degrees for the head incline and 0 – 45 degrees foot incline.
WIRELESS REMOTE OPERATION – Contains a flashlight and programmable memory and batteries are included.
CHARGING PORTS – Dual USB charging ports on each side of the bed base
UPHOLSTERY – Smart charcoal grey fabric gives a contemporary but neutral look to the bed base.
WEIGHT CAPACITY – 750 pounds.
WARRANTY – 10-year U.S. warranty.
Unicoo Overbed Table With Wheels
You need to have everything close at hand during extended bed rest to prevent having to get up and down out of bed using up your precious energy.
An over bed table is a great bedroom accessory because it's big enough to keep everything handy. Whether it's your laptop, books, water jug, snacks or a lamp. They can all fit on this over bed table and are easily accessible, everything is right in front of you.
The beauty of the Unicoo Overbed Table is that you can pull it up close if you want to work on your computer or eat. Or simply push it easily away from you down to the bottom of the bed if you need to watch a movie or sleep. This over bed table can also be used as a small workstation or table when not in use over your bed.

Fully length and height adjustable. The length across the bed ranges from 51 to 92 inches. The height adjusts from 26 to 43 inches.
SIZES – It will fit mattress sizes from Twin through to King size.
COMPONENTS – With a timber surface and steel frame, it is easy to assemble in 10 minutes with the included tools.
CABLE MANAGEMENT – A hole on each side of the table-top tray provides for tidy wire management, keeping them off the table-top.
CASTERS – The large 2-inch casters make it easy to move, particularly on carpet.
PARTS – Free parts can be supplied.
Bamboo Bedside Shelf With USB Ports
Some bedrooms are pretty small with no space for bedside tables. If you don't have much space in your bedroom but still want to have items close at hand this bamboo tray attaches securely to the side of your bed to keep items handy. This keeps items off the bed when space is at a premium.
The Bamboo Bedside Shelf has a spill proof cup holder and handy USB ports built in allowing you to charge devices easily. This saves you having to get out of bed to charge your phone, tablet or computer. It's also an instant food tray for snacks and drinks or a mini work space.
STURDY – The bamboo shelf is lightweight and attaches to the bed frame with an adjustable clamp which has protective padding to prevent scratching of the bed frame.
PATENT PENDING DESIGN – High quality and Eco friendly bamboo material.
CLEANING – Easy to clean with a prime finish that avoids stains.
GUARANTEE – 1 Year warranty.
iStar Portable Smart Side Table
This simple and elegant looking table is so much more than just a nightstand. You can play music or listen to audio books via it's Bluetooth connectivity to 6 speakers.
Sometimes just holding a book takes too much energy when you are in the midst of a crash. Listening to audio books is a great way to pass the time. The iStar Portable Smart Table is also a charger. Place your phone/devices on the table-top and let it do its thing.
SIMPLE DESIGN – Simple, clean and contemporary design with black walnut finish and smart grey fabric.
SPEAKERS – The 360-degree speakers provide great sound.
PORTABLE – A large 6600 mAh built-in battery allows music playback time of 7 hours before you need to charge it again. The table can be easily moved around where needed.
WIRELESS CHARGING – Wireless charging enabled devices can be placed on top of this table and it will immediately start charging. This keeps wires and chargers etc., off the tabletop for better organization.
CONTROLS– Four buttons on the speakers allow full music playback control. You can power on and off the table, control the volume, play or pause your music and even take phone calls.
MySmartBlinds Automation Kit
Some people with chronic fatigue syndrome can suffer from too much sensory overload. This overload can come from noise or light. Levels that seem normal to most people can aggravate the symptoms of a chronic fatigue syndrome sufferer.
On days when you're stuck in bed, even normal daylight can be too much. Or the bright light from street lights outside at night can keep you awake.
Good window blinds are essential to let you control the amount of light that gets into your bedroom. But, you don't want to be getting up and down several times to adjust the blinds when the weather changes suddenly and bright sunlight starts flooding into your bedroom.
So this handy MySmartBlinds Automation Kit attaches easily to your 2-2.5″ horizontal corded blinds allowing you to control them easily from your smartphone turning them into automated blinds.
This controller is also Alexa and Google enabled meaning you don't even need to lift your phone, you can control your blinds by voice command. To use this function you'll need the Smart Bridge for connectivity which is sold separately.

EASY INSTALLATION – The Mysmartblinds hardware sits inside the head rail of the blinds.
CONTROL – Easy control from a smartphone, tablet or other smart device.
ENERGY SAVING – Built in temperature sensors allow MySmartBlinds to control the temperature and lighting in the room. Just decide how hot or cold you want your room to get before your blinds automatically adjust the temperature.
SOLAR POWER – Use energy from the sun to power your MySmartBlinds. Simple attach the solar panel to back of the blinds with included clips. Or you can fix it to your window using adhesive strips.
POWER MONITORING – MySmartBlinds lets you know the solar consumption and battery level via the MtSmartBlinds app.
Putting It All Together
Try one or two of the best of bedroom furniture and accessories list to make your bedroom a more pleasant and comfortable place to be. After all, with chronic fatigue syndrome unfortunately you'll be spending extended periods of time in it.
If you have any other suggested for products you find helpful, please share them in the comments section below.