We hope you love the items we recommend, and just so you know, Quit Chronic Fatigue may receive a small commission from links in this post.
Why Struggle With Your Illness More Than You Have To?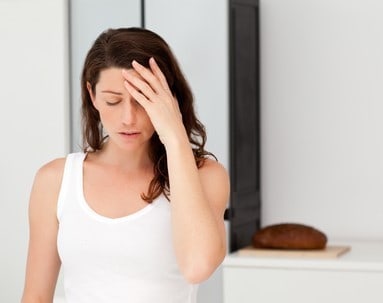 Anything that makes your daily life easier and helps provide relief from the many and varied symptoms chronic fatigue syndrome throws at you is a must.
Dealing with constant low energy at the cellular level is just one of the many symptoms you likely experience with this debilitating illness.
Conserving your energy to get through each day is crucial and there are gadgets that can help with this by allowing you to monitor your energy.
You can also find helpful gadgets for managing your body wide aches and pains as well as the discomfort you feel from noise, light and chemical sensitivities.
Keeping your immediate environment chemical and irritant free is important if you want to reduce your symptoms. Whilst anything that assists in reducing your overall stress levels will generally help you feel better.
These Gadgets Can Help You Cope With Your Challenging Chronic Fatigue Syndrome Symptoms
Let's face it, anything that helps with the daily struggle this illness throws at you is worth trying.
Carry on reading for the best of gadgets for chronic fatigue syndrome. These helpful gadgets can provide solutions to the many daily challenges your illness gives you and bring some much-needed comfort and relief.
For example:
They can assist by keeping items close at hand when you're stuck indoors during a crash and can't move.
They can help you monitor your stress and activity levels to better manage your energy use.
They can provide help for noise and chemical sensitivity.
They can give you a natural way to manage pain without having to resort to chemical painkillers.
Helpful Gadget #1 – Bedshelfie

This ingenious product is perfect for days when you're stuck in bed suffering a crash and need to keep items close at hand. It prevents you having to get up and down out of bed on those horrible days when you simply don't have the energy to do anything.
The original size Bedshelfie holds a 13″ laptop easily, so you can lie in bed and watch Netflix all day until you regain some energy.
You can store a pile of books on it as it's strong and sturdy enough to take the weight.
Keep your water bottle, some food, magazines, a kindle and your phone within easy reach on the Bedshelfie while you rest up and wait out your crash.
MINIMALIST DESIGN – The Bedshelfie has a simple clean and contemporary design with 2 slots in the edges for cable management. The slots allow cables from phones, laptops etc., to run cleanly through the tray's surface for charging.
LARGE and STRONG CLAMP SYSTEM – A versatile 2.1 inch clamp system on the original size and a 3.1 inch clamp for the Plus model ensures the Bedshelfie attaches easily and securely to your bed frame without the need to use tools. Thick felt pads are used on touch points so there's no risk of damaging your bed frame. It is also very easy to install and uninstall when needed.
LIFETIME GUARANTEE – This product is designed in Los Angeles. It is handcrafted from eco-friendly bamboo making it lightweight, strong with sustainably sourced.
LIGHTWEIGHT and STURDY – Due to its minimalist design and bamboo material it can safely hold up to 15lbs of weight. It's also perfect for small bedrooms which don't have enough space for bedside tables.
SEVERAL COLOURS – Available in a range of colors from natural, pastels through to black, you're sure to find one that suits your bedroom decor.
Helpful Gadget #2 – Ground Therapy Sleep Mat
Unlike our ancestors, nowadays we no longer sleep on the ground or walk barefoot. We sleep indoors and walk on concrete much of the time. The only time our bare feet touch the earth is when we take a summer holiday in natural surroundings. Even then, the time spent barefoot can be minimal. We no longer receive the benefits of being grounded to the earth.
If you haven't heard of grounding you may be missing out on something.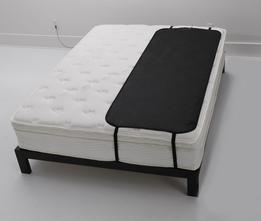 It's thought that Electro Magnetic Fields (EMFs) can interfere with your health, sleep patterns and overall energy.
Studies show a reduction in pain and inflammation when participants sleep 'grounded' thereby reducing the EMFs around them.
During my time with chronic fatigue syndrome my naturopath recommended I try a grounding sleep mat to help with pain reduction and to improve sleep quality and energy levels.
The Ground Therapy Sleep Mat reduces harmful EMFs while providing the beneficial flow of anti-inflammatory electrons to your body during the night while you sleep. Nighttime is an ideal time to carry out grounding as research shows most bedrooms have high levels of EMFs.
Additionally, by using a grounding mat during sleep you get the benefit of using the mat for a long period of time during the night (6 – 9 hours). This is also the time your body is repairing and restoring itself.
ORIGINAL DESIGN – Designed and produced by Clint Ober the originator of the Earthing Grounding Wellness Movement using patented technology.
IMPROVED DESIGN – It is recommended that you sleep direct on the mat or use only a lightweight loose weave sheet on top of it. The soft mat has a perforated design allowing enhanced airflow and more comfortable sleep.
AVAILABLE SIZES – 2 sizes (regular 27″ x 72″ and double 54″ x 72″).
PACKAGE INCLUDES – A 27″ x 72″ sleep mat, one outlet checker and one 15′ cord for the regular size mat.
MATERIAL – Durable, highly-conductive carbon leatherette.
CARE – Easy cleanable by wiping the surface with a soft damp cloth.
GUARANTEE – 30-DAY refund policy from the day you receive your package if you're not completely happy with the product.
Helpful Gadget #3 – Spire Stone Stress Management + Activity Tracker
If adrenal fatigue is part of your chronic fatigue pattern, keeping stress under control is important. Managing your stress level will help manage your symptoms and assist in overall healing.
But besides experiencing a full-blown panic attack, how do you know when you're stressed? Your body has many subtle ways of letting you know. And your breathing pattern is one of those ways.
When you are stressed your breathing becomes shallow and your adrenals register that you are facing some danger, then the fight or flight pattern starts.

The Spire Stone Stress Management + Energy Tracker has a patented respiration sensor that measures your breathing patterns. When your breathing pattern becomes tense it sends a notification by a very subtle vibration.
This is also shown via their app on your phone where you'll also receive suggestions for guided meditations and visual exercises to reduce your stress level.
This ingenious gadget also tells you when you are calm and focused as well as stressed. It's a great way to help you become more conscious of situations which cause you stress.
This enables you to monitor and change your habits and avoid getting tense in specific situations.
TRACKER – This gadget also allows you to follow your activity, calories and steps.
WEARABLE TECHNOLOGY – Easily clips to the waistband of your jeans or skirt.
STURDY – Washer-resistant, in case you leave this wearable technology clipped to your clothing by mistake on laundry day.
CHARGING – Charges wirelessly on a wireless charging pad. Each single charge lasts 10 days.
SUITABILITY – Connects via Bluetooth. Works with iOS and Android phones.
SCIENTIFICALLY PROVEN – Spire state this product is recommended by 1,000s of health professionals globally.
Helpful Gadget #4 – Adaptive Sound Technologies Lectrofan White Noise Machine
You may be one of the many chronic fatigue sufferers who are noise sensitive and vulnerable to sensory overload. If this is you, it's probably difficult for you to get a good night's sleep. You may also have trouble just staying relaxed in a noisy neighborhood if you are super sensitive to noise.
I get it, I once ventured out to a girls night out, poked my head into the bar and turned on my heel and walked out. The noise level (actually it was normal) was just way too much for me. I retreated back to the quiet and comfort of my apartment as quickly as I could.

If you are super sensitive to noise, that 6am garbage truck, noisy neighbors or snoring spouse can affect you more than normal healthy people.
You might want to try this Lectrofan White Noise Machine that masks all noise frequencies.
White noise masks frequencies so that your brain can easily ignore the irritating sound. It works so effectively it seems there is no noise at all.
It can help you get to sleep easily and enjoy deep uninterrupted sleep.
SOUND BLOCKING – Provides white noise, pink noise and brown noise. With 10 fan sounds and 10 ambient noise variations.
POWER – Uses standard AC or USB.
CONTROL – Set the perfect operating level for unique environmental situation with precise 10 stage volume control.
Helpful Gadget #5 – Philips Wake Up Light Alarm Clock With Sunrise Simulation
If you are still able to be in some form of employment and need to be awake early in the morning, this alarm clock can help you. It seems such a jarringly horrible and unnatural way to start the day with a standard alarm blaring in your ear. Talk about starting the day already completely stressed out!

This Philips Wake Up Light Alarm Clock provides a much more gentle start to the day.
Set the time you want to wake up and 30 minutes before your selected time the gradual illumination gently wakes you from sleep by simulating natural sunrise.
The brightness level is fully adjustable to suit you.
You can also set the alarm to simultaneously play some gentle natural sounds like birdsong or seaside sounds.
But I love the gentle effect of coming awake gradually with only the light.
EASE INTO THE MORNING – The colored sunrise simulation makes waking up a stress free experience.
ECONOMICAL – No need to replace the light bulb.
SAFETY – The alarm clock is cool to touch.
EASY TO READ – The LED display is large, easy to read and the illumination level is fully adjustable.
OPTIONS – Comes with an FM radio option and a simple tap snooze function.
CONTEMPORARY DESIGN – Simple and modern design.
Helpful Gadget #6 – Oska Pulse
Chronic pain is often one of the more frustrating chronic fatigue syndrome symptoms, contributing to feelings of discomfort on what seems a never ending daily basis.
Dealing with chronic pain naturally without resorting to opiods or NSAIDS which can lead to G.I. tract irritation is the best option when pain is a constant companion. I suffered from painful shoulders upper back and calves. But honestly, some days it felt as if my entire body was painful.

The Osak Pulse uses PEMF (pulsed electromagnetic field) therapy. PEMF mimics the natural electrical currents the body produces as part of its natural pain management system.
This technology is safe and has been used in a clinical setting for more than 60 years.
This useful gadget reduces inflammation and associated pain at your body's cellular level by boosting its ability to repair injured cells.
The frequencies used promote capillary dilation, relaxing muscles without heat or vibration.
Consistent use is needed to provide long term pain relief, reduce inflammation and increase circulation. However, the device does not need to touch the skin, it can be worn over clothing.
SAFETY – The Oska Pulse is a 100% drug-free FDA-registered device. You cannot overuse it and there are no known side effects of its use.
EASY TO USE – Lightweight (only 8oz) and portable can be worn under or over clothing. It is recommended to use it 6 times a day in the beginning until pain starts to diminish. However, individual use varies.
SIZE – 5.25″ x 3.5″ x1.25″
CONVENIENT – The PEMF therapy range is a sphere of 22″, so the device only needs to be near the painful area to yield results.
OPERATION – The Oska Pulse has a 30-minute pre-programmed cycle using a safe 1-150hz frequency throughout the body.
POWER – Can be charged easily and holds its charge for quite a long time.
REFUND POLICY – 30 day money back guarantee.
Helpful Gadget #7 – Sollievo True Hepa Air Purifier | 6 Stage
If you have chronic fatigue syndrome it is important to reduce your exposure to anything that increases your toxic load. Many sufferers of chronic fatigue syndrome have multiple chemical sensitivities which rob them further of their already meager energy stores.

Keeping your immediate indoor environment pollution and chemical free as much as possible is important. But unfortunately, the air in your home is full of pollutants that can be bad for your health.
Pollution from air and water are two ways of exposing yourself to toxic chemicals. A home air purifier is therefore a good 'gadget' to keep the indoor air healthy and to avoid breathing in pollutants.
No matter how clean you think your home is, allergens, pet dander, dust and environmental toxins can be present and undetected in your home.
There may also be invisible volatile organic compounds floating around.
Once you understand why a 6 stage home air purifier is best in dealing with all of these irritants. You'll understand why the Sollievo True Hepa Air Purifier is one of the best air purifiers to improve your home's air quality.
CLEANER AIR – Removes the most common allergy triggers. Removes pollen, dust mites, pet dander and mold spores. Captures smaller particles such as germs, virus and smoke. Gets rid of cooking and cigarette smells.
FILTRATION SYSTEM – Advanced 6 stage filtration. Washable Pre-filter, an activated carbon filter, a True HEPA filter, a charcoal Filter and Antibacterial Peptide Filter and a Negative Ion Generator. This filtration system removes 99.7% of particles as small as 0.3 microns. It filters out pollution of PM 2.5 providing superior air purification.
COMPACT SIZE – The SV-6113 model has a CADR of 120 cfm/ 200 cubic meters and is one of the highest quality deodorizer and air freshener systems available. The size works well for a lounge room, office, bedroom, study, or family room. Due to the compact size it can easily be moved between rooms.
ENERGY SAVING – Uses low energy and SLEEP MODE provides very quiet filtration during the night.
EASY SMART TECHNOLOGY – Helpful light indicators show the levels of pollutants in the room. And Automatic Mode adjusts the fan's speed to match the air quality level. A timer turns off the purifier if not needed after 2, 4 or 8 hours.
Helpful Gadget #8 – Fitbit Alta HR
It may seem strange recommending a gadget normally used to monitor fitness and weight loss efforts. But the Fitbit Alta can be used by chronic fatigue sufferers to help monitor your activity levels and possibly prevent a crash.

The Fitbit Alta tracks heart rate, calorie burn, steps, distance and sleep. I think the information on steps, distance and sleep are of the most interest.
By monitoring your steps and distance you can gauge how much activity is too much for you and make adjustments.
Quality sleep is difficult to get when you have chronic fatigue syndrome. Using the Fitbit Alta you can see which levels of sleep you are getting, light, deep and REM sleep.
It helps you work out the reasons for sleeping poorly perhaps after a stressful day or too much activity etc.
By being more conscious of what affects your sleep adversely you can make changes.
SIZE + OPERATING – The circumference ranges from 170 to 206 mm. It works via Bluetooth 4.0 radio transceiver and the operating temperature is minus 10 to 45 degree Celsius.
SLEEP TRACKING – Sleep stages are powered by PurePulse heart rate. This automatically tracks the time you spend in light, deep and REM sleep.
TRACKING – Sync your stats automatically and wirelessly to computers, leading iOS, Android and Windows devices.
BATTERY – Track your steps, distance, and active minutes. Battery life lasts up to 7 days.
MATERIALS – Durable and flexible elastomer material.
Helpful Gadget #9 – Midea WHS65LSS1 Mini fridge
On days when you are stuck in bed and can't manage to summon enough energy to walk to the kitchen for drinks, having a mini fridge in the bedroom can be a lifesaver.

Having cool drinks and healthy snacks on hand can help make your time in bed waiting out your crash easier.
The Midea mini fridge is small enough to be unobtrusive, but big enough to hold a few chilled drinks and snacks comfortably.
This mini fridge has adjustable legs and a reversible door that can open from the right or left side.
It's a great feature in a fridge this size making access to the items stored inside easier.
You can set the door opening direction to suit your needs and make accessing the contents effortless.
TEMPERATURE RANGE – Adjustable from 32′ to 35.6'Fahrenheit (-2′ to 2′ Celsius).
STORAGE – Large storage areas in the main cabinet and also in the door.
EXTERNAL DIMENSIONS – 17.7 x 18.6 x 19.4″
WARRANTY – 1 Year Warranty
Helpful Gadget #10 – Gamma Ray 003 Blue Light Blocking Computer Glasses
Blue light emitted by computer, phone and tablet screens can cause eye strain and headaches. But, it can also disrupt sleep patterns.
It is best to quit looking at screens 4 hours before bedtime if you want to drop off to sleep easily and have a restful nights sleep. However, if this is not possible, investing in a pair of blue light blocking glasses could be a useful alternative.

Your body associates blue light with day time. So being exposed to blue light before bedtime pushes your internal body clock later.
This makes it harder to go to sleep, disrupts sleep and also makes it harder to wake up in the morning.
A study shows significant improvement in sleep quality when blue light blocking glasses were used 3 hours prior to going to sleep.
MATERIALS – Durable and lightweight plastic frame, and non polarized plastic lenses.
SIZE – Lens width is 53 millimeters.
INCLUDES – 1 x Pair of blue light blocking glasses with amber tinted lenses, a frame case and cleaning cloth.
READERS – Choose the magnification you need.
SATISFACTION GUARANTEE – Risk free 90 Days Money Back Satisfaction Guarantee. Lifetime frame and lens breakage warranty.
Putting It All Together
Make life with chronic fatigue syndrome a little easier, select a couple of gadgets from this list and see if they help make your life more comfortable.
Do you have any gadgets that have helped make your life a little easier with this debilitating illness. I'd love to hear any suggestions in the comments section below.