We hope you love the items we recommend, and just so you know, Quit Chronic Fatigue may receive a small commission from links in this post at no cost to you.
It Might Seem Like A Luxury
But, if you have chronic fatigue syndrome and are bed or couch bound for extended periods, a tablet and book stand for reading can be a necessity rather than a luxury.
If your chronic fatigue syndrome is seriously debilitating, on days when you are suffering a crash even the simple act of holding up a tablet or book can further deplete your energy. Your arms and hands might just not have the strength at times to lie down holding a book or tablet in a comfortable position to read.
You may also suffer pain in your shoulders and arms as many chronic fatigue sufferers do, and holding a book or tablet in one position for an extended period of time can increase this pain.
An energy crash can be not only debilitating but extremely boring. What are you supposed to do during the long hours when you are lying down waiting out a crash while your energy slowly returns.
Often doing some short periods of reading can be the only thing you are able to do to break the tedium. This is where a tablet and book stand for reading can be invaluable.
For people who do not have chronic fatigue syndrome, this stand is a very handy accessory for helping with any neck pain you may experience from spending way too much time looking down at phones and tablets.
We are all placing strain on our tight neck and shoulder muscles as we spend more and more time on phones, tablets e readers and devices.
A study measured the increased rate of fatigue to upper back and spine muscles due to tablet usage. As a tablet or phone screen is small we bend our necks more toward these devices to read the information putting strain on shoulder and back muscles. Muscles become fatigued and weak by being held in one position for long periods.
Nowadays, physiotherapists, chiropractors and the like must be doing a roaring trade as they try to help so many of us suffering from 'tech neck'.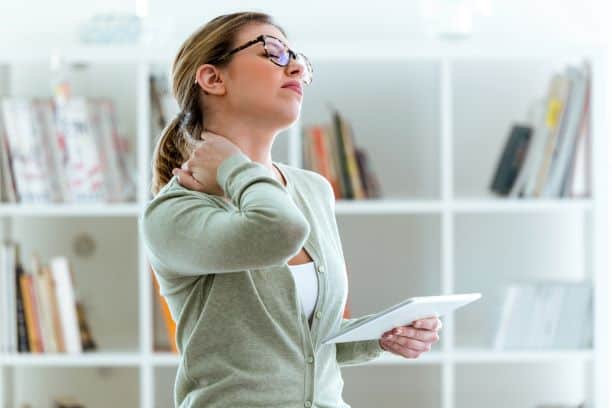 Being able to swivel the holder of this stand to almost any angle makes finding a more comfortable reading position easy. This takes the strain off your poor neck and helps improve your posture as you are able to raise your device up to a more comfortable eye level viewing position.
This tablet stand is also handy for use while cooking. It keeps your cookbook or tablet out of harm's way while freeing up precious bench space.
No more grubby food marks on your cookbooks and tablets, just place your book or tablet on the reading stand in a convenient position while you get busy chopping and stirring from your favorite recipe.
The Levo G2 Essential Tablet Stand
There are many stands available that are suitable for books OR tablets but not both. So, what do you do if you enjoy reading hardback and paperback books but also like using your tablet or smartphone while reclining or lying down?
This is where the Levo G2 Essential tablet stand with the additional book platform kit is a convenient and cost effective solution. It easily converts from a tablet stand to a book stand by adding the book holder kit using the quick release platform.
USING THE STAND – It is easy and convenient to use whether you are in bed, in your favorite recliner chair or lying on the sofa. The stand weighs only 7 pounds, so it is easy to move around while still being sturdy.
HEIGHT ADJUSTS EASILY – The stand is height adjustable from 26 inches up to 43 inches (to the center of the device you are using). And is simple to use just by flipping a lever open then snapping it into a closed position at your preferred height.
SWING ARM ADJUSTMENT – The arm swivels on 4 axis to make your perfect reading angle easy to find. You are able to quickly tilt, spin and flip the adjustable holder to find the most comfortable reading position whether you are in bed or in a chair. You can even find a suitable viewing angle if you are lying on your side.
COMPATIBILITY – The stand is easy to use with all makes of tablets, iPads, Galaxy, Kindle etc., and can be used with your device while it is still in its case, there is no need to remove the cover. You can also use your smartphone with the stand. As long as your device is 12 inches or less in size it will work. Your device is held in place by four strong clips on each edge.
CONSTRUCTION – Manufactured from black aluminium, the stand is both lightweight and sturdy.
PROs Of The Levo G2 Essential Tablet Stand
Simple sleek and good looking design.
Lightweight and sturdy construction.
Additional book platform kit can be purchased increasing versatility of use.
4 axis swivel action makes multiple angle adjustment easy.
CONs Of The Levo G2 Essential Tablet Stand
The foot design is not suitable if you need to bring the stand in close under a very low sofa, bed or other piece of furniture.

Levo G2 Book Platform Kit
If you want to use this nifty stand for your books too, you'll need the Levo G2 Book Platform Kit. This platform holds manuals, paperbacks, text books and hardbacks and allows you to read hands free.
The book holder is easily interchangeable with the tablet holder on the stand. Simply press the small button on the arm and pull to release the tablet holder, then the book holder just snaps right in to the stand. The whole change is easy and takes only a few seconds to carry out.
The handy book platform manufactured from plastic is 16.5 inches x 12 inches. Your books are held in place securely by bungee straps. Turning pages is simple, just flip the page from under the ball holder arms. The lightweight arms rest gently on the pages keeping them in place but allowing them to be moved easily when you want to turn to the next page.
Pros Of The Levo G2 Book Platform Kit
Lightweight and sturdy.
Adds another option for your Levo Essential Tablet Stand turning it into a book stand too.
Cons Of The Levo G2 Book Platform Kit
Honestly I can't see any cons, it is a great addition if you love reading actual books, rather than the digital version.

Putting It All Together
If you have been looking for a tablet and book stand for more comfortable reading, Levo gives you both options. By buying the G2 Essentials Tablet stand and the G2 Book Platform Kit you will be all set to read your books, E readers, smartphones and tablets.
You'll conserve your energy and rest comfortably preventing tight and sore shoulder and neck muscles from lying in awkward positions.
Please feel free to leave a comment.