We hope you love the items we recommend, and just so you know, Quit Chronic Fatigue may receive a small commission from links in this post at no cost to you.
When Do You Need A Rollator ?
Anyone with mobility issues due to chronic illness or an injury can benefit from the support and confidence a rollator provides. And a folding rollator walker seat provides a place to rest when your energy starts to flag.
Having a rollator with a seat is particularly important for people with a debilitating illness like chronic fatigue syndrome. If you need to conserve your energy while getting out and about a rollator which allows you to sit down periodically when you need to is a must have.
As a modern mobility aid a rollator greatly helps increase the user's autonomy and sense of independence. By assisting people with reduced strength to get around and maintain a social life a rollator can contribute to helping with mental health too.
And these important mental health benefits combine with other health benefits a rollator provides by helping to keep the user mobile assisting the body's blood circulation and lymph systems to keep moving.
Other good reasons for considering a rollator as a mobility aid is that they are both practical and affordable. There is a common misconception that rollators only work indoors but this is not correct. If you choose your rollator model wisely you will find one that functions well outdoors too.
When you are deciding on which type of walking aid you need, a rollator is an affordable option. Whether you need to use your rollator full time or only occasionally, buying a rollator makes good economic sense.
Rollators are quickly taking over from their outdated cousins, walking frames. This is mainly because they are so much easier to use. You can easily and gently push the rollator in front of you instead of having to steady yourself first to lift a walker each time you take a step forward.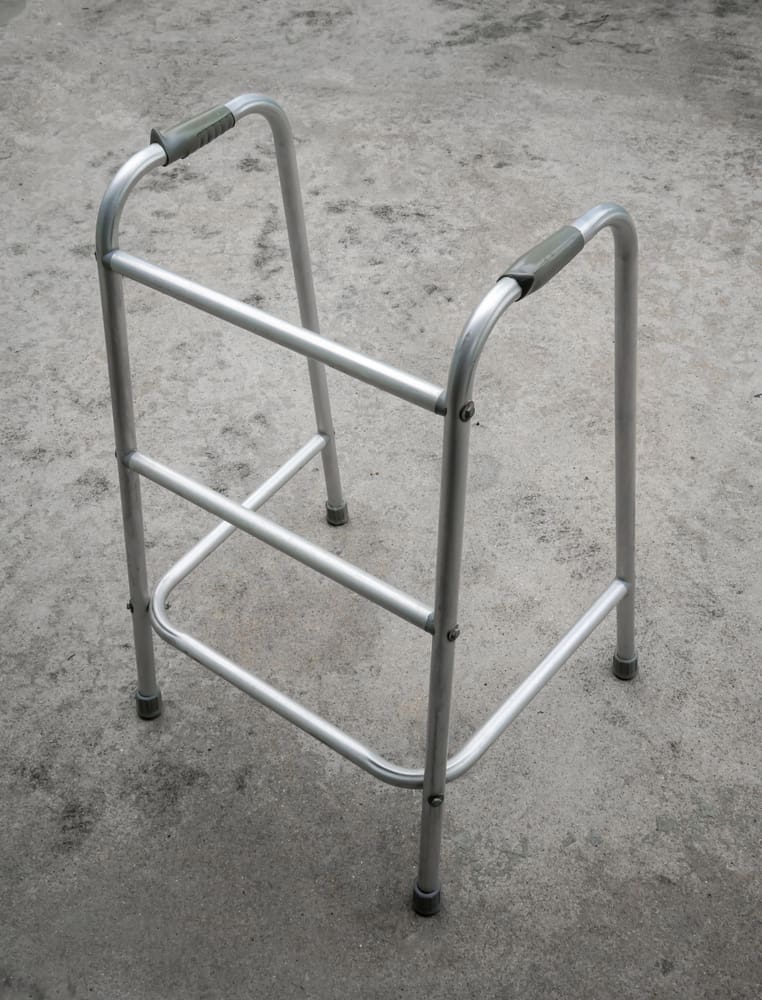 Due to this movement action using a rollator requires a lot less energy too. And conserving energy is important if you have any type of debilitating chronic illness or fatigue issues.
Even although the rollator has wheels you don't need to worry about your rollator running away from you on slopes. A gentle squeeze on the brake handles applies the brakes to stop your rollator moving.
The height adjustment option on a rollator makes it easily customizable for your stability needs. Whether you are short, tall, or somewhere in between you can calibrate the height of the handles to suit you perfectly. And if you choose one of the more lightweight models available they can easily be folded and lifted into your car.
3 Important Points To Consider When Choosing A Rollator
When choosing a rollator to suit your needs there are 3 important points to consider to ensure you find one that is right for you.
Height adjustability.
Weight capacity.
Ease of folding and maneuverability.
Drive Medical Nitro Euro Style Rollator
Although the benefits of using a rollator are clear there may be resistance to using any type of mobility aid particularly if you are a younger person with an injury or chronic illness. The thought of clunking around with a shiny metal mobility aid is off-putting.
And this is exactly where the Drive Medical Nitro Euro Style Rollator comes into its own. With sleek European styling and a sporty look the Nitro Rollator is an impressive mobility accessory, very far removed from a clunky granny style walking frame. It is available in three sporty color options black/grey, white or red.
As well as being good looking it is also one of the easiest rollators to collapse. You can easily fold this rollator with one hand. Using the grip handle on the top of the seat the rollator folds by bringing the sides together and it folding it into a neat compact size.
Easy to carry when travelling on trains, subways and even on flights as it locks in the folded position. If you have items in the basket underneath you may need to remove it before folding.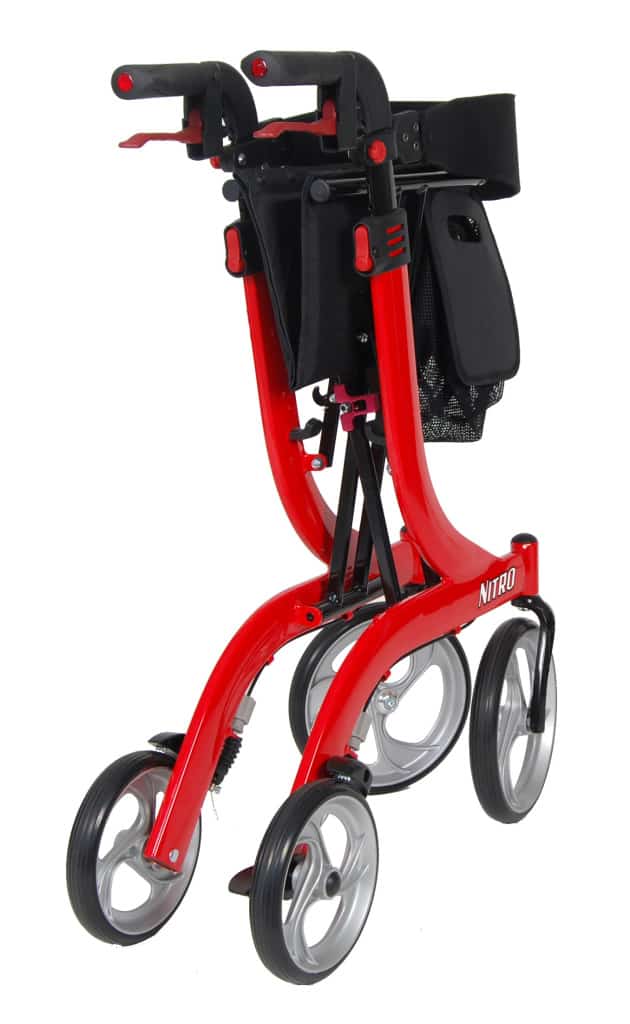 The side to side folding action has another advantage over the more standard front to back action as you can fold the rollator slightly to maneuver it through narrow spaces like small doorways etc.
This rollator has large front wheels which allow for maximum turning radius and easy maneuverability. It is so easy to use indoors as well as outside on gravel, grass and even cobblestones. The Drive Medical Nitro's large wheels cope well on uneven surfaces.
A comfortable nylon height adjustable and removable backrest allows you to customize the rollator to suit you perfectly. The nylon backrest provides soft but supportive comfort to lean against when you need to sit down and take a break. And this nylon backrest is more comfortable than the traditional padded metal bar type back supports on many rollators.
The Drive Medical Nitro rollator has a zippered storage bag at the front of the rollator making access both easy and secure. And it is big enough to hold some shopping items or the personal items you need when out and about. An added bonus is the seat and storage bag can be easily removed for cleaning with a damp cloth.
The ergonomic design make the handles comfortable to use and the hidden brake handles provide security as there is no chance of getting tangled up in the loose brake cables. As the handles are also easy to move up and down you can set your perfect height adjustment simply by depressing the button on the handles.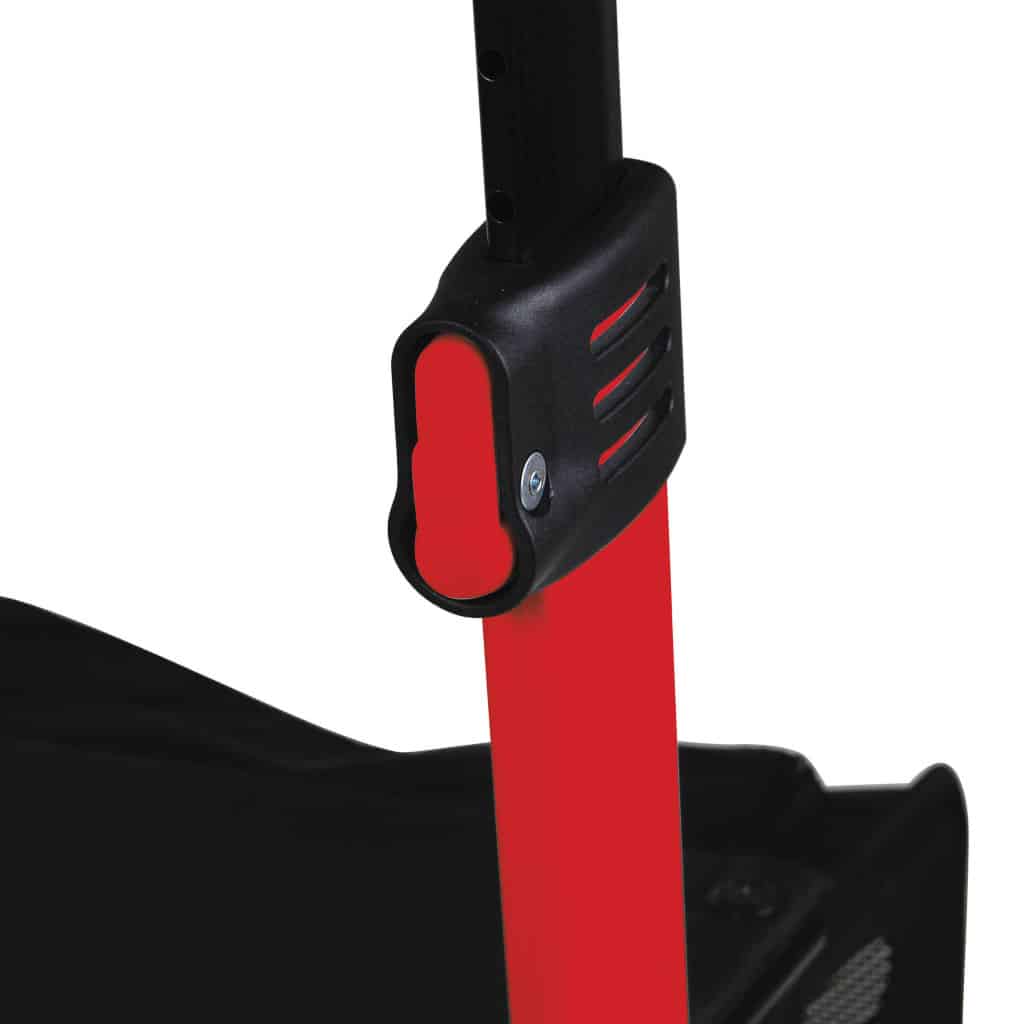 Using forethought, the manufacturers have considered their end user and the Nitro rollator comes already assembled, no tricky assembly necessary, it's ready to go right out of the box.
Important Specifications
Folding Method – center folding side to side with one hand action.
Weight of rollator – Lightweight at 17 lbs.
Height adjustment is 33.5″ up to 38.25″
Weight Capacity – 300 lbs
Dimensions – 27.75″ x 23″ x 33.5″
Warranty – Limited lifetime on the frame. B

rake

and handle housing is covered for 5 years.
Options
The Drive Medical Nitro Euro Rollator comes in the standard option mentioned in this review as well as Petite and Tall versions. The Petite version has a handle height adjustment of between 28″ to 31″ while the Tall version is ideal for users over 6′ tall. So whatever your height you will be able to find a Nitro Euro Rollator with its sleek contemporary looks to suit you perfectly.
You can also add on useful accessories made specially for your rollator such as a water bottle holder and a cane holder which attach easily to the frame of your rollator.
Pro's Of The Drive Medical Nitro Euro Rollator
Multiple height adjustment options available on the standard model.
Petite and Tall options also available for maximum customization.
Folds completely flat with side to side folding action and locks in position.
Easy one handed folding operation.
Lighter weight range for a rollator.
Large wheels for outdoor use.
Hidden brake cables.
Seat and basket included.
Optional accessories available.
Sleek and modern look.
3 color options.
Ergonomically designed.
Con's Of The Drive Medical Nitro Euro Rollator
It is not the cheapest rollator around, but it offers good value for the quality and features.
Although lightweight, it is not the lightest weight rollator available.

Putting It All Together
If you are deciding on the best folding rollator to buy take note of the 3 important points first before making your selection. With some careful consideration you are sure to make the right choice.
Please Feel Free To Leave A Comment Below