Easy To Make And Very Nutritious
Deceptively easy to make, but tastes like you've slaved over a hot stove for hours, this Slow Cooker Osso Bucco recipe is great for smart dinner parties or a hearty family week day supper dish. It's particularly welcome on a cold winter's night.
Setting everything up in your slow cooker before leaving for a work day, you'll have a warming and delicious dish ready for your arrival home in the evening. Check out the programmable slow cooker I use here.
Made with grass fed veal shanks, it's a healthy and nutritious dish originating from Milan, Italy during the late 19th century. I first ate true Milanese Osso Bucco in Milan served traditionally with saffron risotto and sprinkled with gremolata. What a treat!!
My recipe would probably not be considered authentic as some purists would argue that it shouldn't include any vegetables at all, simply allowing the meat flavor to be the star. However, I like the added sweetness from the carrots and onions.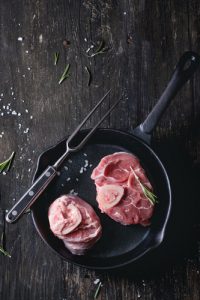 After returning home from Italy, I decided it was time to try my hand at making this myself, so here's my version of the recipe below. I usually serve it on top of creamy cauliflower mash rather than risotto. Whilst not traditional, it makes it lower in carbs and easier to make and I think it makes the entire dish a bit lighter too.
Slow Braising Is The Secret
The secret to its delectable falling off the bone tenderness is the slow braising, which extracts all of the goodness and flavor from the meat. This is so easy to achieve using a slow cooker. Simply seal the meat in a skillet on the stove top before transferring it to the slow cooker.
The exposed marrow in the center of the bones melts into the pot giving the dish a meaty unctuousness. All of this meaty deliciousness is tempered by the acidity of the tomatoes and wine.
Great For Gut Health
If you've read a few of my previous posts, you'll know that I talk a lot about gut health and how important it is to overall good health. I started incorporating more gut supportive foods into my diet whilst healing a leaky gut and recovering from chronic fatigue syndrome. Bone marrow has many health benefits including:
Heals the gut lining.
Helps maintain bone health with its mineral content.
Improves immune function.
Like bone broth, the bone marrow in Osso Bucco is also a good source of collagen which is great for healthy skin, hair and nails. Easy to digest it's helpful in building the intestinal lining and damaged tissues.
Additional Tips
In this recipe I use veal bone broth too, which imparts even more gut healing benefits and a depth of flavor to the osso bucco. If veal bones are difficult to get, you could substitute chicken bone broth in the recipe instead.
Most braised meat dishes use wheat flour to dredge the meat and thicken the gravy of the stew. With this recipe I use a small amount of arrowroot to lightly dredge the meat making it gluten free. I like the overall finish of the stew which has a thinner gravy to mix with the cauliflower or other mash you choose to serve with the Osso Bucco.
Please leave any comments below.