So Many Dairy Milk Alternatives
Many years ago, the question of soy milk v almond milk didn't come up for discussion. If you were found to be lactose intolerant or had sensitivities to dairy, it was too bad, you just had to give up your favorite ice-cream and forget about eating cheese smothered tacos.
And you had to summon your inner Italian and learn to drink your coffee black if you couldn't give up your daily caffeine fix, as there were no alternative 'milks', yogurts and cheeses readily available.
As time went by, a limited range of milk alternatives could sometimes be found at health food stores with soy milk seeming to be the first to make an appearance. Soy cheeses and ice creams also started to appear.
Nowadays, it seems there is a dizzying array of alternatives to dairy milk available not only in health food stores but now conveniently sold at your local supermarket. Additionally, many of these alternatives are offered as flavored milks such as strawberry, vanilla and chocolate. Some of the most popular alternative dairy milks on offer include:
Oat milk
Soy milk
Almond milk
Rice milk
Cashew milk
Hemp milk
Coconut milk
Two of the most popular alternative milks are soy milk and almond milk and are even available at your favorite local coffee bar so that you need never give up that frothy cappuccino or creamy daily latte if your sensitivities don't allow you to drink dairy milk.
Why Choose a Non Dairy Milk Alternative?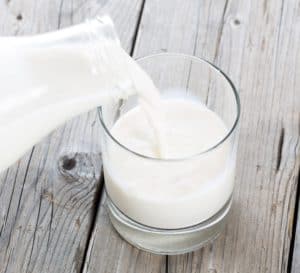 Many people are sensitive to the lactose in milk which can be difficult for some to digest causing gut problems like bloating, nausea, cramps and diarrhea.
For others, the decision to avoid dairy is due to concerns about antibiotics and hormones given to dairy cows and transferred to humans when they drink this milk.
Antibiotics are given to cows in an effort to prevent diseases within the herd, and the bovine growth hormone rBGH is used to increase the cow's production of milk to artificial levels.
Research shows concern over antibiotics and hormones found in dairy milk as a risk factor for various cancers in humans.
Additionally, nowadays commercially produced milk is pasteurized and homogenized. Years ago, milk was sold raw without these processes. Homogenization is used to break down fat molecules within the milk without which the fat molecules form a layer of cream on the top of the milk. This homogenization process is used to make milk smoother and more appealing to your taste buds.
Pasteurization is used to get rid of specific bacteria where the process heats the milk for a certain period of time to kill bacteria like Salmonella, E coli and Listeria. Unfortunately pasteurization also kills off some beneficial enzymes and vitamins in milk which is why raw milk produced with care is thought to be more beneficial.
Raw milk is once again becoming increasingly available in some countries, however many people are still concerned about drinking raw milk despite the claims that it is a whole natural food containing more vitamins, minerals and fatty acids than pasteurized milk.
It seems the arguments and numerous studies undertaken in defense of both raw and pasteurized milk will continue.
Use A Plant Source Milk Instead?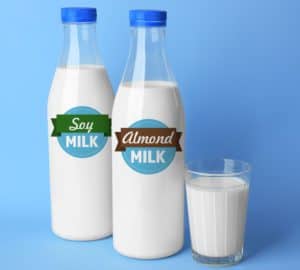 If you are confused over the arguments about pasteurized and raw milk, or are suffering side effects from dairy intolerance, perhaps it's time to choose a plant source milk alternative instead. But now you need to decide…… which one?
Two of the most readily available are soy milk and almond milk so it seems appropriate to perhaps choose one of those but which one?
Soy Milk v Almond Milk
Let's look at SOY milk first of all…………….
Soy based foods are considered one of the healthiest foods on the planet and provide a good source of plant based protein along with a range of vitamins and minerals.
For hundreds of years Asian nations have been eating soy in the form of the lightly cooked bean, or 'edamame' as it's now referred to in trendy eating circles. Soy is also eaten in Asia as soy sauce, tofu and tempeh which is a fermented soy bean cake.
Natto, another form of fermented soy beans is also used as a condiment with a small amount being added on top of rice dishes. With its strong and pungent flavor only a small quantity of natto is used to top the dish.
Having lived in China for several years I saw edamame being eaten in small quantities, usually along with sliced pig ear as an appetizer before the main course dishes are served. Tofu is eaten as part of a main meal and in hotpots etc. Generally it is eaten as the main protein component of the meal replacing chicken or pork.
Soy in these forms which are eaten close to their natural state provide a good nutritional profile.
What I didn't see, was soy milk being used as a beverage and consumed on a daily basis in the way we started using it in western countries. It is available as a sweetened drink, in small tetra block packages, however this would not be consumed on a daily basis.
For those concerned about the genetic modification of food, consider this. Of the vast majority of soybeans grown in the U.S. (a major exporter of this crop), approximately 85% are genetically modified to make the crop resistant to herbicides.
Adding to concerns about the supposed health benefits of soy milk, studies have shown that soy phytoestrogens can cause breast cancer.
In order to make soy milk more acceptable to the western palate several ingredients are added some of which are not that healthy. For example sugar and carrageenan.
Of course sugar is added to make it taste less 'beany' and give it a more acceptable flavor. For those of us trying to kick sugar, there can be pretty high quantities of sugar used in some soy milks.
Carrageenen another commonly used ingredient derived from seaweed is added to help give the soy milk a creamier texture more closely similar to that of dairy milk. However, carrageenan can cause stomach inflammation and stomach problems.
Unaware in the early days of some of the not so healthy effects of soy milk I drank it for a while, until it started affecting my thyroid. Thought to be safe in those with a healthy thyroid, soy milk can have a detrimental effect on those affected by hypothyroidism. It certainly had a thyroid lowering effect on me, and as a consequence I stopped drinking it.
So given all of the facts now known about soy milk it seems that it might not be the healthier alternative to cows milk.
Almond Milk
A relative newcomer to the alternative dairy milk scene, almond milk is packed with healthy fats but does not contain the levels of protein in cows milk. A glass of cows milk contains 8 grams of protein whilst a glass of almond milk only contains 1 gram.
However, almond milk is considered a nutritious and low calorie dairy milk alternative. Some almond milks are boosted with calcium, vitamins D and E to help increase its nutrient profile. You need to watch out for added sugars in some types sold, so check the package ingredient list.
Sugar free almond milk does not cause a spike in blood sugar compared to dairy milk which is thought to be insulinogenic. Of course, many people have nut allergies, so almond milk would be unsuitable for them.
Made by grinding almonds, mixing with water and then straining, the resulting almond milk product looks similar to dairy milk with a fairly neutral taste. Some people make their own almond milk at home as it's pretty easy to do. Making it yourself means you can be sure it doesn't contain any added sugar or other nasties.
It's a useful substitute to dairy milk and can be used in baked goods, ice cream and puddings too. Try this healthy sugar free chocolate pudding recipe using a combination of almond and coconut milks click here.
Putting It All Together
I'll be sticking to almond milk for now. I like the flavor, it's great in coffee and is easy to use in recipes. Of course, I only use unsweetened organic almond milk and check the ingredients list on the package carefully for any added nasties before I make the purchase.
I'd be interested to hear what you all think of this debate Soy milk v Almond milk, so please feel free to leave a comment below.