Before You Reach For That Non Stick Cookware – Read This Post!
While the food you eat is important, knowing the safest non toxic cookware to use also matters. Too often our busy lives push us to reach for quick, easy options. At the end of a long day you may not want to spend hours cooking in the kitchen.
You eat healthy food, but is your cookware healthy too? Do you have cookware like non-stick Teflon pots and pans that you think makes your hectic life easier?
But do you know if using Teflon coated cookware is the best option for your health?
In our modern society our bodies labor under a heavy burden of toxic materials ingested from many sources daily. One of these sources can come from the cookware you choose to use in your kitchen.
When you care about your own as well as your family's health it pays to know the safest non-toxic cookware to use. You want to use cookware that does not add unwanted toxins to the beautiful healthy food you cook.
There are other easy ways you can detox your home, including using the safest non-toxic cookware you can buy. Find out some suggestions for detoxing your home and reduce your chemical burden here
The Truth About Toxic Cookware
Ceramic, cast iron, heatproof glass, stoneware and stainless steel are all nontoxic options to consider when buying new cookware.
There are two types of cookware to avoid:
Aluminium and Teflon
Cooking with aluminium pots and pans can cause health problems. University of British Columbia research shows there is a link between ingesting aluminium and Alzheimer's and autism spectrum disorders.
The most common cookware used is Teflon coated which makes it non-stick, easy to use and clean. Teflon pans are considered convenient to use for time conscious people.
But studies show the polytetrafluoroethylene (PTFE) used in the coating turns into a toxic Perfluorooctanoic acid (PFOA) when you use these pans at high heat.
This makes it dangerous for people cooking with and eating food cooked using Teflon coated pans.
PTFEs and materials using perfluoroalkyl substances used to make Teflon are toxic.
These remain in the environment and the human body for long periods of time. Manufacturers use perfluorinate compounds (PFCs) to make the coating non-stick.
When exposed to high heat, these turn into PFOAs. Studies link PFOAs, also known as C8, to serious health problems such as organ damage, women's infertility and thyroid disease.
What I Wish I'd Known About Teflon 10 Years Ago!
With US sales of Teflon coated cookware worth $1.45 billion in 2014, there were sales of more than 100 million pieces of this cookware in America.
Imagine how many of these pieces have found their way into homes around the world in a decade.
The number of PTFEs used in making non-stick pans varies. A study by the Center for Disease Control and Prevention found that around 98 percent of the American population had traces of PFCs in their systems. This chemical can increase your chances of contracting health issues like thyroid, organ and fertility problems.
With Teflon used in cookware since the 1950s there are a lot of Teflon pots and pans in homes still used in kitchens around the world.
Ready To Throw Away Your Toxic Cookware?
The good news is, you do not need to have Teflon pots and pans for non-stick cooking. Cooks have successfully used other types of materials for cookware for centuries and still turned out well cooked food.
So let us have a look at the benefits of some of the other types of cookware available on the market.
Cast Iron Cookware
Cast iron cookware has been the choice of cooks for many years. It lasts forever, is not-stick if seasoned properly and does not leach toxins into your food as you cook. It may also add a very small amount of iron to the food. People who use cast iron pans generally love this type of material for cooking.
Use cast iron pans and Dutch ovens for frying and baking food to get great results every time. You can use them on top of the stove and pop them into the oven.
The square pans with raised ridges are great for searing a steak. Even cooking a more delicate dish like fish is easy in a cast iron pan. Click here to read about the cast iron skillet I use.
Remember, though, they are heavy to use and in the case of cast iron pots and pans, the handles get very hot too. Some cast iron pans come with a timber handle or you can use a silicon handle sleeve to avoid accidental burns.
Here are some benefits of cast iron cookware:
Cast iron is indestructible. It is almost impossible to ruin cast iron pots and pans. You can even buy them from second hand shops because they can last many lifetimes.
Holds the heat. When a cast iron pot gets hot it stays hot so it is great for cooking meat. It also keeps food warm for quite a long time. You can reduce the heat level used as the cookware retains the heat, a medium heat is sufficient.
Seasoning cast iron. Season your cast iron cookware every time you use it. By rubbing a small amount of oil into the surface it protects it from rusting while not in use. It also helps to make them non-stick when you are cooking. This means you need to use little oil or butter in your food, which makes for healthy cooking. A non-stick finish can be made in this way. I fry eggs in my pan and they do not stick.
Serve food in cast iron. Food like breads and pies look good displayed in cast iron cookware, which means you can serve food in the pan straight from the stove or oven.
Heats evenly. No matter whether using cast iron on the stove top, in the oven or on an open fire, it distributes the heat evenly to cook food to perfection.
Adds iron to the food. During the cooking process small amounts of iron enters the food which makes them a good source of dietary iron.
Something to keep in mind when cooking with cast iron is to avoid using them to cook acidic foods like tomato sauce.
Good Looking Enameled Cast Iron Cookware
Whilst cast iron is great to cook with, it's definitely not the most beautiful looking cookware you can buy. To get the great cooking qualities of cast iron combined with a better looking exterior, enameled cast iron cookware is a great choice.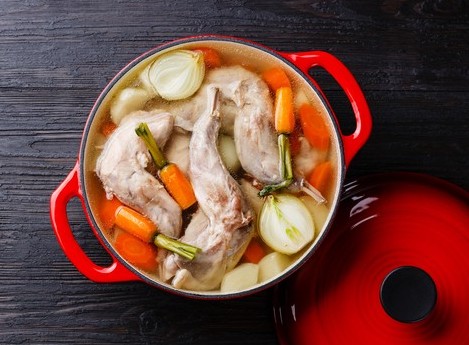 Enameled cast iron. It is indestructible, with the best brands offering a lifetime warranty.
Efficient to use. Needing only low to medium heat as the cast iron retains the heat in the cookware.
Heats evenly. Whether you are using it on the stove top or in the oven.
Good looks. Makes it great to serve food from enameled cast iron straight on the table.
Fun to color coordinate. The various enamel finish colors work with your home decor.
Non reactive. Enameled cast iron is non-reactive, nothing can leach into your food.
Non stick finish. Cook with a little oil or butter to make it non-stick.
Long lasting. If you buy a good brand, enameled cast iron can be heirloom quality and last for decades. This is my favorite piece of non-toxic cookware currently. I absolutely love it and use it for everything, from frying eggs to making soups and braising stews. I love the way it looks as well as how it performs and I know I'll have it for many many years.
Cooking With Heatproof Glass Bakeware
Cooking with heatproof glass bake ware is best in the oven. It is safe and affordable, and will not leach toxic compounds or anything else into your food. It is easy to clean and is great to use for baking.
While glass takes a little longer to heat than metal because of its lower thermal conductivity, food cooked in glass stays warmer longer. Glass will keep cooking at the same temperature when the oven temperature drops.
Here are some other benefits of using glass bake ware:
Glass is clear. Because glass is clear you can see the food cooking. This means you can see if the food is cooking evenly.
Non-reactive. Glass is non-reactive. There is nothing in glass that will leach into your food and it does not react to any types of foods. You can cook anything in glass.
Glass bake ware is absorbent. Glass does not reflect heat, it absorbs heat which speeds up the cooking process. When using glass bake ware, turn the oven heat down 25 degrees lower than recipes recommend. This will avoid overcooking or burning the food.
Glass is versatile. You can serve the food in the glass container you cooked it in. Once it is cool enough, you can also store in the refrigerator or freezer in the same container.
Easy to clean. Glass is easy to clean and safe to put into the dishwasher
Cooking With Ceramic Cookware
Ceramic cookware is PFOA and PTFE free and has a non-stick surface that is durable and heat efficient. It is versatile and you can use it in heat that would melt stainless steel. This cookware can go from the hottest oven to the table to storing food in the freezer or refrigerator once it cools down.
The natural non-stick surface makes it easy to clean and maintain. You can lightly scrub them without damaging the surface.
The benefits of ceramic cookware include:
Non-stick surface. You only need to use a little oil or butter on the non-stick surface during the cooking process. This makes food healthier. This saves money and your food is healthier than boiling it which removes much of the nutrients.
Efficient to use. Ceramic coated pans usually have a stainless-steel base so they are efficient to use on the stove. You can use a lower heat than you do for cast iron and stainless-steel pans so you use less power yet your food still cooks quickly.
Light to handle. Ceramic cookware with a stainless-steel base is light and easy to handle when cooking.
Does not react. Nothing reacts with ceramic cookware. Regardless of the different colors and thicknesses it comes in, there are no harmful chemicals that can leach into the food as it cooks.
Not too expensive. Good quality ceramic cookware is not expensive and will last a long time.
Stoneware Cookware Is Safe
Stoneware is another non-toxic alternative to Teflon coated cookware. It is similar to ceramic made of clay and has a non-PTFE coating so food does not stick. It does not leach any toxins into the food as it cooks at high temperatures.
Stoneware cookware is durable and safe for use in any temperatures. But, it can crack if there are sudden changes of temperature. You cannot take it from the freezer and put it straight into the oven. Wait until it defrosts to room temperature. It is also easy to clean.
Here are some of the advantages of using stoneware to cook with:
Naturally non-stick. Stoneware is naturally non-stick so you do not need to use butter or oil so the food is easy to remove from the pan. You may have to use a little oil in pans used in high temperatures in the oven to help release the food.
Stoneware is versatile. You can use it in convection, normal and microwave ovens. Use stoneware to cook pizzas, bread, cakes and cookies.
Heavy duty cookware. Stoneware while heavy to handle is also durable. It usually comes with a warranty and will last forever if you look after it properly.
Easy to clean. Stoneware is easy to clean and maintain. Some is safe to put into the dishwasher, but check the manufacturer's instructions before you do. All you need to do is wash it in hot water and use a rubber or plastic scraper to remove any food stuck to the surface.
Stoneware is non-reactive. Stoneware does not leach toxins into the food so it is a healthy option for cooking. You can even cook acidic foods in stoneware. But, some stoneware has lead in it so check the label before buying. You do not want bake ware that contains lead.
Food cooks evenly. Stoneware is particularly good for baking food. It holds the heat and distributes it evenly to cook food with efficiency. This can save time and power.
Stainless Steel Is Non-Toxic
Stainless-steel is non-toxic and non-stick so it is a safe alternative to Teflon coated cookware. You can use it for all sorts of cooking. The surface of stainless-steel frying pans may not be as non-stick as you would like so use oil or butter as you cook. This type of cookware is popular due to its relatively inexpensive price.
Here are some of the benefits of using stainless-steel to cook your food:
Not expensive to buy. Stainless-steel cookware is not expensive to buy and performs just as well as more expensive cookware.
Looks good and durable. Stainless-steel looks good and is sturdy and durable. It does not rust, stain or chip and there are no coatings that can peel off into the food as it cooks. The better quality the stainless-steel the more durable it is. It is also difficult to scratch. This cookware can last a lifetime.
Easy to clean and maintain. Stainless-steel is non-porous, with a hard, smooth surface. All you need to do is to wash it in hot soapy water to keep it clean. You can even put it into the dishwasher.
Versatile to use. You can use stainless-steel cookware to cook any type of food without risking harmful toxins leaching into the food. You can use it for frying, boiling, steaming, baking and deep frying.
Putting it all together.
So there you have it, a complete rundown on the safest non-toxic cookware available. Now you have no excuse for hanging on to those old peeling and chipped non-stick cookware pans you've had for years. Armed with this information you now have all the knowledge you need before going shopping for some new cookware.
If the thought of throwing away all of your non-stick cookware at once is a bit daunting, just take it slowly and make informed choices to replace one item at a time with a healthier choice.
Please feel free to leave a comment below.