We hope you love the items we recommend, and just so you know, Quit Chronic Fatigue may receive a small commission from links in this post.
Does Your Magnesium Supplement Upset Your Stomach?
Magnesium is an important mineral needed by your body, particularly if you have chronic fatigue syndrome.
A clinical trial showed that chronic fatigue syndrome patients have lower red cell magnesium levels than healthy control subjects, making this an important supplement to take regularly.
Using magnesium for tight muscles, a common symptom of chronic fatigue syndrome is a good idea.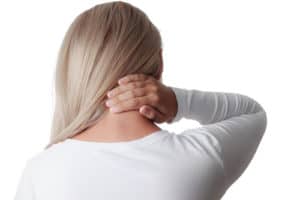 But if your current magnesium supplement upsets your stomach and you know you need to take a magnesium supplement, it could leave you wondering 'which magnesium SHOULD I take'?
Even if you don't suffer from chronic fatigue syndrome magnesium it is still an important supplement. Magnesium deficiency in general is common which is concerning because it has an important role in almost 600 enzymatic processes in the body.
Your body's many systems need magnesium to work efficiently, and you might be eating a healthy diet but still not be getting enough of this important mineral.
What Does Magnesium Do?
It maintains a healthy heartbeat.
Helps muscles relax properly.
Supports optimum nerve function.
Helps cells produce metabolic energy.
Plays an important role as an essential mineral.
Provides muscle and tendon support.
Helps bones stay strong.
Supports a healthy immune system.
A far reaching mineral, magnesium is a component of the ocean, plants, earth and animals. In humans, around 60% of magnesium can be found in your bones with the remainder being located in soft tissues, muscles and blood.
All of your body cells need it in order to function properly but it is estimated that almost 50% of people in the U.S. may not be getting enough magnesium.
If you eat a balanced diet you would think you'd be getting enough magnesium, however magnesium in food sources is declining.
This is most likely due to poor farming practices like pesticide use and overuse of growing fields in an effort to increase yields. Unfortunately, this results in soil depletion of essential minerals.  However, eating organic food can help negate this effect.
Magnesium rich foods include: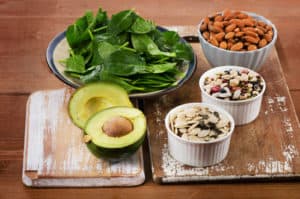 Leafy Green Vegetables – such as swiss chard and spinach
Nuts – cashews and almonds
Fish – such as halibut
Avocados
Beans
Which Form Of Magnesium Is Best To Take?
Cheap magnesium supplements may be produced from suspect forms of magnesium. Magnesium citrate or magnesium oxide are commonly used in lower cost supplements where the manufacturers are not focusing on maximum absorption.
Those less costly forms of magnesium are not easily absorbed by the body, so it is really false economy. Additionally, magnesium oxide can be very irritating to the digestive tract. You are throwing your hard-earned cash away if your body cannot readily use your chosen magnesium supplement.
Doctor's Best High Absorption Magnesium is produced in a chelated form, meaning the minerals it contains are bound to other molecules to form an easily absorbable mineral complex.
I tried a few magnesium supplements that either didn't make much difference to my health or even worse gave me a badly upset stomach, then I tried this Doctor's Best product.
This is the only one I can take in a fairly high dose to help with my muscle pains and tight tendons that doesn't give me the runs.
Why I Take Doctor's Best High Absorption Magnesium
The main reason I started taking a magnesium supplement was to help relieve the pain from very tight muscles and tendons which was one of my more frustrating chronic fatigue syndrome symptoms.
I was then recommended this Doctor's Best product and commenced taking  it every day, starting with a low dose and gradually increasing it as my confidence in the product grew.
If you have stomach issues with other magnesium supplements, you should give Doctor's Best High Absorption Magnesium a try.
Some practitioners say it is best to take magnesium at night. I take 600mg in the evening around 8pm which has the additional effect of relaxing me and helping me get a good solid night's sleep.
What Are The Pros Of Doctor's Best High Absorption Magnesium?
People who take magnesium supplements claim to have improved energy levels, a better emotional state and less pain. Doctor's Best High Absorption Magnesium offers the following benefits:
Supports normal magnesium levels that naturally decrease with age.
It is an organic form of bio available magnesium.
Non GMO.
Gluten and Soy free.
Contains magnesium L. Glycine and L. Lysine providing high absorption of this important mineral.
The price is reasonable for a high quality mineral supplement.
It's available in a large size bottle containing 240 capsules which is great when you need to take a fairly high daily dose for your needs.
Each tablet is 100mg.
What Are The Cons Of Doctor's Best High Absorption Magnesium?
The only con I have found is the fairly large tablet size making them a little difficult to swallow, but that could just be me. I need to take them one at a time and swallow with a lot of water.
Putting It All Together
I've been using Doctor's Best High Absorption Magnesium for over a year and love the value for money offered in this supplement. It has shown to have beneficial effects on my tight muscles, my energy levels and improved sleep quality.
The price  is great for a quality supplement and Doctor's Best High Absorption Magnesium doesn't give me the nasty digestive side effects I experienced from other magnesium supplements. If for any reason I run out of this supplement, I really feel the difference not taking it has on my body. My muscles get tight and I'm definitely not as 'chilled'.
Please feel free to leave a comment or ask any questions you may have.